I am no stranger to dilapidation. In my hometown of Athens, I have witnessed ornate mansion houses of the late 1800s crumble and collapse owing to years of neglect, pollution and proletariat rage. More and more stores are shuttered and permanently closed, the once "good" neighorhoods now drug infected and dangerous. Soviet block type buildings exist here too, their greyness can never be illuminated no matter how much Mediterranean sun washes wanly over them.
La Havana, for in Spanish and in French it demands a deserved titular distinction, is dilapidation on a cinematic scale resembling a sound stage. Shells of buildings, with intricate plaster work - garlands, brackets, flying buttresses and Corinthian columns - towering up from the street but in many cases with nothing at all behind them, just a void. Or a collapsed interior imploded onto itself with a scraggy tree reaching out and up to the sky, trying to inject a small sign of life inside a decrepit shell.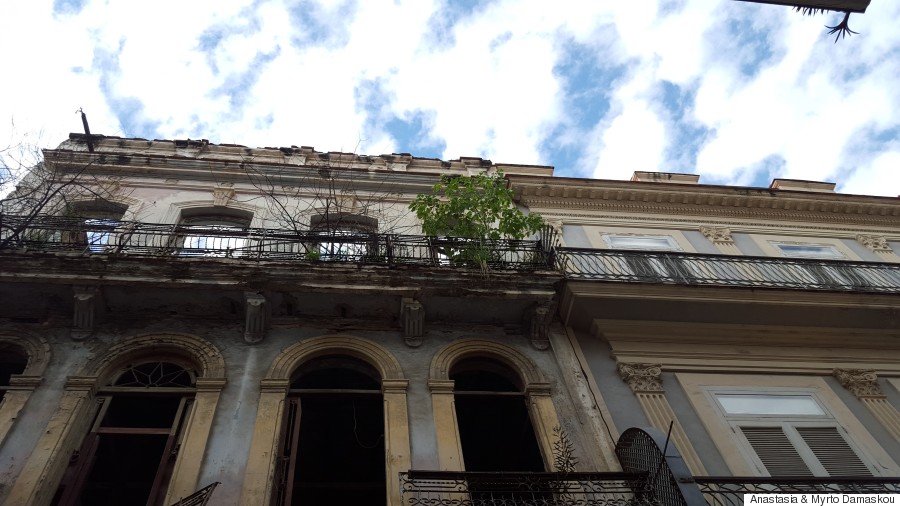 Thankfully most of the buildings remain intact and mesmerizing. The colors of the facades compete for visual rapture with the glinting pastels of the city's famous 1950's American cars.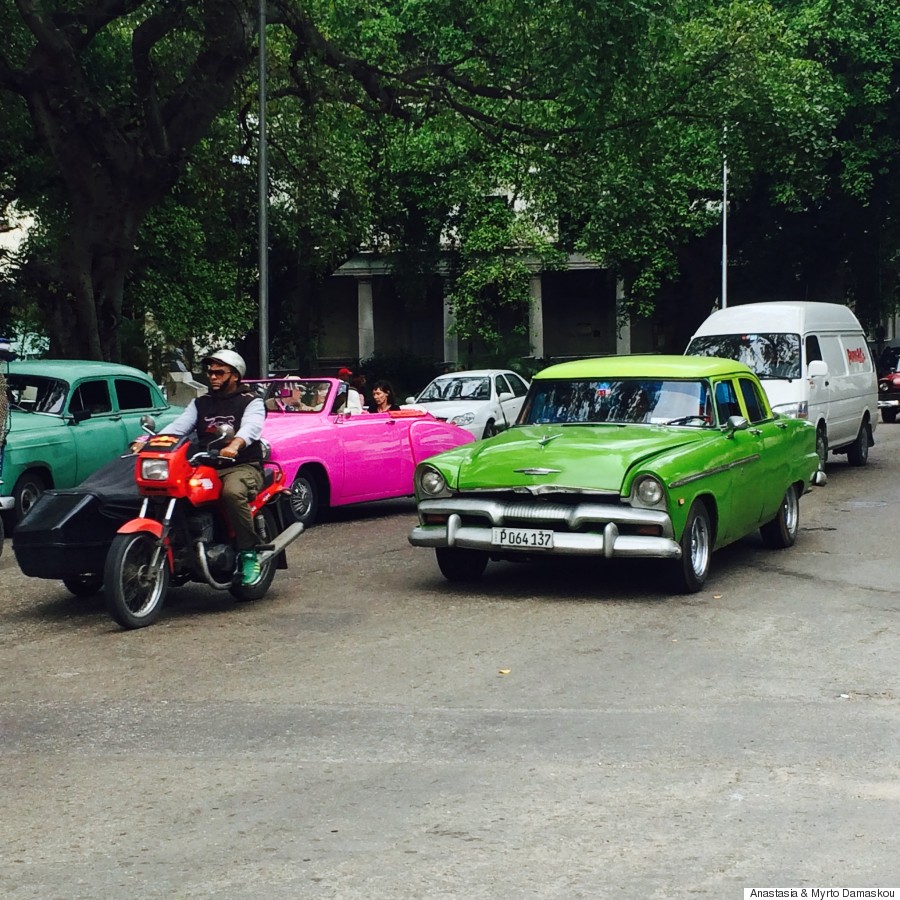 Mint green, shocking pink, royal blue, magenta, blinding yellow, pistachio and pea green - all of these are mixed into the stucco exteriors of impressive structures built from 1890 onwards by magnates whose fortunes were swelled by sugar cane plantations, rum production and of course the unique Cuban tobacco crop... not found anywhere else in the world.
Now Havana Vieja's gracious apartment blocks are populated by hundreds of people... you pass the exquisite interiors but as you peer inside the darkened entrances poverty is quite evident. Narrow openings contain cramped butchers' shops, larger ones reveal cavernous fruit stores... food supplies are abundant and Cuba has a practically zero malnutrition rate.
I had been in love with the idea of Cuba for years, an inexplicable yearning from afar to get to know this ruined urban paradise. I knew the Caribbean well, the powder soft beaches, the sea a paradox of crystal clarity and warm temperatures, the over decorated cocktails, blindingly verdant vegetation, neat colored houses on all the islands whether of British, French or Dutch descent.
Cuba is different. It is not perfected, manicured, neat and polished. It doesn't sustain quaint English habits like taking tea or playing cricket, it is not sanitized or Westernized, nor does it have malls, designer boutiques or 7 star accommodations. Its magic and its uniqueness is that it is damaged but gorgeous, authentic, human, touching, great fun with extraordinary people. It seizes your interest from the moment you arrive at the airport with the leaking ceiling and phenomenally slow luggage conveyor belt and keeps it stimulated the entire time you are there.
Regarding transport, yellow taxis are easy to find and safe however you must not miss taking a ride in a vintage Dodge, Studebacker or Chevrolet Impala, Buick, Ford or Packard. Or in a shamefully large and a polluting Soviet era limo out of which you expect a mummified Brezhnev or Kruschov to be winched.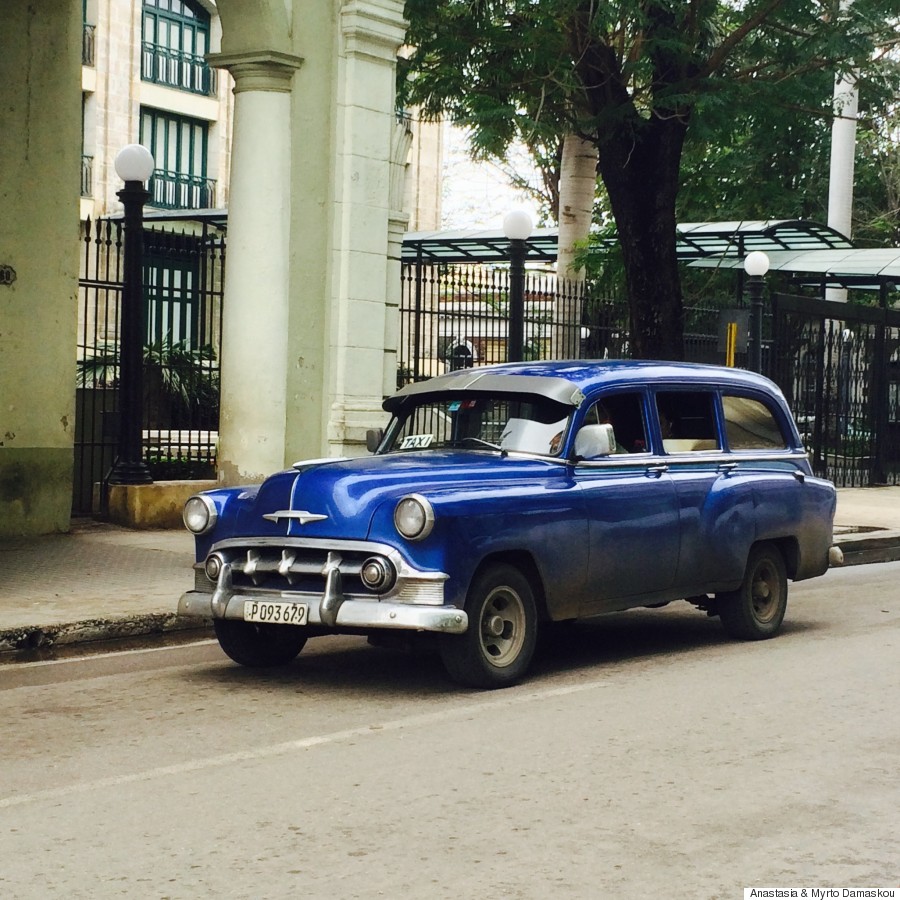 However these forays should be restricted to an urban outing. Despite the surprising access to spare parts and resourceful mechanics and the faded but plush interiors, these vehicles will not sustain an excursion on Cuba's bumpy and precarious highways.
Car rental prices I found on a par with Europe but our driver's daily rate was reasonable - 30 euros a day, the equivalent of 30 cuc which is Cuba's money for foreigners in Cuba. However owing to bad communication by SMS, we had to rent a car the night we flew in, tired and confused and with my powers of negotiation somewhat impaired.
Hotels are huge and vary from some shabby, Soviet megaliths along the coast to smaller more intimate ones with character and ambience in the centre of the old city. The Saratoga has a tranquil lobby, others are the Armadores de Santander, with its exquisite exterior, the Hotel Raquel in a gorgeous building, the imposing Telegrafo and the Hotel Los Frailes with its cloistered lobby.
I chose the National and would again. Designed by the US architects Mckim, Mead and White who created Penn Station, the Harvard and Metropolitan Clubs of New York, it has a mile long tiled styled Moorish lobby, a restaurant in a 1930's ballroom with crenellated ceiling, a huge loggia with a bar and sickeningly lime green corridors of Eastern bloc proportions.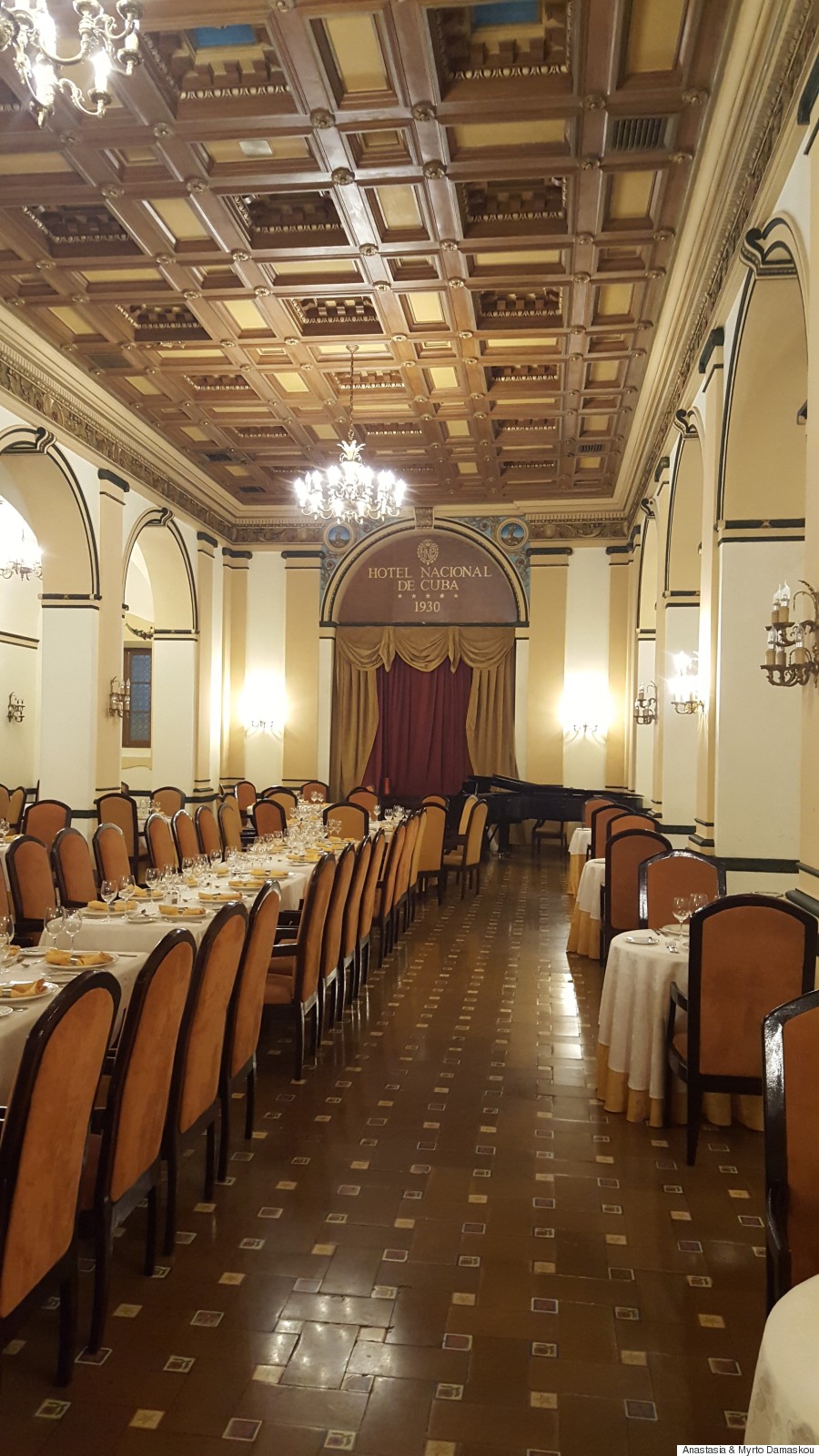 The suites and rooms, as befits a 400 room hotel of that era, are of varying sizes and degrees of charm. A junior suite costs 420 € and a double room 310€ a night. Heavy Spanish colonial furniture stifles the room but some of the views are great, some bathrooms huge and the maid service on a par with any international five star hotel with our wonderful maid presumably being paid phenomenally less than her European counterpart!
The turretted Nacional imposes itself on the Malécon or walled sea promenade. The fortress like US Embassy looking very quiet to the left and old Havana about 3 kilometres to the right.
The Malécon was our everyday running route though running was even more of an approximation of what I could manage in Cuba than elsewhere. The humidity was 90%, the weather in mid January this year more akin to Manchester, England than to the Greater Antilles islands with a temperature of 14 degrees at best in the day and 9 degrees at night, with showers and gusty winds that whipped the sea into a most unfriendly place. The thought of paddling, let alone swimming was abhorrent. In any case there is a rocky reef all along the Malecon and the nearest collection of beaches, Playas Del Este, are forty minutes away. Run, hobble and walk route then would be more precise.
We reached the quay opposite the Morro Castle, a squat stone fortress brooding on the mouth of the harbor, defending Cuba from pirates in the past and now beckoning in cruise ships gorged with tourists. Nearby a white guardian statue of Christ looks joltingly like the one in Rio de Janeiro but smaller but with arms in a different stance. You can amble along the stout castle walls, walking round black tarred cannons and visit the chapel and ammunition stores or climb to the lighthouse but only when it is calm. Most days the waves clashed and smashed themselves on the rocks and would wash any enthusiastic photographer away!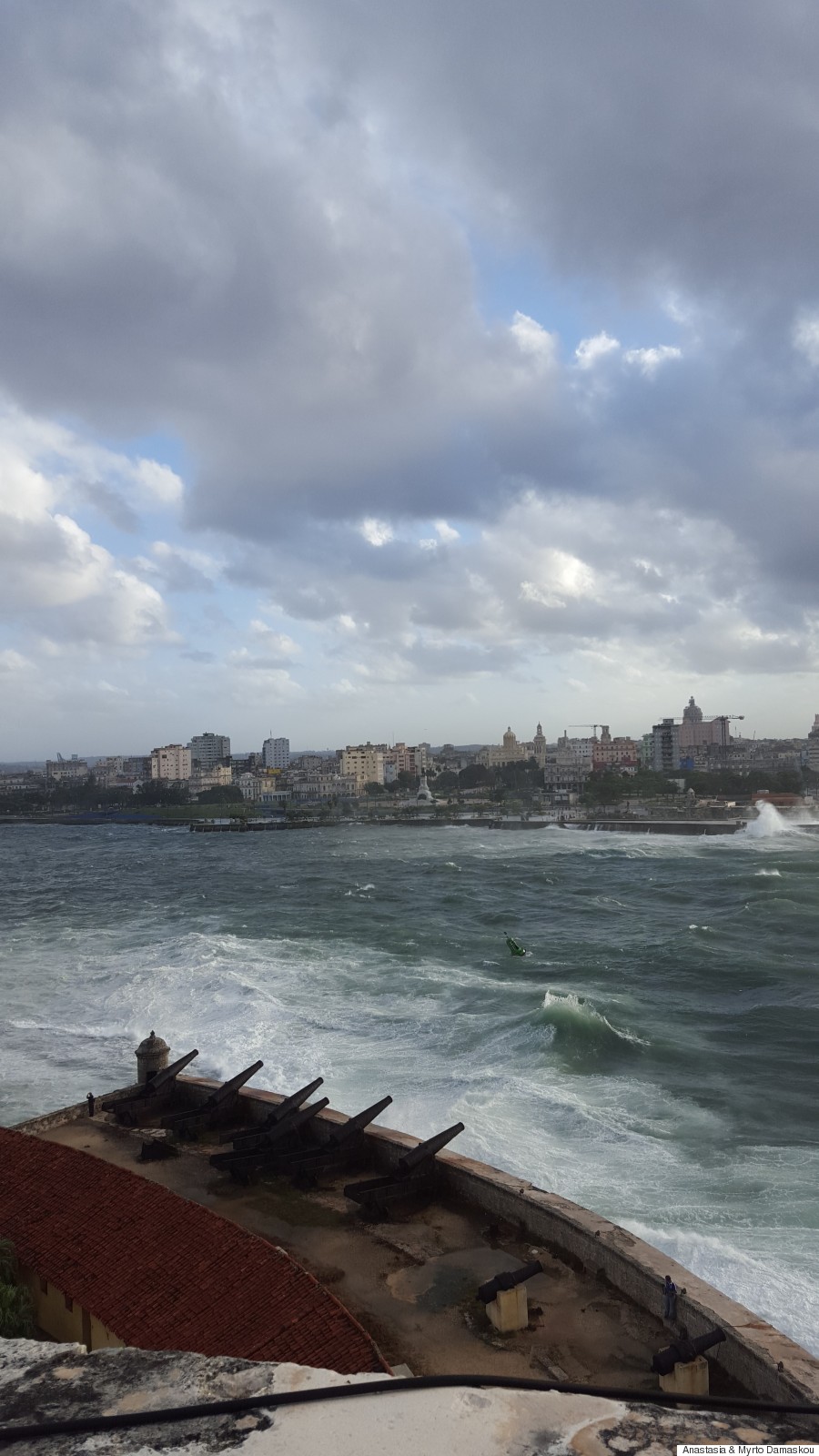 Almost opposite the fortress is the Ferria San José, a gutted railway station on the water and in the water much of the time we were there owing to high waves. It is a noisy, jostling warehouse with a New York riverside vibe crammed with stalls selling wares sold all over Cuba: naive paintings, tea shirts, drums and native musical instruments, ashtrays and cigar holders and cheap knickknacks.
We ended our first day with several daiquiris and unimaginative snacks at La Floridita, Hemingway's most frequented of his many preferred bars. His bronze likeness props up the counter and as we sat down a small band struck up as it always seems to do here. Sipping rum and puffing on my first cigar smoked in its birthplace, I felt a rush of joy and an odd feeling of being at home.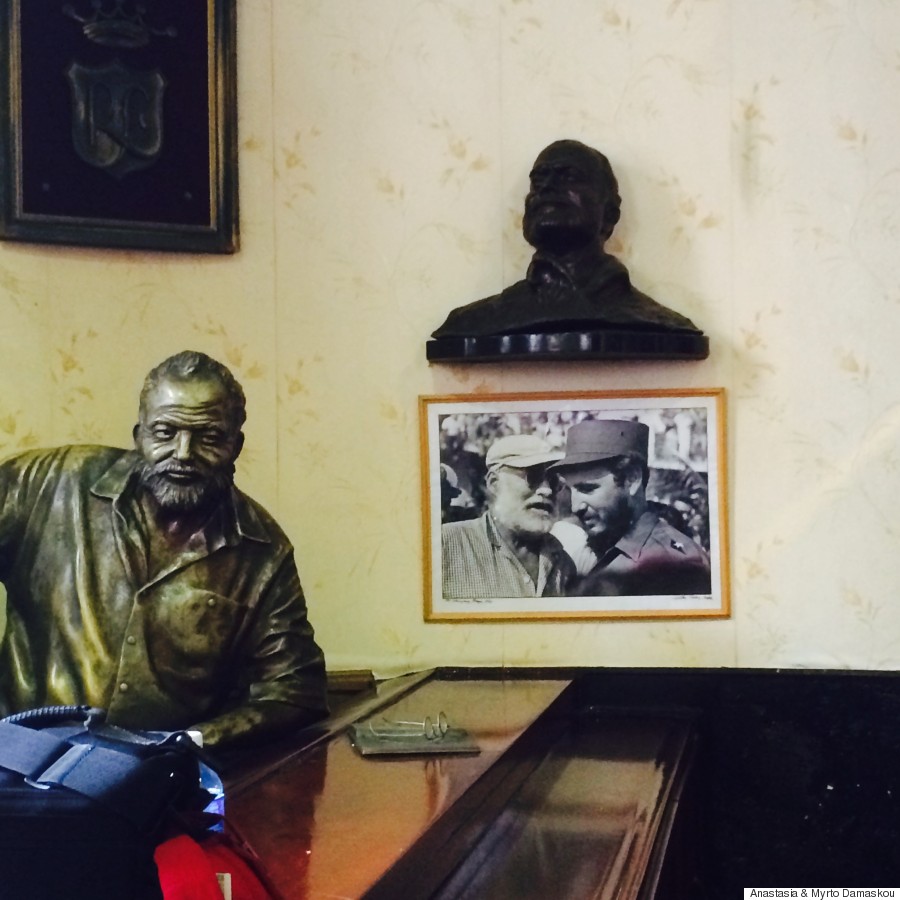 The next day was Sunday. On what I thought was supposed to be an atheist island, many people attended church. After a sobering visit to Santa Maria de Mercedes where we lit candles and set white flowers alongside them, we visited the Plaza san Carlos and the Museum of Archaeology contained in the house of the Governor of Cuba.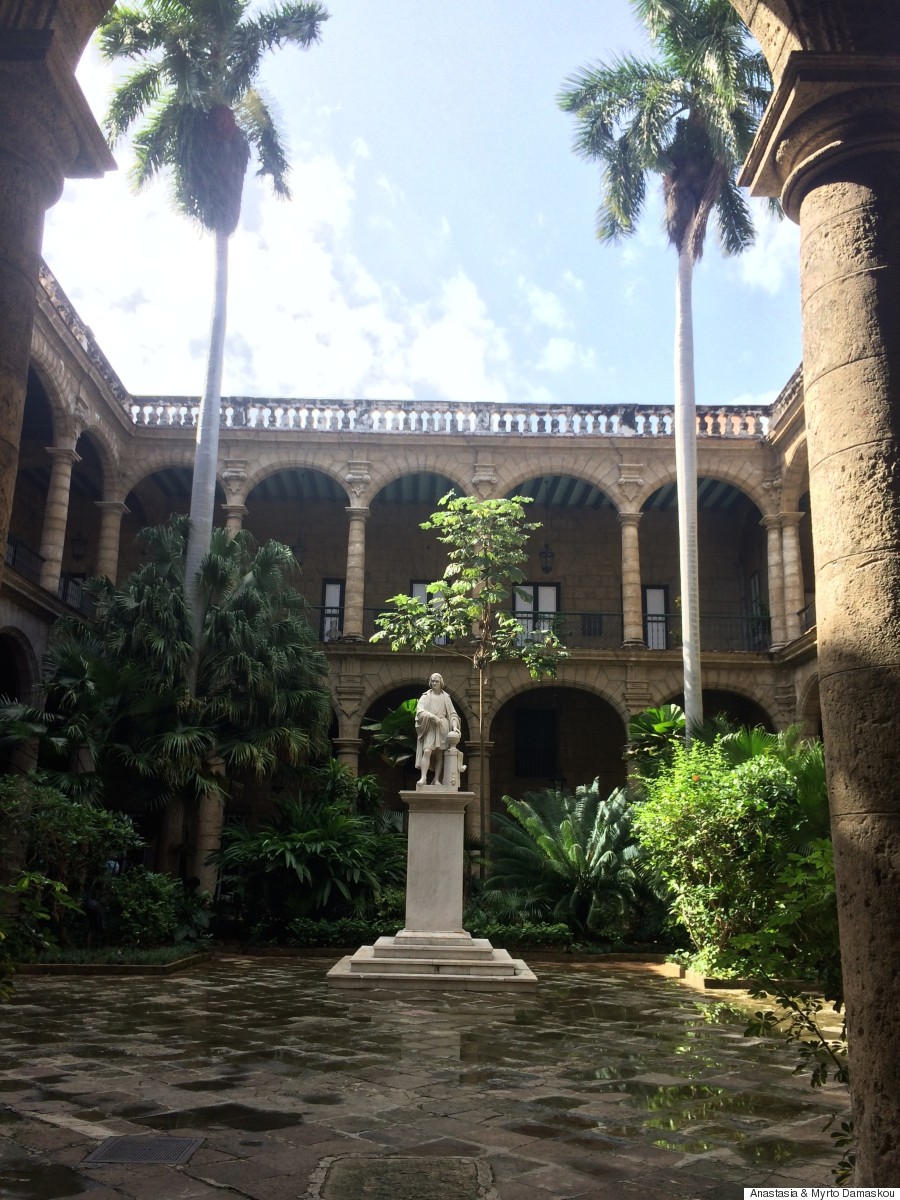 Like all the museums lodged in old mansions, the Moorish architecture gave off a stately air of calm. Thick walls gave on to an inner courtyard and first floor loggia, the principle rooms had ceilings of painted coffered wood and the rest contained nothing but heavy Spanish chairs, Meissen figurines, French ceramics and grumpy attendants who turned charming once tipped.
Outside the museum is a flea market with an array of antique watches, cutlery, jewellery and books. I did not buy a capacious Trinidad brand cigar ashtray at 150 euros which seemed so much in Socialist Cuba... I still regret my inner voice of reason!
We passed cafes called Museum of Coffee, Museum of Water but some were closed. "Cerrado" is a word that recurred - the Capitol, the National Museum of Fine Arts, the original Partagas cigar factory were all shuttered for renovation which seemed odd for tourist peak season but as I found out all seasons are peak except July and August when the humidity can be debilitating.
We then made our way cross town to the Plaza Sagrada where we tried to visit our own Greek Orthodox church and succeeded on finding it open three days later. I also peered into a sombre church which houses the Museum of Religious Art crammed with rather macabre wooden figures and other relics.
The next day was devoted to another element which differentiates Cuba from its Caribbean counterparts. There are infinite museums covering everything from chocolate to ceramics. My three favorites were the Museum of the Revolution, of Havana Club rum and that of Cuban art.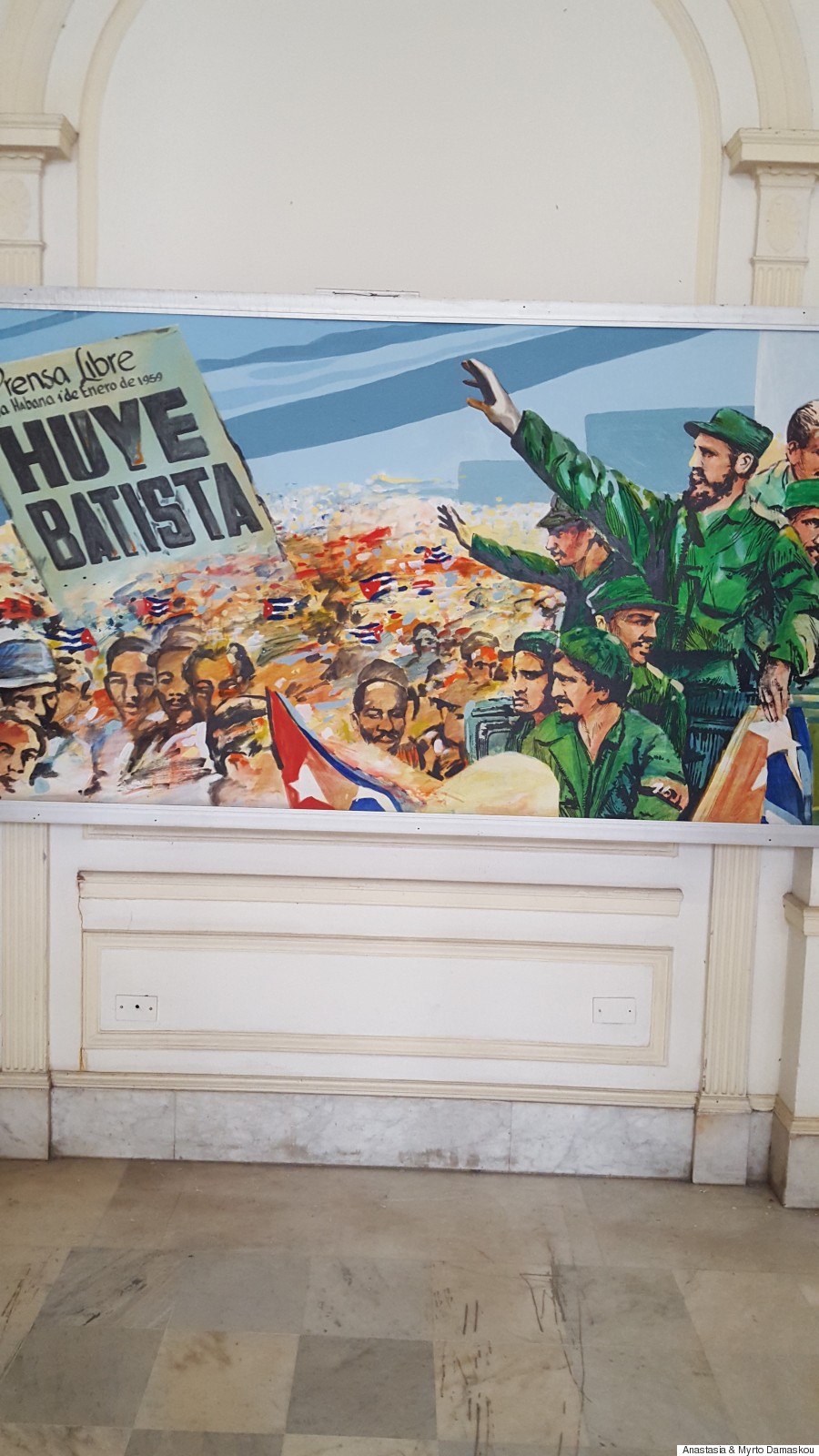 The Revolution Museum is installed in the Governor's Mansion from which Fulgencio Batista, the dictator, was most unceremoniously ousted in 1959. It confronts you with bloodstained shirts, abandoned shoes and a plethora of documentary evidence about heroes martyred for Castro's cause.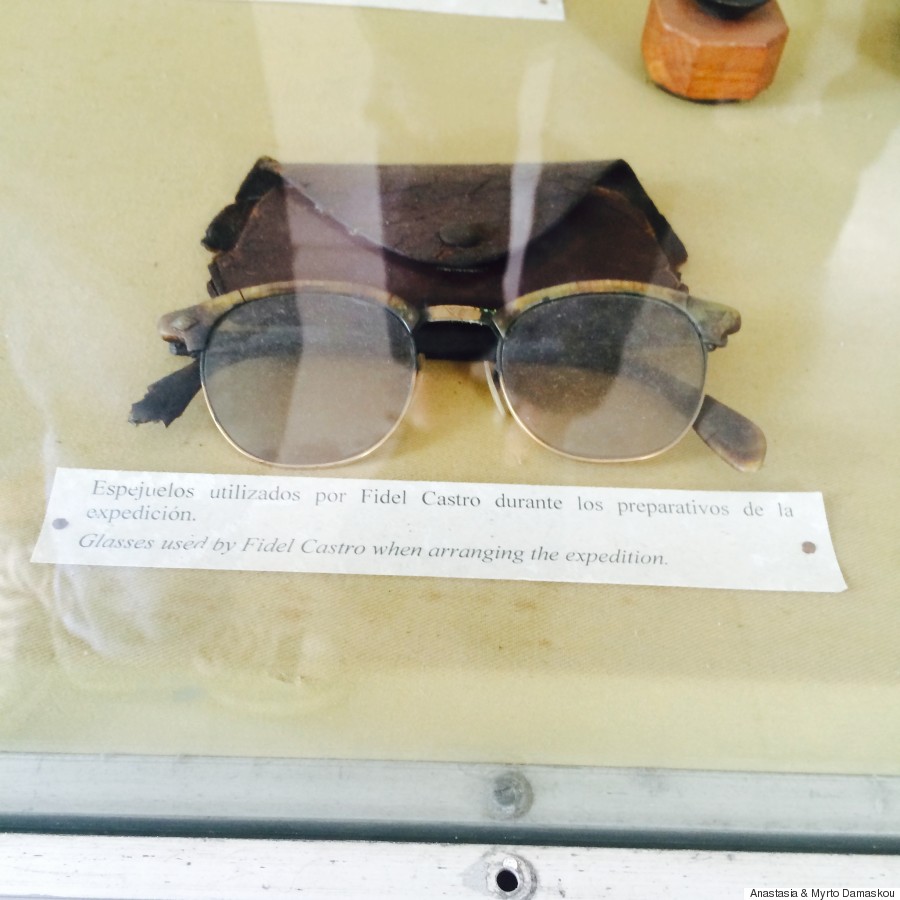 The claustrophobic lay out, the exhortational placards like the ones you see on billboards all along the highways, extolling socialism and threatening those who may disagree, completely brainwashed me. I felt shocked with the corruption which existed before Castro and awestruck by the adulation and fervor he still inspires with his legendary counterpart Che Guevara.
The only gorgeous remnant of the totalitarian past of this gubernatorial palace is the vast council hall now being rubbed and restored to its former, gilded Capitalist glory.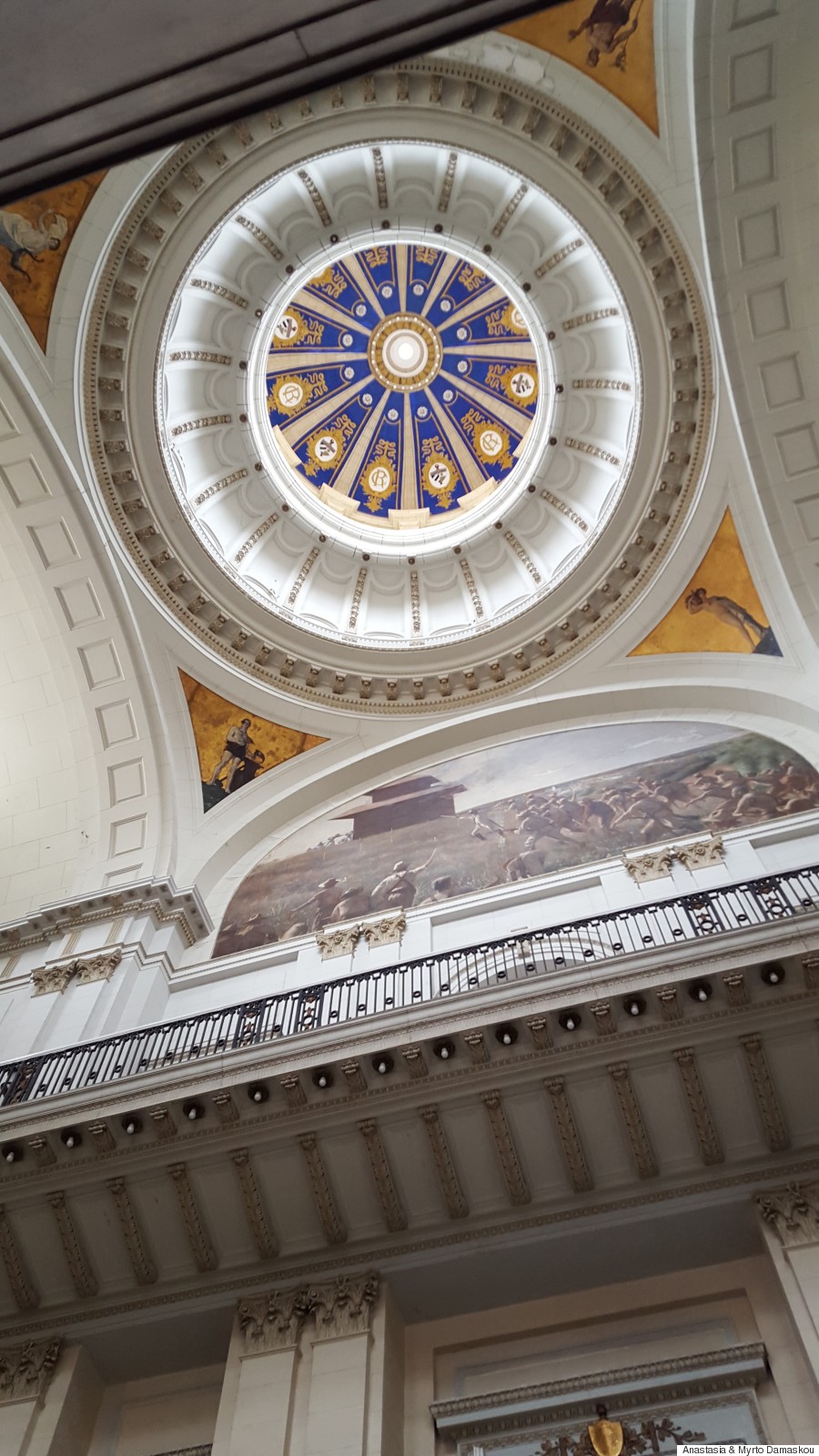 Other than gawping at this, I left feeling disoriented and therefore missed the external exhibit which can only be entered from within the museum. This houses the eternal flame of the Revolution, missiles and planes and the original yacht Granma in which the rebels sailed.
The Cuban art museum is well thought out and holds contemporary and historical paintings.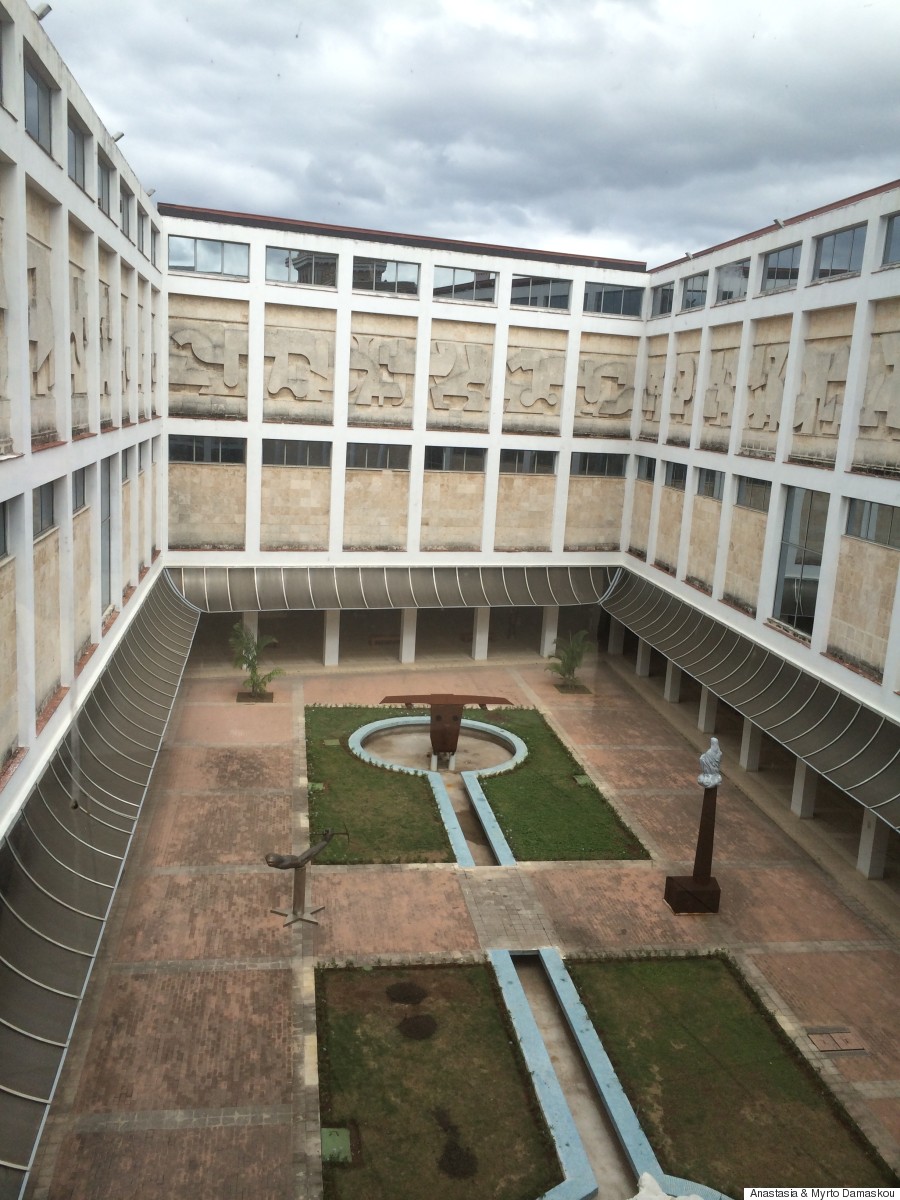 On the ground floor are extensive and provocative works by Esterio Segura whose studio we wanted to go to on the other side of town. Owing to the volatile weather and the lack of verve from our driver, we never got there but his works still remain in my mind.
The Havana Club Rum museum is the nearest you get to the concept of Disney World merchandizing in Cuba.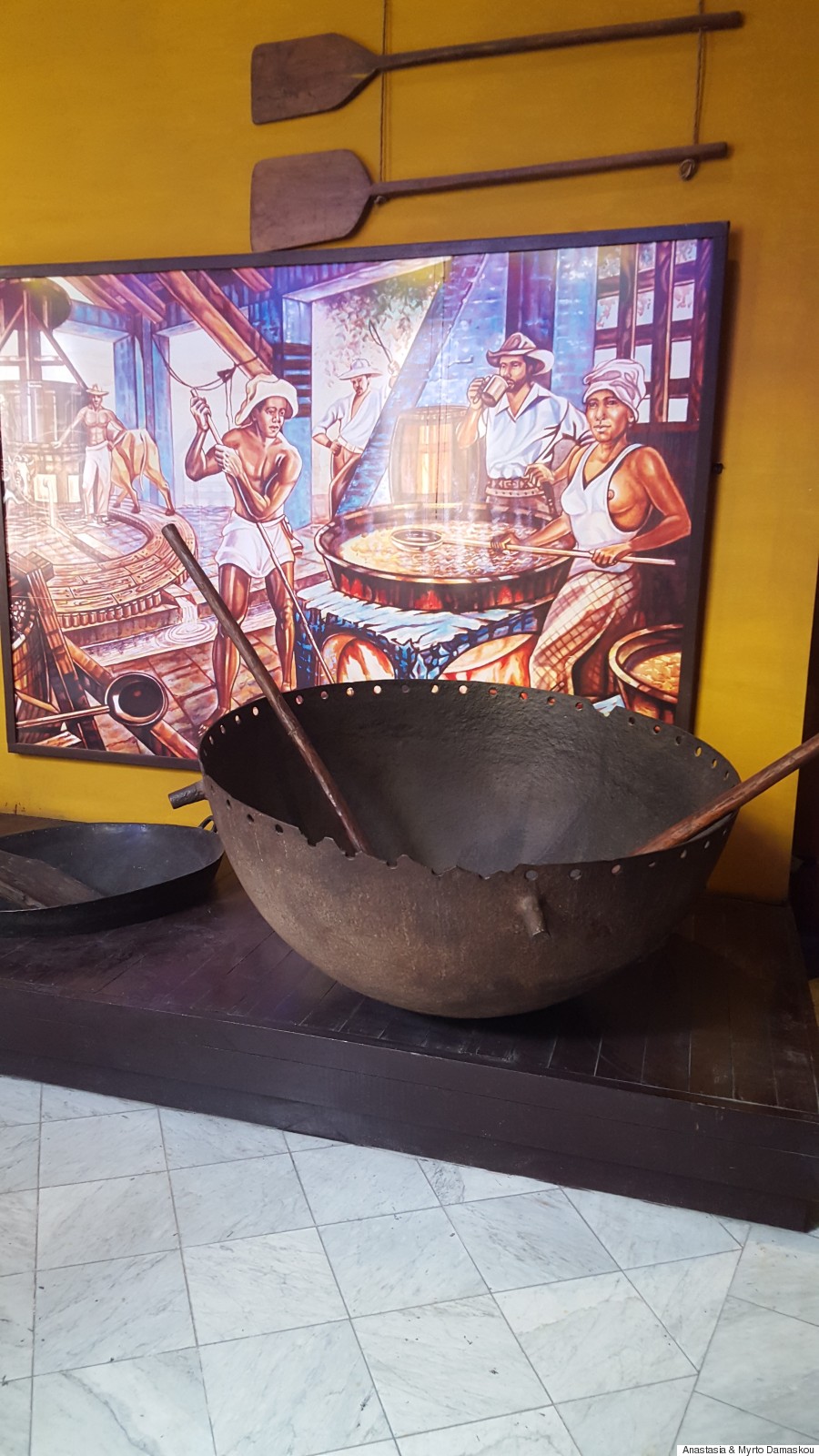 It exhibits the implements used to turn sugar cane into rum, explores the disturbing use of slaves until as late as 1886 and has a vast model of a sugarcane factory replete with train track and flickering furnaces. My sugar cane rum punch which I bought in the courtyard before my tour, did not help my concentration or balance but I was truly interested. The tour ends in a dank gift shop where the Disney spirit lurks and where Havana Club rum and accessories are sold.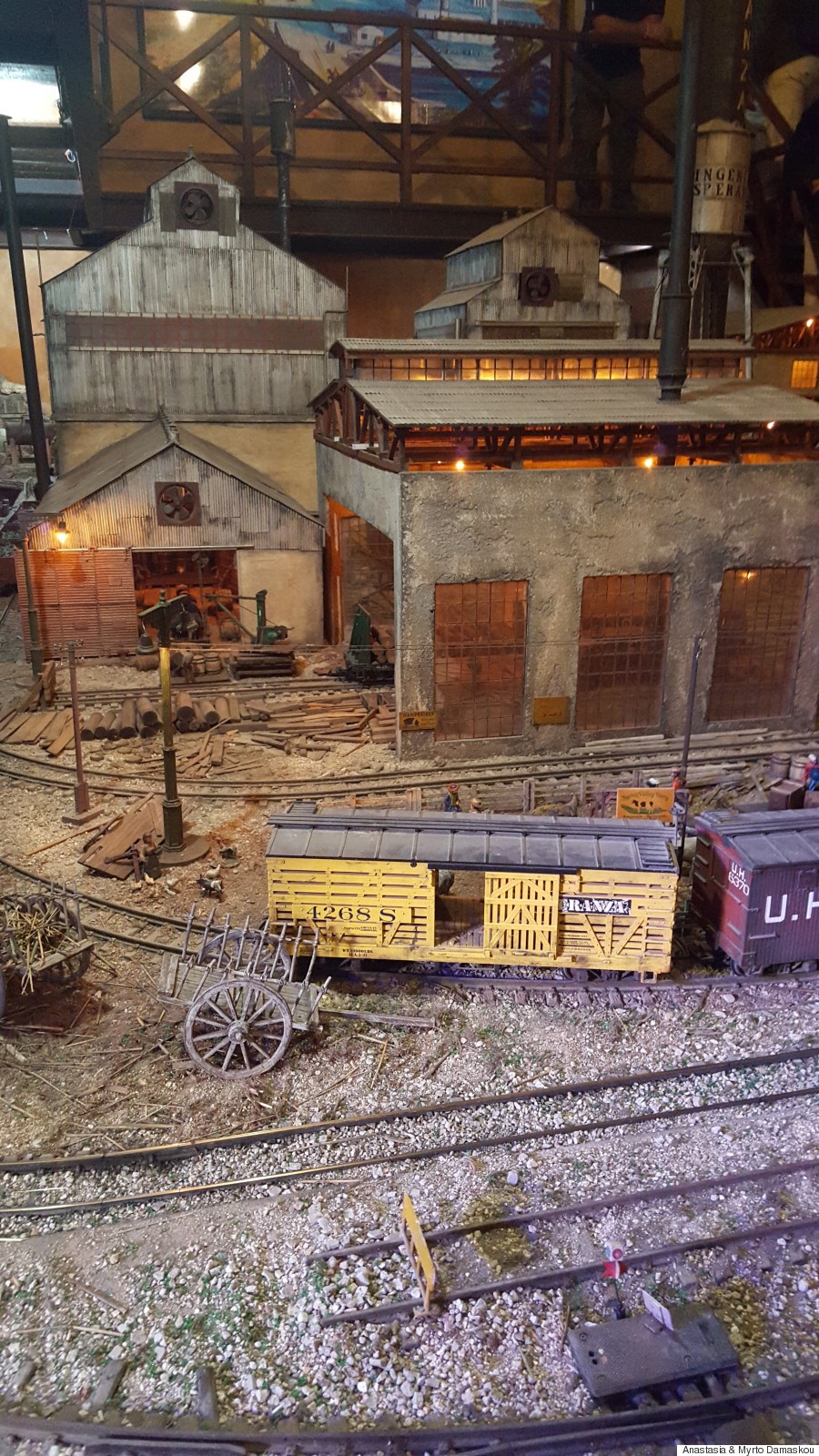 Two other museums of note are the ground floor of a Havana house which was the home of the writer José Lezama Lima, cluttered with books and atmosphere and the Museum of Decorative Arts in Miramar, an elaborate early twentieth century house built for a sugar baron whose ostentatious rooms boast a collection of Chinese vases, French furniture and Carrara marbles. It is a stifling but well preserved example of a Cuban mansion replete with an overgrown garden with two huge canine statues.
The delights of Havana were many but they need to be escaped after a few days. Our first trip was to Viñales in the tobacco producing area of Pinar del Rio.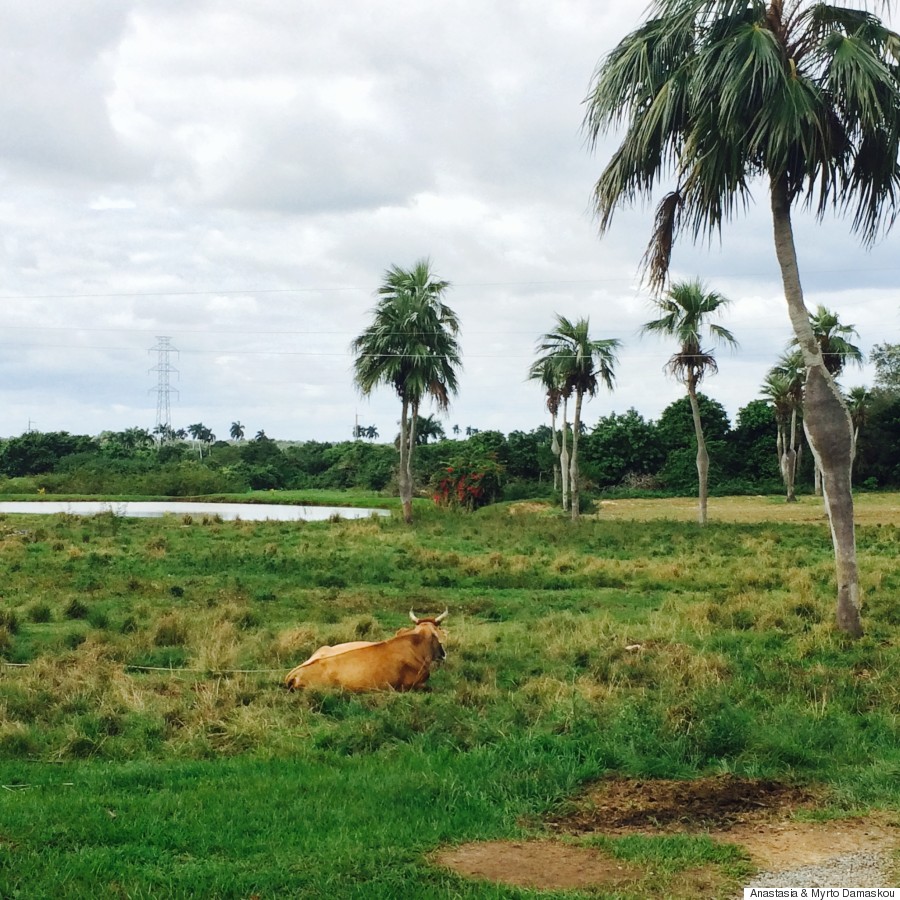 The lush green horizons were tranquillizing and the experience of entering an all wood house and walking through rows of drying tobacco leaves unforgettable.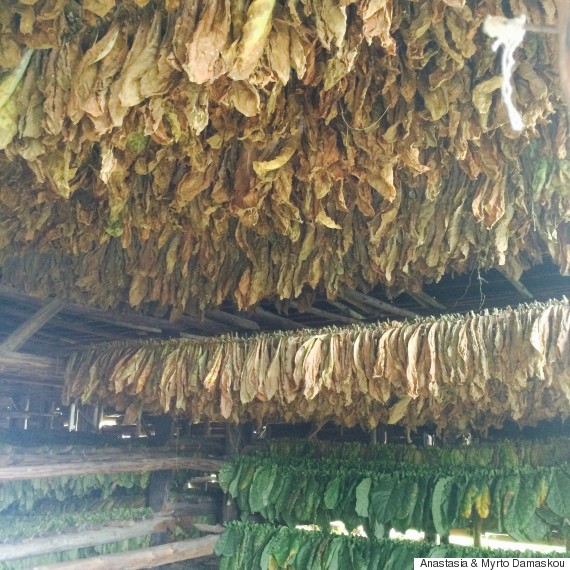 The elderly couple working there, rolled a makeshift cigar for me. Outside hens, sheep and an Alpha male rooster provided company and I would have been happy to drift off there for the rest of the day. However we made it to the Caves of Santo Tomas which my daughters told me revealed stalactites and other wonders.

To access Viñales you pass through Miramar, the Beverly Hills of Havana whose main artery is actually called Fifth Avenue. Here are gated mansion houses, most of them embassies with gorgeous gardens and shaded porches. These give way to some seriously large houses belonging to the Cuba's rulers and elite. I kept my reactions to myself thinking back to the hovels of Havana, albeit in glorious ruined building.
The second trip was a half hearted attempt to explore Varadero. The cool white sky, low temperature, the worry of leaving one daughter in the hotel with food poisoning did not add ebullience to the trip, which was long, tiring and dull.
Varadero is a long spit of land and the beginning part of it has a long public beach. The sand was white and soft, punctuated by strange azure star shaped jelly fish along the shore. There was one brave Western father charging into the surf with his equally valiant son. Otherwise the beach was empty. The road parallel to it had horrible tourist shops and bars as you find in cheap resorts the world over. I made the mistake of not insisting we drive further to where the luxury hotels are ... something I hope to do on a future and sunnier visit.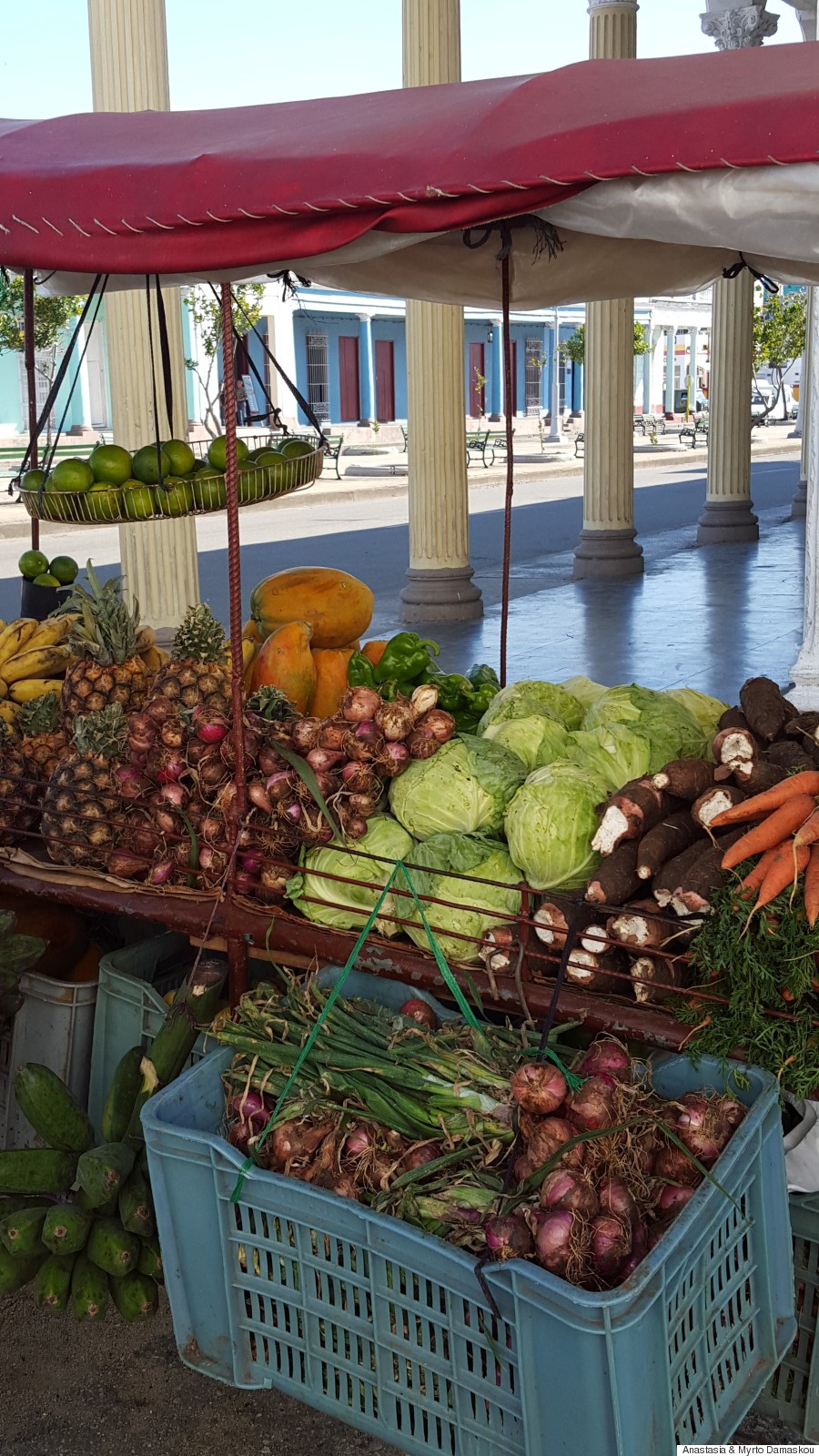 The third trip was the best... the drive at top speed to Cienfuegos just for the day. The town has a long central street of pastel colored houses and many interesting galleries, a small Moorish palace with darkened interiors of heavy Victorian furniture, a pedestrian walkway with local and tourist shops with nothing I wanted to buy and a central square featuring the Tomas Terry theatre, a cathedral that was closed and an impressive government building. I was expecting little streets with bars but there were none.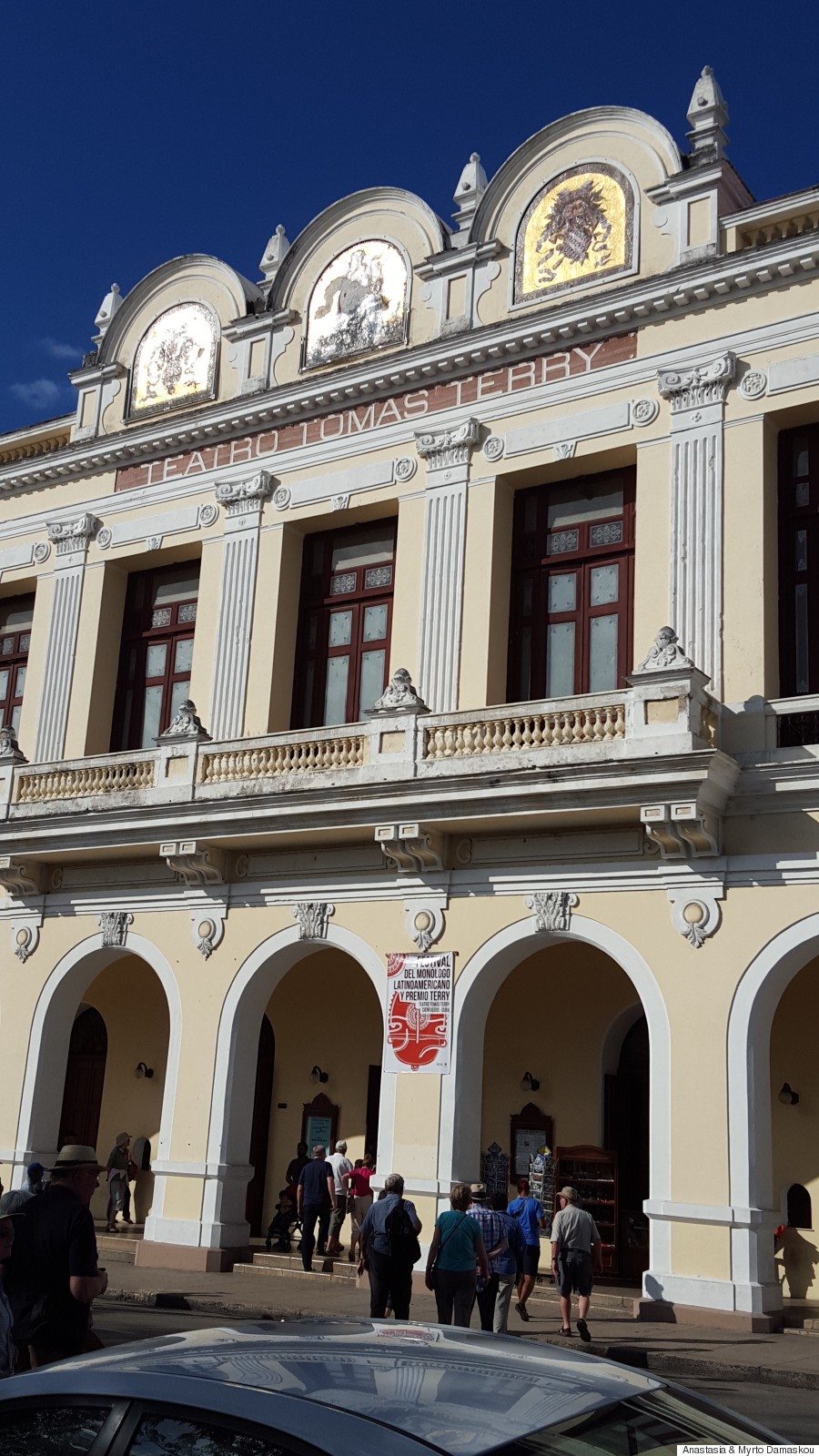 For night life, we hurtled back to Havana. The paladars, private restaurants opened in apartments and houses, are an essential Havana experience. Some are state owned with sophisticated food but a rather sanitized air. Vista al Mar and Doctor Café are both in Miramar, with good food but are charmless. The most glorious one is La Guarida and we visited twice. Housed in a crumbling apartment block which was the real set of a movie, it is approached up a staircase both derelict and majestic, its many different rooms have chandeliers and a plush not quite perfect interior. The cocktails are great, you can smoke your cigars and the tourists at the table next never even blinked... it is totally hedonistic! My Rum Collins was accompanied by crunchy steamed Marlin Tacos and a spicy tuna tartare while my daughter's Sangria was served in a glass so huge it obscured her face. A memorable main course was the sweet honey chicken with lemon.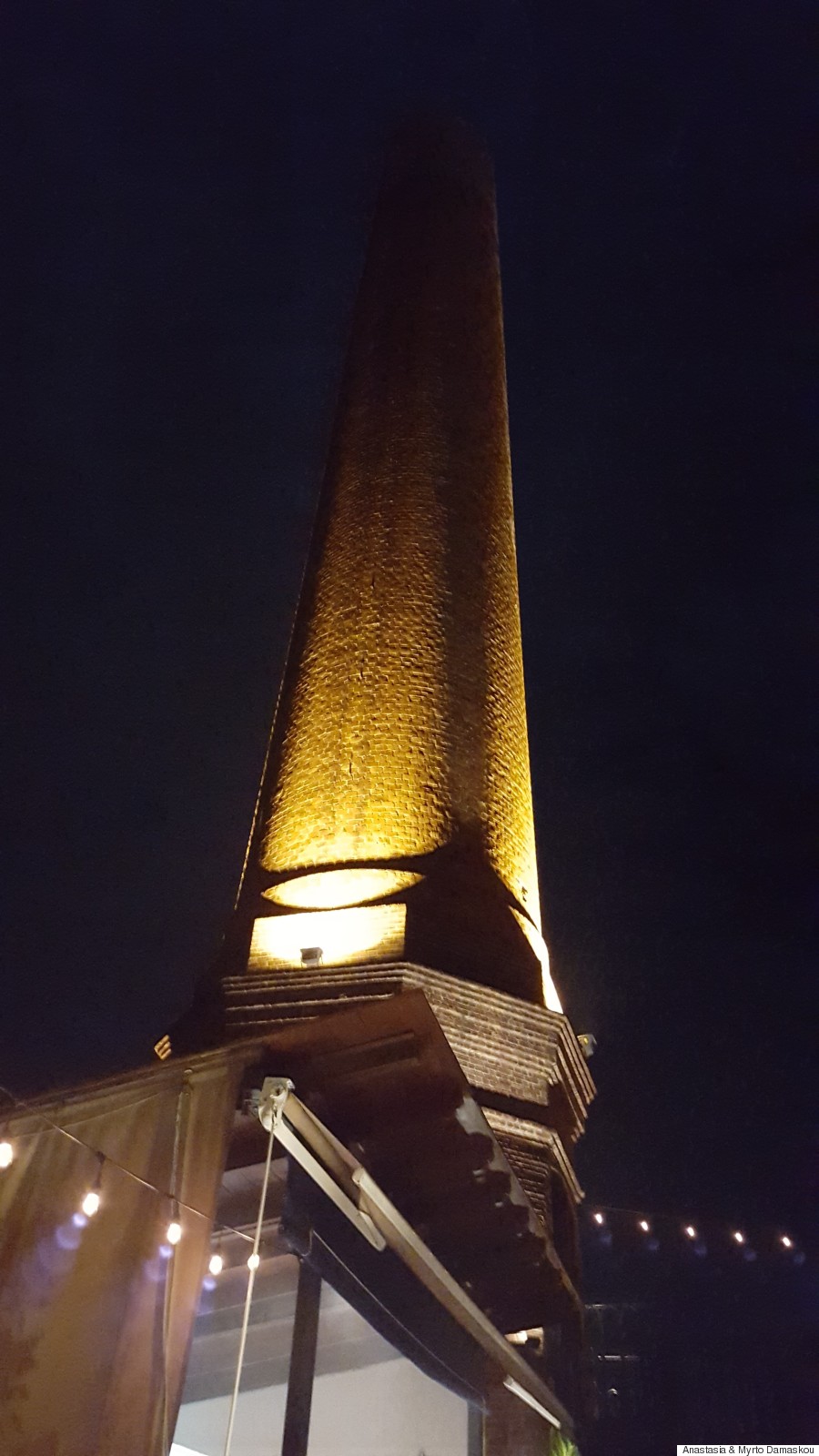 A second "must" visit is to a disused vegetable oil factory called El Cocinero. We shivered on the very Brooklyn style roof terrace enjoying Chilean Sauvignon Blanc, smashed fruit bombs laced with rum and a more contemporary, spicy take on the somewhat limited dishes Cuba offers. I remember a crispy and delicious salad, a cheese tart and a selection of three different tacos. There was a melted milk chocolate pie I cannot forget.
The third "must" was a paladar Mercaderia named for its street Mercaderes.
Here the dishes were fried malangas (like plantains), olives, lobster perfectly cold poached in a Sunrise sauce of wonderful mayonnaise, slow cooked pork ribs with mixed vegetables and well prepared rice with black beans and yucca slices. They served the best crème catalan I have ever had.
Lunch times were more casual - two exceptions were the Café Abel run Abel himself who works at the Partagas factory where 20.000 cigars are rolled a day. A bright second floor space, the service is attentive even if a bit slow and the dishes beautifully served on old plates. The second is the supposed home of the Mojito, La Bodeguita del Medio opened in 1942, crammed up to the ceiling with photographs of celebrities and with a menu heavy on pork and fried plantains.
Every night we vowed to go to a salsa bar like La Tun Tun however the rum consumption before dinner plus jet lag rather mocked our planning!
As it was held in an enormous function room of the Nacional, where we were staying, we watched two members of the actual Buena Vista Social Club joining other singers and a pair of lithe dancers for a musical evening supported by a very lively drummer. The served dinner was fairly tasteless and overpriced but the talent and energy of the couple of octogenarians quite infectious.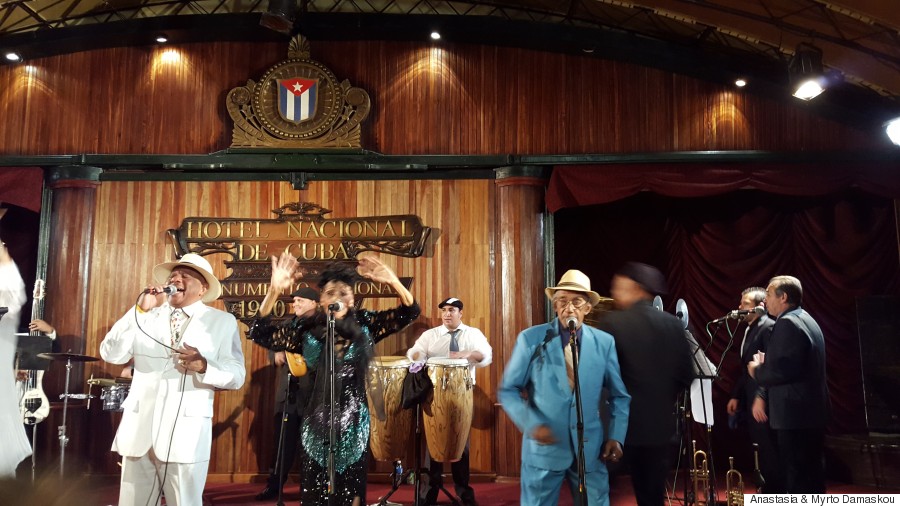 Secondly we visited the Alicia Alonso theatre, a Sugar Plum Fairly Castle of a building in the centre of old Havana with a curved marble staircase and an ornate auditorium. There we watched Cuba's Contemporary Dance Company, a diverse troupe of magnetic dancers, some reed thin, others more athletic and muscular and all the ballerinas topless, perform three different contemporary pieces.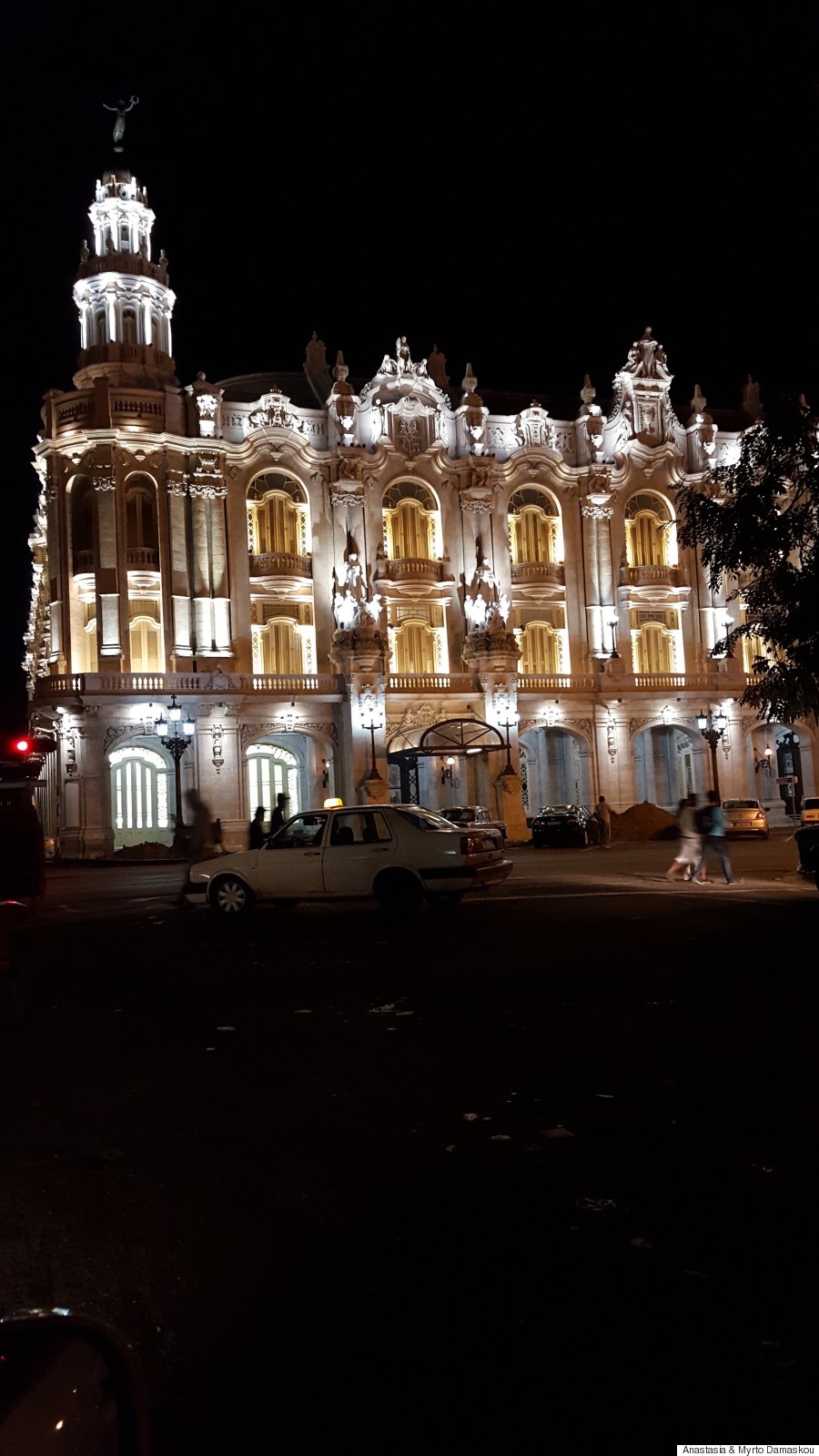 Finally we did secure a front row table at La Tropicana, the storied night club of the forties. Here elderly and truculent maître d' s hurled rather than served the wine it took 30 minutes to order, accompanied by some very poor snacks. The orchestra and its rather antiquated conductor seemed stuck in a 1940's time warp but the dancers, in garish costumes and flouncing head dresses, were reasonable, especially two acrobatic acts which were the Cuban equivalent of Le Cirque du Soleil. Again the chilling gusts of wind did not help create a fun mood and I definitely felt the Tropicana was like a faded cabaret dancer, remembering past glories and settling for a very average present.
These are some of my memories - a dazzling array of images, colors and tastes all pervaded by the deep happiness of being in a place that was a vision for so long. There is still a gaping difference between wealthy and poor here and much of what you see will make you indignant and sad. However the Cuban people, their spirit, energy and ability to make extraordinary cigars, music and mojitos with grace, rhythm and talent will steal your heart away. And you will be so glad they did so.