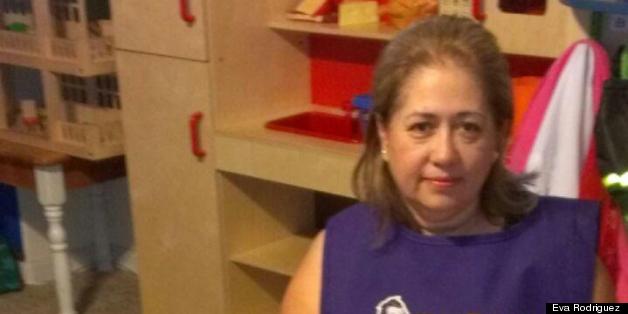 When my son was 4 years old and my daughter was 3, I took them both to work with me every single day. It wasn't part of some special day at work with mommy -- taking my kids into the California fields to trod along with me as I picked oranges, grapes or olives was the last thing I wanted to do. I hated exposing them to the pesticides and it broke my heart to know that if I was feeling the beating sun on my head, they were too.
Thirty years later, my kids are now grown and I have long since stopped working the fields. Today, I'm on my fifteenth year as a child care provider in Hanford, California. I'm licensed to run an in-home day care center, certified as a teacher's assistant and continue to take child development courses that hone my skills at caring for young children and helping them prepare for their future.
As a provider, I see first-hand the role child care, or the lack thereof, plays in the lives of working parents and their children. For many of us, Take Our Daughters and Sons To Work Day is an opportunity to spend time with our children and proudly show them the work we do. But for millions of working families, Take Our Daughters and Sons to Work Day is no holiday -- many parents are forced to bring their children to work because they can't find child care. For others, every single shift is a struggle to find affordable, reliable, high-quality care for their young children.
These days, too many mothers and fathers have jobs at places like Walmart, America's largest employer, or in the fast food and retail industries, where schedules change from week to week or day to day and often include graveyard shifts, late nights and early mornings. For them, every day is a scramble to find child care. In many cases, if these parents cannot find child care, they can't go to work.
That daily child care scramble has very real consequences: When every dollar you make matters, a missed shift can make the difference between being able to keep your job or keep up with the bills. When children and working parents can't find or afford reliable care, that's where the trouble starts. Parents fall behind at work or get burned out. Many drop out of the workforce. Children don't get the valuable early attention, nutrition and education they need at a young age, leaving them unhealthy and unprepared for elementary school.
That's where child care providers like me come in. I know what it's like to struggle to find a safe place for one's children, so I adjust my schedule to make sure working parents can continue to provide for their kids. Sometimes, that means work starts at 5:00 in the morning. Sometimes, it means working on weekends. In the end, though, it's about making sure parents have choices -- good choices -- where their kids are being cared for, nurtured and inspired to succeed.
That's why we must fix our broken child care system. Right now our country and our state treat child care not as the necessity it is, but as a luxury that is all too often out of reach.
The question is often asked: 'How vital is early child care and education?' The answers are clear: Studies have shown that early childhood care and education keeps our children and teens out of jail and saves money by reducing the need for remedial and special education, and we help businesses and the economy by making sure people can go to work or school and advance their careers. Years of research show that the first few years of a child's life define almost everything about their ability to succeed in school and, later, in the workplace. That means that the children in our care look to us not only to keep them safe, but to prepare them for the rest of their lives. Child care providers know how much trust parents place on us, and we take that trust very seriously. It's time for our state and our country to take early childhood education seriously too.
President Obama gets it. He used his most important speech -- the State of the Union -- to call on state governments to make early childhood education accessible for every single boy and girl in America. He pointed out the clear benefits: "Every dollar we invest in high-quality early education can save more than seven dollars later on -- by boosting graduation rates, reducing teen pregnancy, even reducing violent crime." He's right. In California, parents, elected leaders and child care providers are joining together to propose solutions that will make child care accessible, reliable and affordable for families who need it. It's the right thing to do.
As many Californians bring their daughters and sons to work today, it's important to keep in mind those who are forced to make tough choices between their child's well-being and the need to put food on the table. That is not a choice any parent should have to make. With a stronger child care system, we can keep parents working and help prepare our children for the future. It's time to we invest in our child care system so that our littlest ones, and our economy, can prosper.
Eva Rodriguez is frontline caregiver in California's Central Valley helping to lead Raising California Together, an emerging coalition of parent groups, early learning advocates, community organizations, employers, clergy and child care providers united in the Service Employees International Union and AFSCME to increase investment in and improve access to quality, affordable care for California's working families.