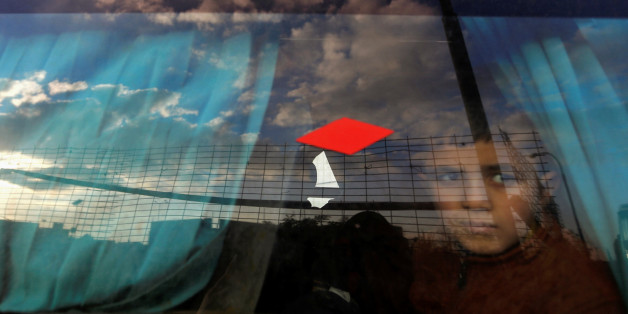 The anger by President-elect Donald Trump and Prime Minister Benjamin Netanyahu shows no sign of abating. Both railed at the Obama administration's abstention on a UN Security Council resolution condemning Jewish settlements on the Arab West Bank. Neither leader is and was a friend of President Obama.
The United States action allowed the resolution to be adopted by a 14-0 vote.
Trump has been vicious towards Obama, starting with the lie that he was born in Kenya and did not deserve to be president. Netanyahu ruined his credit by addressing Congress on the Iran deal without consulting Obama and siding with Obama's opponents in at least one election. And Trump...well, he put forth an ambassador, David Friedman, a bankruptcy lawyer who favors the settlements and is against two states. So much for solving the impasse.
But is there such a thing as a two-state solution? Even with land swaps, there are over half a million settlers living in the West Bank and in the mainly Arab section of East Jerusalem. Some settlers envision Egypt taking back the Gaza Strip and then annexing the West Bank.
The settlers' goal is clear, according to Secretary of State John Kerry, which is to place settlements in places that would make "two states impossible" and allow Israel to dominate the entire West Bank. As for Netanyahu, the prime minister has given lip service to two states but seems to be apprehensive of losing support from the far right.
For one, Israel vowed to expand its settlements, starting with the Arab section of East Jerusalem, with at least 5,600 homes. It is considering controversial legislation, known as the Regulation Bill, that would retroactively legalize settler outposts and homes built on privately owned Palestinian land, forcing the owners to accept compensation. This contradicts an earlier Supreme Court ruling and may be overturned.
Conspiracy?
Among other actions threatened was that Netanyahu would tell Trump how the Obama administration had conspired with the Palestinians on the resolution, which had been drawn up by Egypt for weeks. Trump had contacted Egyptian President Abdel-Fattah Sisi, who delayed the vote.
But New Zealand, Senegal, Malaysia and Venezuela then sponsored the resolution. Netanyahu threatened New Zealand and cut aid to Senegal. New Zealand's respected ambassador, Gerard Van Bohemen, has denied that the United States had orchestrated the resolution.
Then on Christmas Day Netanyahu summoned 12 ambassadors, including Britain, who voted for the resolution, according to the Haaretz newspaper. He also spoke to the U.S. ambassador. (Israel does not have formal relations with Malaysia and Venezuela.)
Science fiction?
Promises by U.S. legislators to "rescind" or "appeal" the resolution fail to understand that measures in the 15-nation Security Council are extremely difficult to retract, if at all. The other four permanent members with veto power -- Russia, China, Britain and France would object. In fact no country in the world would agree with an appeal. In short, such a measure is science fiction.
Palestinians of course have missed their chance for a resolution of the conflict. The government is stuck with Hamas in Gaza, which brooks no compromise. In past decades, the leadership failed to negotiate several times before Netanyahu came to power and now has preconditions, including a freeze on settlements.
Within Israel, there is a lively debate on the issue from the center and the center left. For example, Yair Lapid, the leader of the centrist Yesh Atid party, said Netanyahu was engaging in "hysterical behaviour" and warned of a "dangerous deterioration" in Israel's foreign relations, including with the "largest world powers and some of our best friends."
Tzipi Livni, a former Israeli foreign minister and a leader of the center-left Zionist Union, wrote on Facebook, "The Security Council decision is bad for Israel and it is the result of Netanyahu's surrender to the extreme right."
Schlomo Avineri, a political science professor at the Hebrew University in Jerusalem agreed, saying: "He (Netanyahu) has to choose between the international community and (Naftali) Bennett," of the rightwing Jewish Home Party, which favors outright annexation.
"Is Israel going to alienate itself from the whole world for the sake of settlement activity? And it is the whole world. Is this what Zionisim is about?" he said.
What did the resolution do?
It was adopted under Chapter 6 of the U.N. Charter which calls for the peaceful resolution of disputes and has no enforcement mechanism compared to Chapter 7 which is mandatory and can impose punishment. But for Israel it is embarrassing and the Palestinians are bound to use it in other UN forums. It is expected to serve as a judgment of international law and have legal validity. (See text)
U.S. Ambassador Samantha Power's speech is worth reading in full. She said many U.S. administrations had opposed the settlements as an obstacle to peace.
Power said the United States chose not to veto the resolution, as it had done to a similar measure under Mr. Obama in 2011, because settlement building had accelerated so much that it had put the two-state solution in jeopardy, and because the peace process had gone nowhere.
"Today the Security Council reaffirmed its established consensus that settlements have no legal validity," she said.
Power said the resolution was consistent with longstanding bipartisan American policy. She voiced opposition to irresponsible and damaging actions, including Palestinian incitement.
Anti-Israel resolutions
But she said she could not vote in favor of the text because she disagreed with some of its provisions and that the United Nations was biased against Israel. Despite wars in Syria, South Sudan and elsewhere there were 18 anti-Israeli (non-binding) resolutions adopted in the General Assembly and 12 in the Human Rights Council in 2016.
Israel's U.N. Ambassador Danny Danon, holding a bible, harked back to biblical times. Facing fellow ambassadors, he asked: Would you have dared to question the right to build in Paris? In Beijing? In London? In Washington? Jerusalem was Israel's eternal capitol.
Should Trump move away from the two-state concept, supporters of the settlements, such as Bennett, would consider it a green light for expanding the communities. So far that seems to be happening.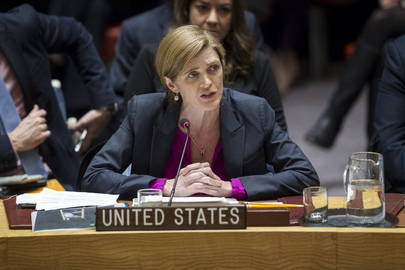 US Ambassador Samantha Power addressing the Security Council (UN photo-Manual Elias)