UNITED NATIONS -- Secretary-General Ban Ki-moon's re-election process is complete. No candidate emerged to challenge the 67-year old South Korean for another five-year term as the world's top diplomat. The question is whether he is good at his job and most agree he is, despite a low-profile that can work to his disadvantage.
After being approved by the 15-member U.N. Security Council last week, the 192-nation General Assembly on Tuesday, amid a slew of laudatory statements, voted by acclamation to appoint Ban for a second term, beginning in January and ending in December 2016. Members applauded loudly as Assembly President Joseph Deiss brought down his gavel.
Calling himself a harmonizer and bridge builder, one of Ban's lasting achievements was to highlight climate change, even though no deal has yet emerged. But the persistence of his message prompted recognition of the dangers of man-made pollution from nearly every country in the world, despite an earth-is-flat crowd among some Americans.
However, he had the misfortune of following Kofi Annan, who successfully used the U.N. bully pulpit and was arguably the only secretary-general to fire the public imagination since Dag Hammarskjöld. In the age of sound bites and merciless news cycles, Ban's choppy English has probably lowered the profile of the United Nations.
But that was precisely why John Bolton, the former U.S. ambassador in the Bush administration, pushed for his election, irritated at the attention Annan received, although his policies were certainly were not anti-American. Even Annan's objections to the 2003 invasion of Iraq were uttered well after the war began. Republicans, especially those in Congress, have had a history of wariness towards the United Nations (too many foreigners?) although GOP administrations have turned to the world body regularly - in the Security Council and for peacekeeping as well as humanitarian ventures.
Cleaning up the bureaucracy
While no one ran against Ban, it was touch and go with Russia, which has veto rights, because of the secretary-general's support for Kosovo independence from Serbia, an ally of Moscow. As usual the United States and others have insisted on reform of the UN secretariat, although a secretary-general has limited power to do so and each U.N. chief has promised to clean up the bureaucracy. Ban has lowered the budget appreciably and, like his predecessors, is under pressure to appoint candidates from major powers to key posts. He has sought to promote women and spoken up in favor of gay rights.
Said U.S. Ambassador Susan Rice in her address to the General Assembly:
"Secretary-General Ban is a leader who listens to the voices of the voiceless--of the refugees sheltered beneath UN tents, of the children vaccinated through UN programs, of the innocent civilians whose lives have been saved by effective UN action... He has encouraged us to promote truly sustainable development that expands the circle of prosperity. And he has insisted on recognizing that lesbian, gay, bisexual, and transgender rights are, simply, human rights...We look forward to working with him and his senior leadership team as they ensure that the United Nations moves swiftly to reduce bureaucracy, update its business practices, ensure budget discipline, promote transparency, and create a culture of economy, ethics, and excellence."
Probably the harshest criticism of Ban came in a leaked memo from Norwegian diplomat Mona Juul in 2009. She accused Ban of a lack of charisma, constant temper tantrums and a powerless observer during the bloodbath in Sri Lanka. (Nevertheless, Ban this year organized a panel on Sri Lanka which gave a detailed account of the killing fields as government forces ended a 25-year civil war against Tamil Tiger rebels. No other U.N. body spoke on the issue).
Kenneth Roth, the executive director of Human Rights Watch, in his annual report in January, said Ban "has been notably reluctant to put pressure on abusive governments" adding that "Ban's disinclination to speak out about serious human rights violators means he is often choosing to fight with one hand tied behind his back."
He complimented Ban on statements in Turkmenistan and Uzbekistan, but criticized his reticence when visiting a powerful country like China. He also said Ban had an "undue faith in his ability to make any progress through private persuasion the likes of Sudanese President Omar al-Bashir, Burmese military leader Than Shwe, and Sri Lankan President Mahinda Rajapaksa."
That was then. This is now.
Reverse Course on Human Rights?
Much has changed in the last six months. Ban embraced the toppling of the Ivory Coast government and authorized U.N. troops, backed by the stronger French force, to remove Ivorian strongman Laurent Gbabgo from office.
Then came the Arab Spring where Ban was outspoken in promoting democratic change in Tunisia, Egypt, Libya, Yemen and Syria - before other bodies in the United Nations, especially the powerful but divided U.N. Security Council.
Asked why, Ban used his own history for the first time, recalling protests against dictatorship in South Korea in the 1960s. "Of course, at that time students were arrested and beaten on the street, they were suspended from school," he said in a recent interview with AFP. "Sometimes I was just thrown, my hands and feet were taken by the soldiers."
And on Tuesday, in answer to a question about what he could tell young people deprived of hope or a future, he said he could identify with deprivation because of his days as a child after the Korean War. "You have a secretary-general of the United Nations that has experienced hardships."
Hard-working to the point of exhaustion, Ban travels constantly and rarely takes a vacation. He was born in the Republic of Korea on June 13, 1944. He received a bachelor's degree in international relations from Seoul National University in 1970. In 1985, he earned a master's degree in public administration from the Kennedy School of Government at Harvard University. Before he became foreign minister he was posted in New Delhi, Washington, and Vienna. His and his wife, Yoo Soon-taek, have one son, two daughters and three grandchildren.
______________________________________________________________
UN Secretaries-General:
Ban Ki-moon, Korea (2007 - re-appointed to Dec 2016)
Kofi Annan, Ghana (1997-2006)
Boutros Boutros-Ghali, Egypt (1992-1996)
Javier Perez de Cuellar, Peru (1982-1991)
Kurt Waldheim, Austria (1971-1982)
U Thant, Myanmar (formerly Burma) (1961-1971)
Dag Hammarskjöld, Sweden (1963-1961)
Trygve Lie, Norway (1946-1952)

(U.N. secretaries-general usually receive two five-year terms. An exception was Boutros Boutros-Ghali, vetoed by the Clinton administration when he became an election issue after the loss of American soldiers in Somalia. Kurt Waldheim tried to run for a third term but was vetoed by China.)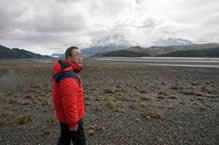 Ban in Antarctica to view global warming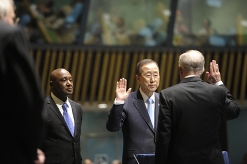 Swearing in ceremony