It may very well be "micro-blogging", but the recent global row over what were considered to be blasphemous tweets by Saudi columnist Hamza Kashgari have proven, yet again, how "macro" the impact of just 140 characters can be.
The whole issue started ten days ago, when -- on the occasion of the Eid Al-Mawlid Annabawi (The annual Muslim festive of Prophet Mohammad's birthday) -- Kashagri posted several tweets which were meant to illustrate an imaginary dialogue between him and Prophet Mohammad. In his posts, the 23-year-old journalist said that he addresses The Messenger of God as an equal, emphasizing that while he admires many of his attributes, there are others which he dislikes.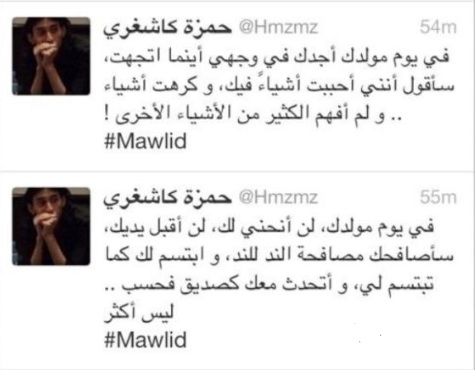 (Screen-shot of a part of Kashgari's tweets which translate to: On your birthday, I find you in my face wherever I go, I will say I loved some things about you, and hated others... and didn't understand many others things. On your birthday, I will not bow in front of you, I will not kiss your hand, I will shake your hand as an equal, I will smile at you as you smile at me, and I will talk to you as a friend, not more).
Within 24 hours, Kashgari's tweets are said to have generated an access of 30,000 responses, most of which were extremely angry at what was considered a blasphemous attack on Islam. Realizing the intensity of the situation, the young Saudi quickly deleted his tweets, apologized and declared that he had "repented", alas it was already too late.
Kashgari was quickly labelled by fellow tweeps as a "Murtad" (an apostate), a sin which is punishable by death according to Sharia Law. Others found an opportunity in the situation to launch attack on what is often referred to as the "liberal movement" in Saudi Arabia; in fact, when acclaimed BBC World Radio programme "World Have Your Say" covered the on-going saga, a called phoned in to suggest that Saudi media is controlled by a bunch of "Liberal Extremists".
Other Twitter users chose a more personal attack, making racist comments directed at Khashgari for being not enough of a "pure" Saudi, since the young writer's family originates from Turkmenistan.
One memorable reaction came from Sheikh Nasser Al-Omar, an influential Saudi cleric, who appeared in a 30-minute YouTube video dedicated to the incident.
Sheikh Al-Omar actually wept online and called for people like Kashagari to be placed in front of Sharia Courts. Another memorable reaction came from the Saudi Information Minister, Dr Abdulaziz Khoja, who tweeted his instructions to ban Khashgari from writing in any Saudi newspaper and/or magazine.
(A third-party translated version of Sheikh Nasser Al-Omar's YouTube video - NB: writer doesn't endorse accuracy of translation)
Of course, not all tweets were critical. Many users tried to defend Kashgari, calling upon others to cease their attacks given that the young Saudi has actually apologized, repented and even deleted his tweets.
Before long, Kashgari escaped the country and headed to Malaysia as rumours were spreading quick that a warrant for his arrest has been issued. A few days later, Kashgari was on a plane back to Saudi Arabia after the Malaysian Government responded to a request from the Kingdom to hand back. He now awaits trial after his story had attracted attention globally from both a media and a human rights perspective in fear that the 23-year-old may now face the death penalty.
Twitter, the real-time information network which is partly owned by Saudi billionaire Prince Alwaleed bin Talal bin Abdulaziz, has grown enormously in popularity in the past few months. According to a recent tweet by veteran Saudi journalist Jamal Khashoggi - who is heading Alwaleed's soon-to-be launched "Alarab" news channel - usage of Twitter in Saudi Arabia has grown at a staggering rate of 600 per cent, which is highest growth-rate worldwide.
Of course, more users inevitably means that Twitter has now become more mainstream, especially that "First Generation" users, who were generally tech-savvy early adapters and avid bloggers, are now being over-taken by society heavy weights, such as Saudi Royals, government officials, members of the clergy and other sports, entertainment and media celebrities.
This obviously means that the days of tweeting something and hoping it goes un-noticed are long gone. In fact, a recent case in England portrays (in a less draconian way) that laws which were once applied under different circumstances are now being extended to include social media sites.
Like Kashgari, a young Brit by the name of Paul Chambers now finds himself having to pay a hefty price for his tweets (£2,600 to be exact).A few days ago, Chambers has lost his appeal against his conviction of sending a "menacing electronic communication".
In January 2010, the 27-years-old accountant from Doncaster, jokingly tweeted his frustration against the cancelation of his flight by saying to his 600 followers that he would "blow up" Robin Hood Airport, which was closed down due to snow.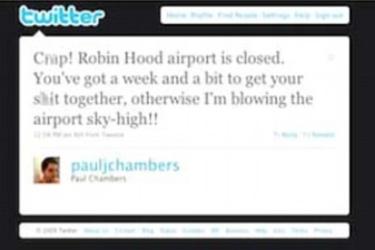 (Screen-shot of Chamber's tweet)

Sadly, neither the airport staff nor the Judge found his joke amusing, in a very similar manner to how many people in Saudi Arabia found Kashgari's comments distasteful. Now, different countries have different laws and in some circumstances, some issues are considered more important than an individual's right to express him/herself freely, which is why it may be wise for one to think carefully about the outcomes and consequences of what we post online.
However, this isn't a case for imposing self-censorship against one's beliefs, but merely a call to remember that in today's world you must be ready, more than ever, to deal with their outcomes; This because once you tweet, you can never retreat.
A version of this article has first appeared on the Op/Ed pages of the UAE's Gulf News.