For nearly a week now, it really seemed like nothing else mattered!
Headline news every where, emails, phone conversation and public debates!
I am of course referring to the recent 'Blackberry' crises that swept the world, which all started when two Middle Eastern countries: Saudi Arabia and the United Arab Emirates announced they will block residents from using the ever-so-popular messenger function (commonly known as 'BBM' - an abbreviation for Blackberry Messenger), an 'instant-messaging' feature which allows owners of the device to exchange messages for free.
A number of countries, including Lebanon and India have announced that they are considering to follow suit and the topic became a global issue with a familiar tone within days: Which is more valuable security... or privacy?
The cost-cutting and convenience aspects of this particular feature have played a vital role in the magnificent success story that made Blackberry acquire over 20% of the world's smart phone market. (not to mention email pushing - the other 'main' feature of Blackberries which has now been copied by many other phone manufacturers).
In the Middle East, the Blackberry was an outstanding success.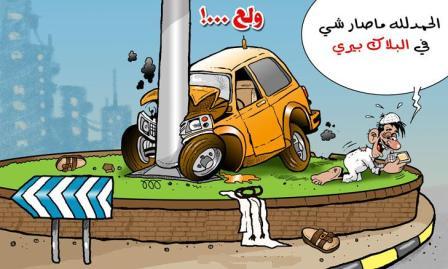 (a 2009 cartoon from Saudi Arabia's Al Watan Newspaper
showing a man who just survived a car accident saying:
Thank God nothing happened to my Blackberry!)
However, it is one particular characteristic of these smart phones that has caused this whole row, this is that at the company's products were designed to preclude Research In Motion (the maker of Blackberries), or any third party, from reading encrypted information under any circumstances since RIM does not store or have access to the encrypted data, according to what the company claims.
Of course - such a feature would particularly be hard to swallow for any country which has a legacy of heavy censorship on media outlets and/or a habit of 'eavesdropping' on its citizen's conversations for 'security reasons'.
However, the countries concerned here didn't exactly say that this is the case - it was first said that some of these countries had an issue with the information exchanged being copied and routed out straight away into RIM's servers in Canada.
So, at first it seems that some of the countries mentioned were actually concerned about their citizen's privacy (but then, they might as well raise the similar issue with the likes of Google, which keeps records of user searches and Facebook which keeps record of nearly everything about more than 500 million people around the world - let us just say they would, if they could).
Yet the real issue is that RIM wouldn't share this data and wouldn't hand over the 'keys' to unlock the encryption which surrounds its instant messenger and blackberry email services.
It is believed that many terrorism attacks have been/could be arranged using BBM as national security agencies wouldn't be able to intercept the process - which is a concern for a country like Saudi Arabia which has suffered enormously from terrorism attacks.
Amazingly, the USA (despite the PATRIOT Act introduced post-9/11 in the George W. Bush era) has no issues when it comes to these smart phones, in particular - the current US President Barack Obama has one!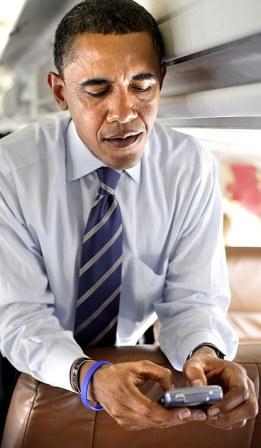 (President Obama using his BB)
Many people were expecting the ban to take place in Saudi Arabia today, however this seems to have not taken place.
The anticipation has caused an uproar across businesses and individual users who considered that such a ban would be a draconian measure.
Though I personally believe that there are many parties who were actually looking forward to the BBM ban - such as telecom operators who lost significant revenues from loss of SMS text message exchange and other phone makers who were leading the way only a few years ago.
Late last night, Ahmed Al Ibrahim - a consultant working for RIM in Saudi Arabia, confirmed to me (through a bbm message I may add) that the RIM and Saudi Arabia have reached an agreement and that bbm will continue to function in the Kingdom by a special arrangement - adding that the terms will be published on the Communication and Information Technology Commission (CITC)'s y website today.
CITC is the official body overseeing the rules and regulations of the Telecom industry in Saudi Arabia.
Now, regardless Saudi Arabia, the Emirates or any other country decides to ban the service or not, I have a serious concern about this whole matter.
Let us suppose all the countries in the world decide to cut off BBM - would this solve the problem?
The answer is clearly 'no' - soon enough, there will be another tool to be used and 'instant messaging' will become trivial (like what 'secret ink' used to be during the Cold War and what it is today).
Besides, by completely banning it, we would be depriving millions of 'innocent' users who want to use the feature for business, fun or for flirting without a reason!
The other more important argument is that obviously, anything in this world could be used for good or for evil.
If we are going to ban BBM, then let us also ban knives - after all, one could use it for eating but some wacko murderer could use it to kill someone!
The solution is to hit the roots of terrorism, find out why it is happening and sort that out - not 'shoot the messenger' instead!