At this time of year, it's easy to get caught up in the joy and excitement -- and stress -- of shopping for loved ones. But it's also important to take time to think of those who are less blessed. Not surprisingly, though, New Yorkers come through, offering a number of events and locations that let you combine the two by offering shopping that benefits worthy causes.
A number of charity stores operate year-round:
Other retailers also do charity drives during the holiday season, including Borders and Build-A-Bear teaming to donate toys to needy children. But some special events are taking place, soon, as well. I'm looking forward to:
Straight to the Heart -- Wednesday December 1st, 11am - 9pm (shopping), 7 pm - 9 pm (event)
Jessie James Boutique -- 95 Greenwich Avenue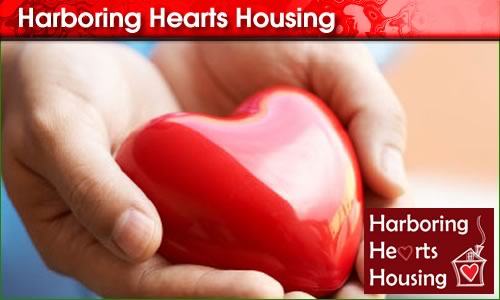 Harboring Hearts
This all-day event features discounted shopping, capped by an evening of champagne, desserts and entertainment. Ten percent of sales will go to Harboring Hearts Housing, which provides heart patients and their families with affordable housing. Shoppers also can opt to donate their 10% savings to the organization, too!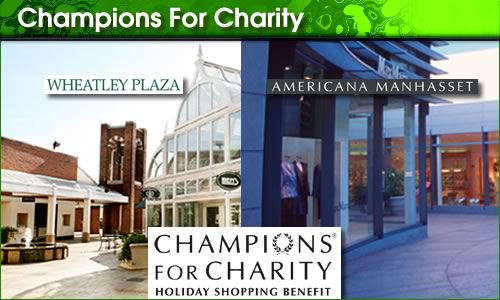 Champion for Charity® 2010
 Celebrating 15 Years of Giving
Thursday, December 2nd to Saturday, December 4th
Americana Manhasset, 2060 Northern Boulevard
Wheatley Plaza, Glen Cove Road at Northern Boulevard
This annual holiday shopping benefit has supported more than 70 not-for-profit organizations with the participation of over 70 Americana Manhasset and Wheatley Plaza stores. There are shopping benefits, charity receptions, complimentary gift-wrapping, personal shopper and concierge services. Participating stores at these ultra-luxe shopping centers will donate 25% of pre-tax purchases to a charity designated by the shopper from the center's list. Beneficiaries include the American Cancer Society, Diabetes Research Institute Foundation, Glen Cove Boys and Girls Club, Make-A-Wish Foundation, Manhasset Women's Coalition Against Breast Cancer; and the Tilles Center for the Performing Arts. Participating retailers include: Ann Taylor, Anne Fontaine, David Yurman, Hirshleifers, London Jewelers, Louis Vuitton, Prada, Shoe Box, Tiffany, Van Cleef & Arpels, and Vilebrequin at the Americana; and Ben's Kosher Restaurant, Billabong, Element, and Tutti Bambini at Wheatley Plaza. Check the website for the full lists and to register for the Champion Card to participate.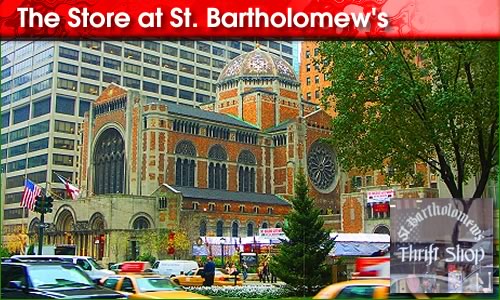 The Store at St. Bartholomew's -- 325 Park Avenue -- 9 am to 6 pm daily
Items include books, children's items, CDs, cards and one-of-a-kind gifts.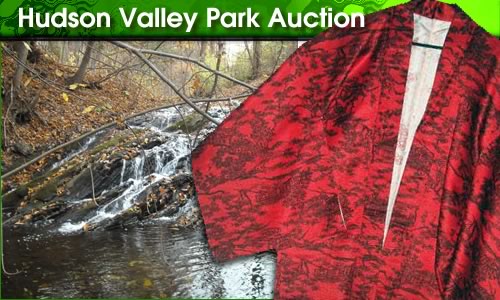 Hudson Valley Park Auction
December 7 -- 7 pm
Select Office Suites -- 116 West 23rd Street
Proceeds from this art, apparel, electronics and fine items auction benefit the Hudson Valley Park of Study and Reflection, dedicated to helping visitors find peace within themselves to create peace in the world. Admission is $10 online, $15 at the door.
Sunday, December 5th -- Madison Avenue
This annual event, presented by BNY Mellon, brings together more than 75 merchants along the avenue from 57th and 86th Streets to benefit the Children's Aid Society. The retailers will donate 20% of the day's sales to the society's health services -- and shoppers who use American Express, the official event card, will receive double Membership Rewards points. Entertainment will be provided by The Children's Aid Society Senior Chorus, The Pipes of Christmas (presented by the Clan Currie Society), the Labor of Love Ensemble, Moey's Music Party and COBU, Inc. And free pedicabs will take weary shoppers along the route!
2010 Participants: Aaron Basha (680 Madison);
 Alain Mikli (986 Madison); 
Alex Bittar (1100 Madison);
 Anne Fontaine (677);
 Anya Hindmarch (29 East 60th Street); 
Arche (995 Madison);
 Armani Collezioni (601 Madison); 
Baccarat (625 Madison); Bally (628 Madison); 
BCBG Max Azria (770 Madison); 
Bond No. 9 New York (897 Madison); 
Bond No. 9 New York (680 Madison); 
Bonpoint (810 Madison); 
Calypso St. Barth (935 Madison); 
Canturi Jewels (42 East 66th Street);
 Christian Dior (870 Madison); 
Coach (595 Madison);
 Cole Haan (667 Madison); 
Daum (694 Madison); Davide Cenci (801 Madison); DKNY (655 Madison); Donna Karan New York (819 Madison); DuMont Estate Jewelry (780 Madison); Elizabeth Locke at Piepers + Kojen (968 Madison); Etro (720 Madison); F.P. Journe (721 Madison); Frette (799 Madison); Furla (598 Madison); Galo Shoes (895 Madison); Georg Jensen (685 Madison); Giorgio Armani (760 Madison); Gucci (840 Madison); Hermes (691 Madison); Herve Leger (804 Madison); House of Mai (27 East 67th Street);
 Ilias Lalaounis (739 Madison); In & Out Different Beauty (1007 Madison); Jaded (1048 Madison); Jimmy Choo (716 Madison); 
Judith Leiber (680 Madison); Juicy Couture (860 Madison); La Perla (803 Madison); Lalique Haviland (609 Madison); Lanvin (815 Madison); 
Lederer (625 Madison); Leggiadro (680 Madison); L'Etoile Royale (784 Madison); 
Lilly Pulitzer (1020 Madison); Lisa Perry (976 Madison); Luca Luca (1011 Madison); Malo (814 Madison); Manrico (922 Madison); 
Marina Rinaldi (800 Madison); Marni (21 East 67th Street);
 MaxMara (813 Madison); Michael Kors (974 Madison);
 Michael Kors (667 Madison); Missoni (1009 Madison); Moga (715 Madison); Monnalisa (1088 Madison);
 Morgenthal Frederics (699 Madison); Morgenthal Frederics (944 Madison); Nicole Miller (780 Madison); Pavillon Christofle (680 Madison); Peress Lingerie (1006 Madison);
 Petit Bateau (1094 Madison); Prada (841 Madison); Pratesi (829 Madison); Ralph Lauren Baby (872 Madison); Ralph Lauren Children (878 Madison); Ralph Lauren Eyewear (811 Madison); Ralph Lauren Men (867 Madison); Ralph Lauren Women and Home (888 Madison); Reinstein/Ross (29 East 73rd Street);
Robert Marc (782 Madison); Robert Marc (1046 Madison); Ruzzetti & Gow (1015 Madison); Stephen Russell (970 Madison); Tanino Crisci (795 Madison); Teuscher (25 East 61st Street); Yael Sonia (922 Madison); Zitomer 969 Madison.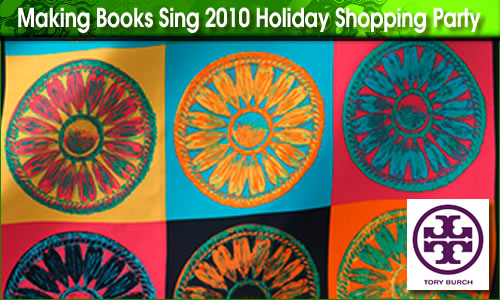 Making Books Sing 2010 Holiday Shopping Party -- Tuesday, Dec 14 6:30p to 9:00p
Tory Burch -- 38-40 Little West 12th Street
Burch will donate 20% of all sales during the event to Making Books Sing's art education programs. The organization combines professional musical theatre and arts education with illustrated books to encourage children's love of theater and reading. Cocktails and hors d'ouevres will be served, as well.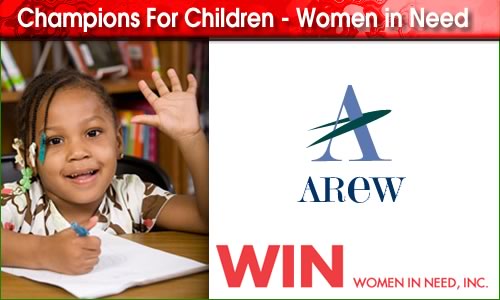 Champions for Children -- Women in Need
I'm proud to say that women in my industry have long been devoted to helping those less fortunate. The Association of Real Estate Women (AREW) Charitable Fund supports Women In Need, which provides support and temporary housing for homeless families, and WIN's Champion For Children's program, which supports one child for one year in one of a number of programs, including Preschool, afterschool, and infant/toddler efforts. Funds are through a variety of activities, including greeting card sales and Secret Santa gifts. I've often noted that women are at our most powerful when we work together, and we're at our best when we work together to help others.
The economy is bouncing back, but we all know that there are still many people in need. Get into the true spirit of the holidays by taking care of the lucky people in your life -- and some you'll never meet. And let me know about any more shopping events taking place before the holidays for our next edition.
Happy, healthy and merry shopping!