The power at long last has returned for most of the metro area, but for far too many of us, the effects of Superstorm Sandy will remain for months and years, as entire neighborhoods seek to rebuild. I'm happy to report that the retail industry stepped up and quickly began assisting those who have had their homes and lives damaged by this natural disaster. Some of these are boutiques that regularly give to charity and made special donations to hurricane relief efforts. Others are larger corporations with stores in our area that have made donations of more than $1 million to the American Red Cross (as of November 6) for Sandy relief, and clearly merit our loyalty.
Loving Boutiques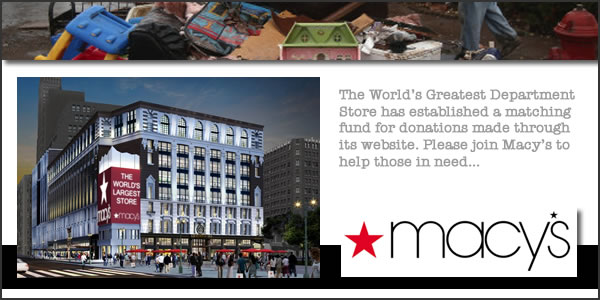 Macy's - Multiple locations
The World's Greatest Department Store has established a matching fund for donations made through its website or in-store through November 30. Macy's will match each dollar donated up to a maximum of $500,000. If the goal is reached, at least $1 million will be donated to the American Red Cross.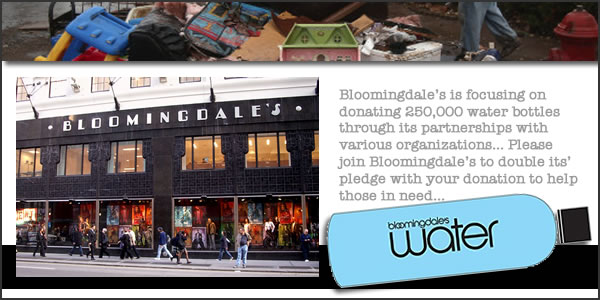 Bloomingdale's - 1000 Third Avenue
Macy's sister store is focusing on water, donating 250,000 bottles through its partnerships with various organizations. Donate $1 or more at its stores or websites, and double the donation!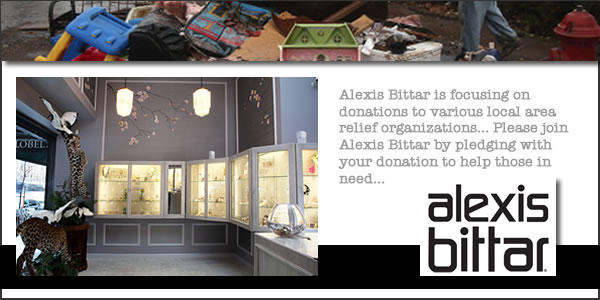 Alexis Bittar - 353 Bleecker Street - 1100 Madison Avenue - 465 Broome Street - 410 Columbus Avenue (Coming Soon)
Five percent of sales through November 10 were donated to local area relief organizations.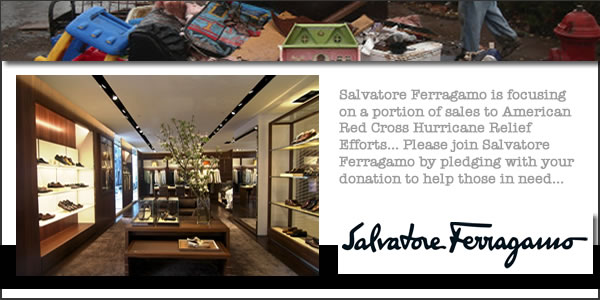 Salvatore Ferragamo - 655 Fifth Avenue
A portion of the sales from November 2 through November 4 were donated to the American Red Cross Hurricane Relief Efforts.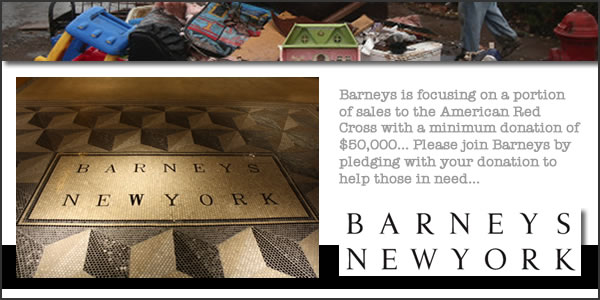 Barneys New York - 660 Madison Avenue
Ten percent of all sales on November 4 were donated to the American Red Cross, with a minimum donation of $50,000.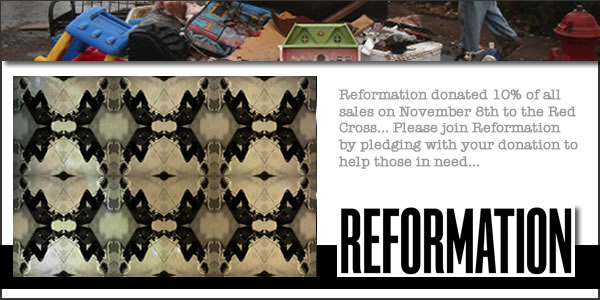 Reformation - 156 Ludlow Street - 23 Howard Street
Ten percent of all sales through November 8 were donated to the Red Cross.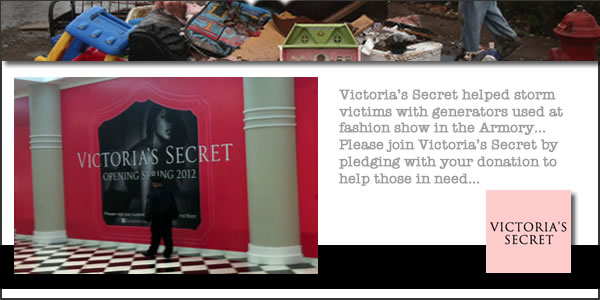 Victoria's Secret - Multiple locations
Victoria's Secret holds its fashion show at New York Army National Guard's 69th Infantry Regiment armory. When the storm hit, the fashion retailer powered up the eight generators it had on site, powering the building helping our National Guard to assist others in need.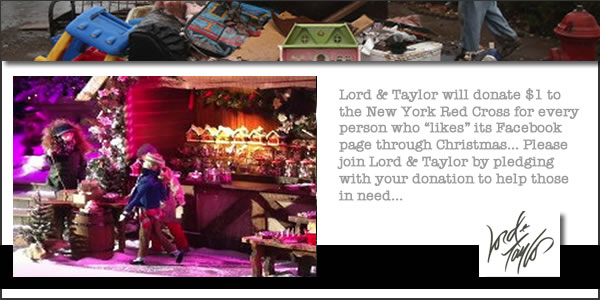 Lord & Taylor - 424 Fifth Avenue
The store will donate $1 to the New York Red Cross for every person who "likes" its Facebook page through Christmas.
Big Companies, Big Hearts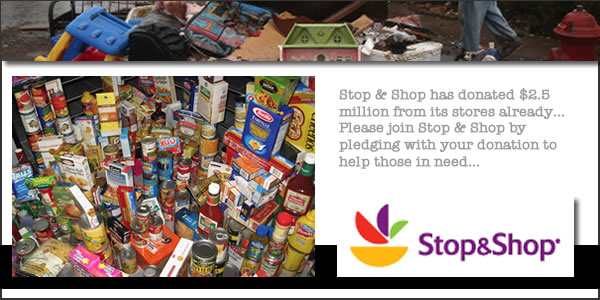 Ahold USA (parent of Stop & Shop) - Multiple locations
In addition to donating a total of $2.5 million through the store, its parent and their Our Family Foundation, Stop & Shop Stores both in New York and New Jersey serve as drop-off points for canned and packaged foods, and are collecting cash donations to food banks.
Other million dollar or more donations came from: Coach; Costco Wholesale; Home Depot; JCPenney; Kohl's; Lowe's; Ralph Lauren; Target; TJX and Walmart. Many of these retailers have links to charitable organizations on their websites that will allow you to contribute, too. Many more retailers also have these links on their sites.


Many news reports indicate that what is needed now is cash so that agencies can purchase what is needed as locally as possible. Please consider the following:
Community Food Bank of New Jersey
Hurricane Sandy New Jersey Relief Fund
Island Harvest, A Food Bank for Long Island
Mayor's Fund to Advance New York City
Save the Children
Yes, this organization more typically thought of as working in the third world is here helping children in the shelters in New York and New Jersey.
St. Francis Food Pantries and Shelters
This is just a partial list of those who helped and are continuing to help our region recover. I firmly believe that no city in the world is more open-hearted than New York, and this time our generosity is helping our family, our friends our neighbors. Please give what you can, and support those businesses whose donations of goods, space, money and time are helping the needy literally in our own community.
Thank you.