Fashion inspires art and art inspires fashion; but sometimes, travel inspires both. Fashion Week kicked off on Friday, and it's clear that this year's top designers have channeled sought-after destinations for their Spring/Summer 2011 collections. Be it a Parisian tweed jacket or a Kimono-inspired gown, fashion can transport you (and not just to the Boom Boom Room). Here are 6 travel-inspired collections to get you dreaming.
Live the dream with inspired vacations on Jetsetter.com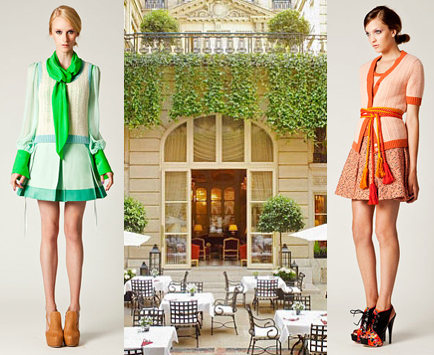 What: Chris Benz Spring/Summer 2011
Where: Paris, France - Hotel du Crillon
Why: Joyful models trotted down the runway, singing along to the Beach Boys at Chris Ben'z S/S 2011 show. Full skirts, full mini-dresses and full-leg pants reminiscent of the 1960's, were paired with crochet cardigans, tweed jackets, floral prints and color-block tops. Cue the French boys on vespas, and you've got yourself an "American in Paris" dream.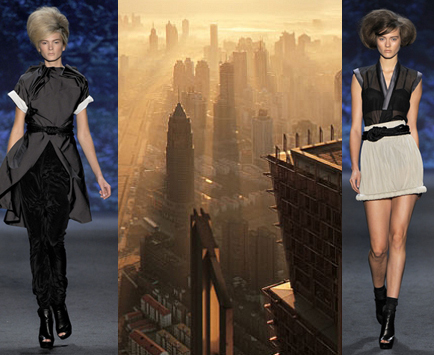 What: Vera Wang Spring/Summer 2011
Where: Shanghai, China - Grand Hyatt
Why: Why: Vera Wang's Spring collection showed a Samurai-meets-Matrix style with masculine lines and laser cut fabrics. Looks were inspired by Quentin Tarantino's film "Kill Bill": sumo-wrestler ropes, Kimono blouses and Eastern silks. With these Shanghainese shaped sheaths, all you're missing is a set of nunchucks.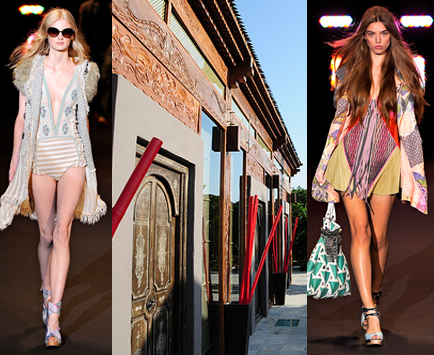 What: Custo Barcelona Spring/Summer 2011
Where: Ibiza, Spain - Atzaro, Bikini Bootcamp
Why: Custo Barcelona mixed fantasy with reality; reality that is for a jetsetting supermodel en-route to Cannes or Capri. Full of flashy feathers, crocheted bathing suits and micro mini skirts, Custo's collection is made for the quintessential Mediterranean party girl... or did the collection inspire the party girl?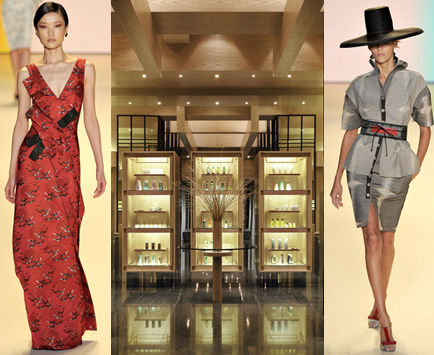 What: Carolina Herrera Spring/Summer 2011
Where: Seoul, Korea - Grand Hyatt
Why: Inspired by the traditional clothing of Korea, Carolina Herrera's collection was sophisticated and evocative. Calligraphic and lotus-blossom prints could easily be from centuries past, while wide-brimmed hats, sheath-dresses and sarong-inspired skirts captured the modernity of the now.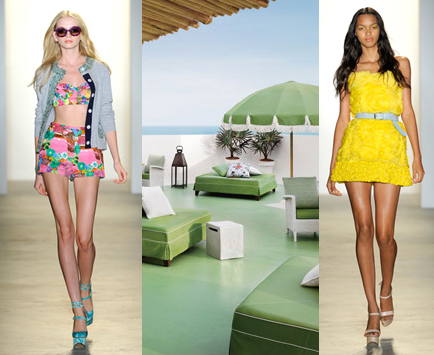 What: Peter Som Spring/Summer 2011
Where: Miami Beach, Florida - The Delano
Why: Peter Som channeled the candy-coated skyline of South Beach in his S/S 2011 collection. He mixed postcard prints, flamingo pink and floral brocades; mini shorts, bandeau tops, cutout sweaters were only emphasized by super high platforms. If any gals can pull off this bold and brazen look, it's the sultry ladies of SoBe.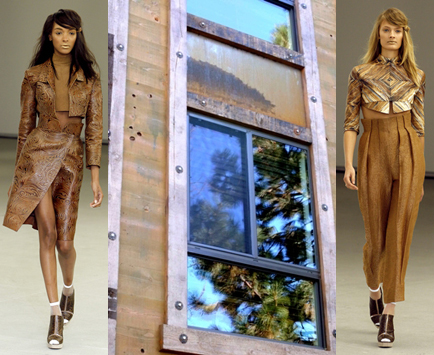 What: Rodarte Spring/Summer 2011
Where: Northern California - 968 Park Hotel
Why: The Mulleavy Sisters collection was born from their love of Northern California, and the redwood spotted landscape. The line looks a lot like their childhood - seventies shapes and suburban functionality - in hues of brown, chocolate brown, walnut brown, ok, well just brown. The back-to-earth tone of the collection is even visible in the details like wooden platforms, sky-blue dresses and stamped leather.
For more travel-inspired fashion, check out Jetsetter Passport.
Photos courtesy of Getty Images & Jetsetter.com