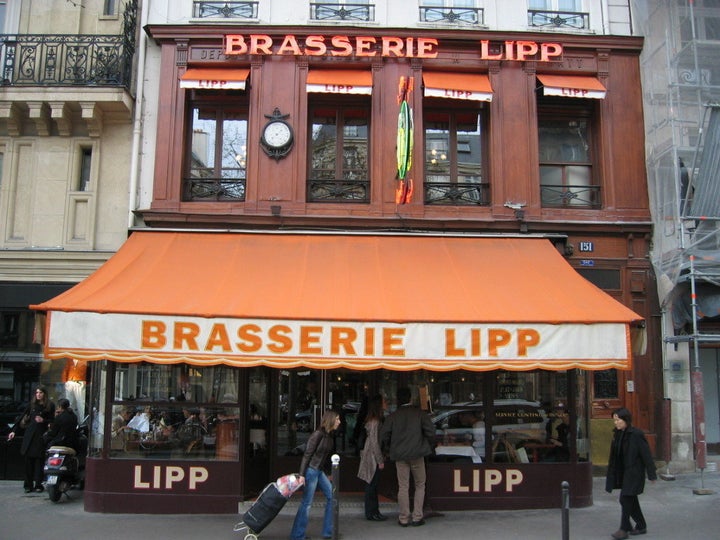 Kerry Diamond, divisional vice president of public relations at Coach and co-owner of hot Brooklyn restaurant Seersucker and adorable Smith Canteen cafe, is a former beauty editor who spent six years as VP of PR for Lancome. Needless to say, she knows her way around Paris. FATHOM asked for her favorite trend-proof, always awesome places to eat.

Brasserie Lipp
151 boulevard Saint-Germain; +33-1-45-48-53-91
Some of my French friends turn up their noses, but I adore this place. I order the same thing every time: Leeks vinaigrette, green salad with walnuts, steak tartare, frites and lots of red wine.
Breizh Cafe
109 rue Vieille du Temple; +33-1-42-72-13-77
Traditional and untraditional takes on the Breton crepe. Make sure to try the cider.
Cafᅢᄅ de Flore
172 boulevard Saint-Germain; +33-1-45-48-55-26
The best people watching in Paris, maybe in the world! I love the food here and the cranky waiters. Don't sit upstairs. Sit outside or as close to the windows as possible.
Chez L'Ami Jean
27 rue Malar; +33-1-47-05-86-89
A tiny restaurant near the Eiffel Tower. I've loved every dish I've ever had here. The riz au lait was so spectacular it was the inspiration for the rice pudding at Seersucker. Don't confuse L'Ami Jean with L'Ami Louis, as I once did. Read A.A. Gill's article in Vanity Fair to understand why the two are not interchangeable. His review from the April 2011 issue is definitely worth a read.
Le Comptoir
37 rue Berger; +33-1-42-21-12-71
Fabulous lunch. Be prepared to stand in line. Try the house pᅢᄁtᅢᄅ and the ice cream. The last time I was there, the three flavors on offer were spicy chocolate, caramel, and yogurt. Some of the best ice cream ever.
Crepe Stand across from Les Deux Magots
Next to the metro station at Place St. Germain des Prᅢᄅs
My favorite in Paris. I love the crepe complete. I've been going there since my first visit to Paris when I was 19.
Hotel Amour's Restaurant
8 rue de Navarin; +33-1- 48-78-31-80
Fun spot, good food, and the best looking people in Paris.

Le Jules Verne
Tour Eiffel 5 avenue Gustave Eiffel; +33-1-45-55-61-44
I thought it would be cheesy/touristy to dine at the top of the Eiffel Tower, but Alain Ducasse and his team have made it the magical experience it should be. First-class food and service, and then there's that view. You'd have to have a very cold heart not to enjoy a visit.
Le Martel
3 rue Martel; +33-1-47-70-67-56
This spot in the 10th is worth visiting for the best couscous and tagines in Paris. The proprietor, Mehdi, is a great guy and a wonderful host. Make sure to say hello for me.
All the food shops along rue des Martyrs.
Le Miroir
94 rue des Martyrs; +33-1-46-06-50-73
Lovely small restaurant on rue des Martyrs with great wine, food, and atmosphere.
Pierre Hermᅢᄅ
multiple locations
Best macarons in Paris. Even Laduree fans will be converted. Don't leave without the caramel-and-sea-salt macaron. And if it's summertime, try one of the ice cream sandwiches. You'll be ruined for life. M. Herme, if you're reading this, please come to New York.
Read about Kerry Diamond's favorite places to stay, shop, and hang out on fathomaway.com.