There's the stuff you read in guide books, and there's the stuff you'll actually want to do. Fathom contributor Sarah Picchi shares her list of things to do with kids on Nantucket.
NANTUCKET, Massachusetts -- We've been bringing our kids to Nantucket since our daughter Ava was eight weeks old. This year marked our 11th summer of vacationing on the island with kids in tow. What keeps us coming back? This list, for starters.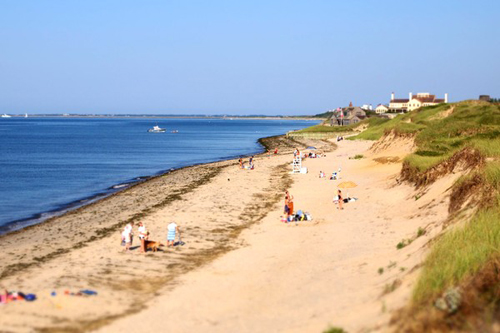 Dionis Beach. All photos by Sarah Picchi.
1. HIT THE RIGHT BEACH
Every article and guidebook mentions Jetties and Children's Beach as the island's top family beach spots. Pshaw. Unless you love crowds and swim diapers, skip both and head straight to Dionis Beach. It's perfect for families with young kids because the water is incredibly calm. There are lifeguards, restrooms, and plenty of parking. If you are staying in town, you could easily reach the beach by bike. Dionis Beach is also beautiful -- and not teeming with people. There are no restaurants nearby, so bring refreshments if you plan to get hungry.
Logistics: Dionis Beach is three miles from Nantucket town on the north shore of the island on Eel Point Road off Madaket Road. To find it, look for a white boulder with the word "Dionis" painted on it.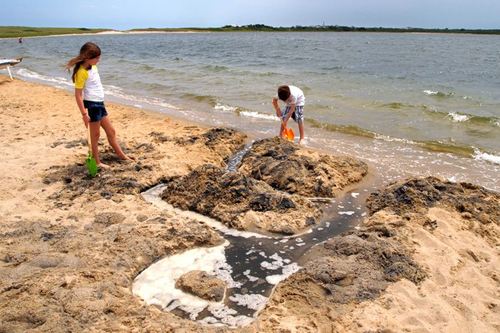 Digging at Sesachacha Pond.
2. GO JUMP IN A POND
Sesachacha Pond
(pronounced "SACK-a-juh") off Quidnet Road is the island's largest brackish pond, separated from the ocean by a narrow strand on its east side. It's a wonderful spot for families because the water is calm and the swimming is easy -- no seaweed or waves. The pond is also great for kayaking, fishing, and sunfish sailing. Quidnet Beach is a short walk over the dunes. Parking spaces are limited, but we've never had a problem. There are no public bathrooms or places to buy food and drink, so pack beforehand to avoid unfortunate low-sugar moments.
3. TENNIS ANYONE?
The first time our kids took tennis lessons was in Nantucket a couple of years ago. There are many private tennis courts on the island, and some private clubs will let you pay to use their courts or take lessons from their pros.
But for the past two seasons, we've found it easiest (no dress code!) and cheapest to have the kids play or take lessons at the public courts at Jetties Beach. You can rent a court and sign up for clinics or private or group lessons. If you don't feel like packing a racquet for your trip, you can rent one for $5 (included with all lessons).
Logistics: Private lessons are $65/hour for one or $75/hour for two or more. Court reservations are $20/hour for singles or $25/hour for doubles. Open daily, 8 a.m. to 8 p.m. 2 Bathing Beach Road. For reservations or to book lessons, call +1-508-325‐5334.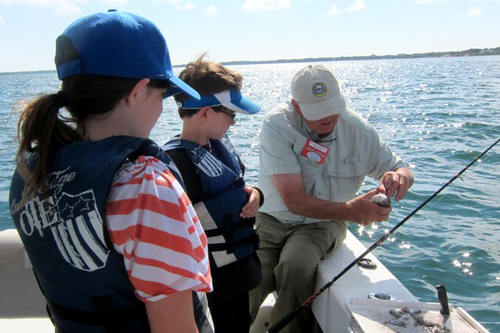 Learning to fish with Captain Wiggin.
4. EMBARK ON A FISHY ADVENTURE
It comes as no surprise that Captain Ken Wiggin is the father of seven and grandfather of eleven because he's a natural with kids. Ken was the perfect teacher and guide for our kids' first fishing trip. His company,
Fishy Advice
, leads a variety of fishing trips (in Nantucket Harbor, to Great Point, etc.) of varying levels of experience and time/money commitments.
Our kids had never gone fishing, so we opted for the two-hour fishing trip in Nantucket Harbor. During that time, the kids caught a whopping 34 fish -- mostly scup, as well as two sea robins, which are crazy prehistoric-looking fish with fins that open and close like wings. The kids are already begging us to go on a longer trip next year.
Logistics: Captain Ken provides everything, including drinks and light snacks on his privateer boat. Don't forget a hat and sunscreen. Two-hour minimum; $125/hour. Meet at the public pier at 34 Washington, slip #76. Park at the public lot opposite the pier. For reservations, call Ken at +1-508-221-8278.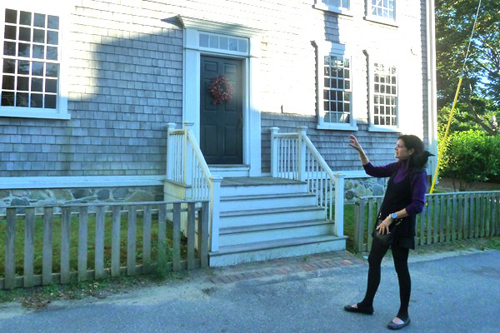 Raven's Walk.
5. BECOME A GHOST HUNTER
Maybe it's the fog and the palpable history of the place, but Nantucket has a reputation for being one of America's most haunted spots, and ghost stories have circulated for hundreds of years. I've gone on a couple of ghost tours lead by different guides over the years. The newest is
Raven's Walk
, started this summer by Robin Zablow, who, along with her trusty raven Edgar (spoiler: he's stuffed), guides families on a walk to some of the island's most haunted locations. Robin has been coming to Nantucket for about 30 years and is very well versed in the island's history. The 90-minute tour is geared towards an audience aged 5‐10, but the truth is she makes it interesting for all ages.
Logistics: The Raven's Walk for Children is offered on Tuesdays, Saturdays, and Sundays at 5:30 p.m. Private walks are also available. Children must be accompanied by an adult. Meet at the park at the intersection of Main Street and Fair Street in Nantucket town. Tickets are $5 for children and $15 for adults; payable in cash upon arrival. Reservations are required: +1-508-257‐4586.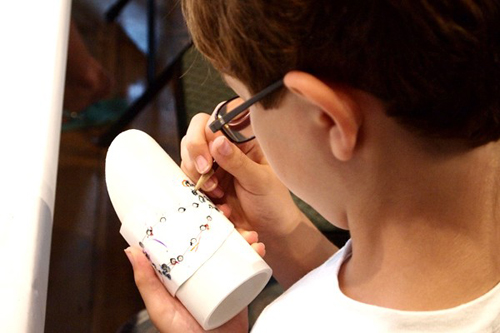 Learning to work with scrimshaw.
6. CARVE SCRIMSHAW
No trip to the island is complete without a visit to the
Whaling Museum
, especially the discovery room, which is packed with interactive activities for the kids, including arts and crafts. When we visited, the room was staffed with wonderful college students who answered questions and helped the kids with their crafts. Activities change daily. Our kids made modern scrimshaw using PVC instead of ivory; other activities have included sailors' valentines and mobiles.
Logistics: Free with admission. 13 Broad Street; +1-508-228‐1894.
For more non-touristy, not overpriced activities for kids on Nantucket read the whole article on Fathom then visit our Nantucket Shop for everything from rope bracelets to Nantucket Reds, Rubs and Nectars.
Read more about Nantucket on Fathom:
-Nantucket Essentials: The Complete A-Z
-Nantucket Beaches: Insider's Guide