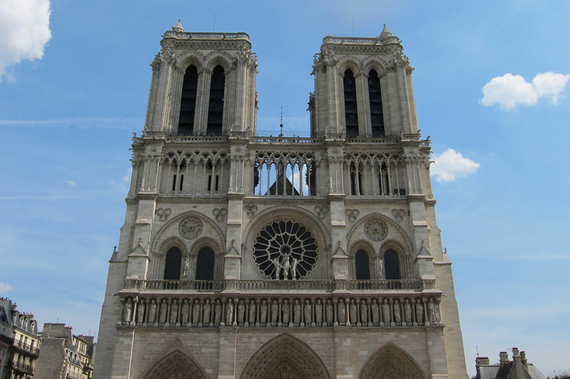 By Kerry Saretsky for Fathom | On her best day ever, Kerry ticks all the Paris boxes: eating, shopping, boozing, eating again, and marveling at how awesome the city is.
7:00 a.m. - Ponder the Day
Wake up on rue de l'Odéon next to boyfriend Chris. I don't care if we're in my first apartment or at the hotel I love down the block, so long as it's that street, right across from where Shakespeare & Company used to be when Zelda Fitzgerald was flapping around. It's early, which in Saint Germain means the streets are deserted. I open the huge glass door windows and lean out over the street, staring through the windows across the way, making up little stories about the strangers passing by below.
8:00 a.m. - The Regular Breakfast
Always at Les Deux Magots and always outside. My regular order is smoked salmon tartine, no butter, and grapefruit pressé. The bread is Poilâne; the salmon is perfectly trimmed. The tartine is cut into stubby fingers and served with fancy sliced lemon. Chris always orders the same thing: plain omelet, pain au chocolat, black coffee. The French waiters think his order is terrifically hilarious, and we don't know why, but we laugh, too. When in Paris. We share his croissant crumbs with the sparrows that come and keep us company at the table. They are most invited.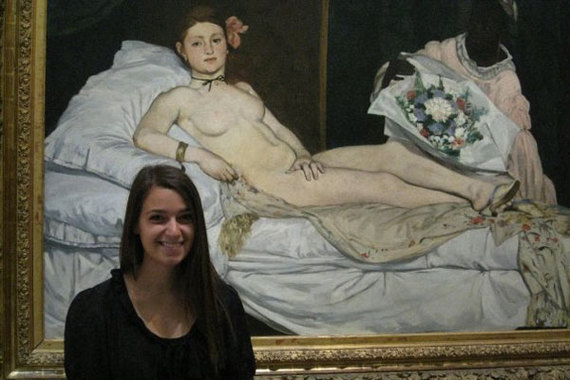 9:15 a.m. - Fiesty Art
We walk over to Musée D'Orsay, a museum of Impressionist paintings in an old railway station. As a rule, I don't like museums, except this one and The Met. But I love the Impressionists — the Frenchness of them, the way I fall into the paintings, into their stories, like a good book. I visit the Manets and the Courbets. I love Olympia — so beautiful. And L'Origine du Monde — so brazen. When it came to the Met, it was tucked away and hidden. Here, it's on full display. I wonder if I should change into something more revealing.
10:30 a.m. - Shopping
It's time to get serious, especially if the sales are on. There are things in Paris that I have to buy. Yes, they're basics, but even a white T-shirt feels better if it's French. I start at the giant Petit Bateau on Champs-Elysées to stock up on nightgowns and a million striped long sleeve tees. At Princesse Tam-Tam back in St. Germain, I buy at least three bathing suits. Down the block, I stock up on Repetto flats. At Hervé Chapelier near place St. Sulpice, I check for new colors for my collection. To Sandro for prim pilgrim dresses. If I get seriously side-tracked, which of course I do because not getting lost in Paris is a complete waste of time, I stop at Poilâne on rue du Cherche-Midi for chausson aux pommes (apple turnover) to keep me going. On the way home, I stop at Monoprix for bath essentials like organic argan oil and orange flower-scented Le Petit Marseillais soaps. Monoprix's reusable grocery bags come in neon colors, fit into nifty little poches, and sell for 80 centimes. Love them. If I need new rain boots, Aigle. Finally, back home to drop off my packages. I consider my bank balance, then wonder "How often am I in Paris?" The answer is always "not often enough."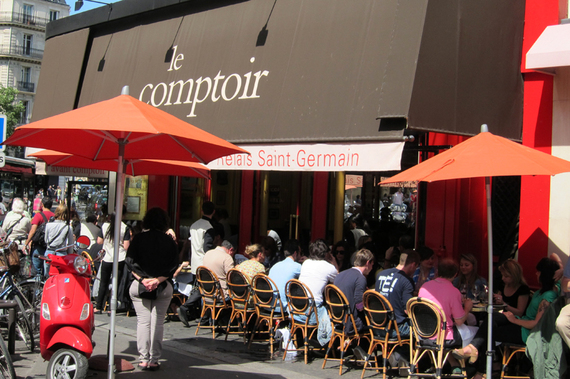 1:00 p.m. - Lunch with the Gang
Despite my chausson aux pommes, I'm famished. We sit outside at Le Comptoir, and at the next table is a man whose dog occupies the seat between us. I swear, that always happens here. The terrace is a buzz of conversation: trendy couples with young kids, fashionable old men, waiters who know everyone. It feels like a huge clique of friends. Chris orders their spectacular Niçoise salad with caper berries, pickled garlic, and crumbled blue potato chips. By luck, they have the broiled scallops special that I love — still in their shells, with butter and soft endives. Chris tries to share my vanilla pot de crème. Who is he kidding? Get your own, mister.
2:30 p.m. - A Scenic Walk for Exceptional Dessert
There's only one place for dessert. It's a ways away and a great walk. We start down rue de Seine, stopping at Carrefour supermarket for super cheap harissa, crazy Maille mustard flavors, dark chocolate Special K cereal, and fresh red currants to snack on later in the room. At Nicolas, I stock up on dry Normandy apple cider and violet liqueur. We pass the chicken rotisserie shop on the street and I imagine living here forever, bringing home a chicken, stewing potatoes in the fat. I'm allergic to chicken, but they look so good bronzing in the rotisserie.
We come to the river and I browse the bouquinistes checking for old Redouté prints. I collect the white flowers and frame them in black floating glass frames. They cost five euros and look like a million bucks. We cross the bridge onto Île de la Cité. I pop into Notre Dame to light a candle at the feet of St. Jeanne d'Arc, the patron of young women with big dreams.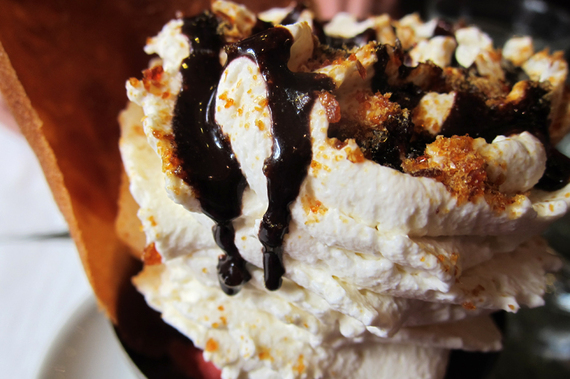 We pass gorgeous old houses along the quais toward Île Saint-Louis, ignoring the imitators and finally arriving at Berthillon, the best ice cream shop in Paris. Amorino and Grom aren't bad, but no one has flavors like Berthillon. I get raspberry-rose, pistachio, pear, vanilla. With homemade raspberry whipped cream on top. We sit by the Seine eating. And nothing in the whole world is bad.
4:30 p.m. - A Snack
We stroll back along the Right Bank, stopping in the little animaleries (pet shops) along the way. The puppies are cute, but what are puppies when you can buy ducks, baby squirrels, and homing pigeons? We continue on to the Tuileries gardens attached to the Louvre. It's summer, so the carnival is on. We pick up cheese crêpes and cross Pont Neuf to Place Dauphine on Île de la Cité. Chris and I sit on a bench in the shadow of 17th-century buildings, sharing oozy, cheesy bites of buckwheat crêpe, watching guys play petanque in the sinking light.
6:00 p.m. - Twilight River Cruise
It's time for a boat tour of the Seine with Bateaux Vedettes du Pont-Neuf. At twilight, you can still see the buildings, but by the end of the tour, the city is all lights. We're early, so we go to the tip of the island and sit under the weeping willow, our feet dangling over the edge toward the water. From here you can see both banks, all the boats touring up and down the water. How many people over how many centuries have sat in this very spot thinking how beautiful Paris is? I've been doing it since I was fifteen.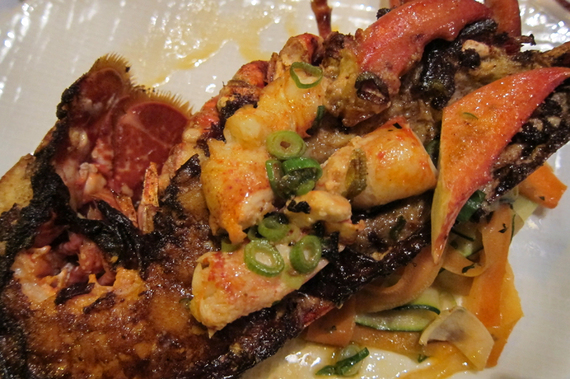 8:30 p.m. - Lobster for Dinner
Around the corner from rue de l'Odéon is the adorable Bistrot de l'Alycastre, a romantic restaurant in the middle of everything. Chalkboard menus. Tiny staff. Amazing food. I order lobster smothered in butter spiked with the lobster's roe and organs, broiled, and served with ribbons of vegetables. It's heart-stopping. Of course, there's a bottle of rosé.
10:30 p.m. - Booze
We walk over to the Ritz. At this time of night, it's bubbling over like an overfilled glass of Champagne. Our destination is Hemingway Bar. Le Dix, a very cool dive bar, is closer, but we'll do that tomorrow. Tonight, the Ritz. Because it's out of the way. Because it's too expensive. Because it's picture-perfect Paris.
12:00 a.m. - Cinema
What's better than a late movie at midnight? Back in Odéon and slightly tipsy, we take in a favorite French comedy, L'Arnacoeur.
2:00 a.m. - Bedtime
We're back in the room, where I left a box of my favorite Ladurée macarons: orange flower and Granny Smith apple. I eat them in bed, thinking that tomorrow there is so much more to do: falafel in Le Marais, a walk in the Jardin de Luxembourg. Yes, you need three stomachs and 36 hours for my day. But that's Paris. The next thing I know, it's morning. And I'm at Les Deux Magots.
Read more on Fathom: Paris Bike Routes: Musee to Patisserie, 11 Perfect Paris Picnic Spots, Little Black Book: Pasty Chef's Paris
Fathom reinvents the travel website by mixing inspiring stories and practical destination guides with the best travel resources and products. Follow Fathom on Twitter, tell us about your travels on Facebook, and sign up for our weekly wanderlusty newsletter.