Last weekend was nothing short of extraordinary. In the midst of baking, catching up with old friends and making my home a bit sweeter, on the television a young Jason Robards in A Thousand Clowns bellowed, "You've got to own your own days. And name them. Each one of them. Or else the years go right by and none of them belong to you." While Robards' rebelled against the surrender to the daily, repetitive toil of the working lot, desperate to infuse each day with character and a lust for a life well lived, he perhaps had a problem with the kind of quiet which allows for the passing of days. I wholly sympathized with Robards' character Murray Burns because I too wanted every day to be nothing short of extraordinary, and it felt for a time that I would sacrifice anything to achieve this unhealthy state of frenetic bliss.
Lately, I've been letting the days pass. A difficult feat, I'll confess, but a worthy one. I'm baking, dialing up old friends, avoiding the scheduling of friends in two-hour blocks, and reading on my couch with all the electronics shut off. Part of making my home a comforting place is my continued obsession with surrounding myself with candles and delicious products that enable me to create a luxurious home spa experience when the subway screeching grates and the bills mount. From sipping jasmine tea whilst immersed in a heavy tome, to spending rainy days indoors with a scented candle and a homemade meal, to giving yourself an at-home facial, it's paramount to cut costs where we can while rewarding yourself with minor indulgences and relaxation rituals.
My favorite accouterments for setting the mood: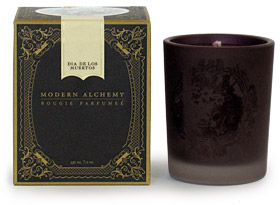 I LOVE CANDLES. I love how they illuminate the gloaming. I love how they weave subtle fragrances through my curtains. I love how they have this uncanny way of helping me level my breath. My current covets are: DL & Company's Dia De Los Muertos Candle ($45). Perfect for crisp autumn evenings, "The Day of the Dead" candle is formulated with merigolds and frankincense, infusing your home with subtle, woodsy fragrance with a touch of spice. If you're in the market for a strong, delicious scent reminiscent of holidays, warm evenings filled with oven-baking and spiced cocktails, you will adore Jo Malone's Pine & Eucalyptus Home Candle ($65). Envelope yourself in cypress, cinnamon and lavender, combined with spicy amber and frankincense. For the eco-enthusiast who craves a touch of lux in their home and pines for lavender groves, Lavanilla's Healthy Vanilla Lavender Candle ($32). Non-toxic, non-allergenic, free of petroleum, paraffin, and synthetic dyes, this beeswax candle offers a delicious blend of Spanish lavender, rose absolute, violet leaf & Madagascar vanilla. Finally, for luxe on a budget, I recommend Essence of Beauty Soy Lotion Candle in Pomegranate Apple ($9.99). The 3-in-1 concept (candle, lotion, massage oil) is genius and will transform your evening in into an indulgent, wallet-friendly spa experience. Not only will your home be fragrant with mouthwatering fruit, you'll have smooth, nourished skin.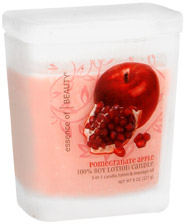 If you're prone to falling asleep in the bath, eyeglasses perched on top of your head, damp book in hand, I invite you to fall in love with Persephenie's Nanu Lei Bath (Bath Bomb) ($38). Certified organic cocoa butter soothes tired skin while coconut oil protects the skin from free radicals. Although you may not have the means for a Hawaiian sojourn, take delight in the sweet gardenia scent.
I'm always on the hunt for skin masque that leave my sensitive combination skin clean, oil-free and glowing. Yves Rocher's Clay Mask ($17) is my new obsession du jour. A face and hair masque, this detoxifying treatment will warm your complexion, lift dirt and impurities and leave your hair and face glowing!
When it comes to my shower experience, the crown jewel is Body Conscience's Renew Body Polish in White Orchid Vanilla ($75). The 3-minute shower in a jar concept enables you to cleanse, exfoliate and moisturize while saving money and reduce their carbon footprint, albeit in a small way. Perfect for sensitive skin, this edible (YES! You read correctly) body polish is infused with champaka/neroli scents and formulated with organic cocoa, organic fine sugars, and kokum butters. Believe me when I say that you will leave the bath with cashmere-soft skin. However, the budget-conscious can craft their own DIY scrub to achieve luminous skin -- all the ingredients are probably in your pantry!