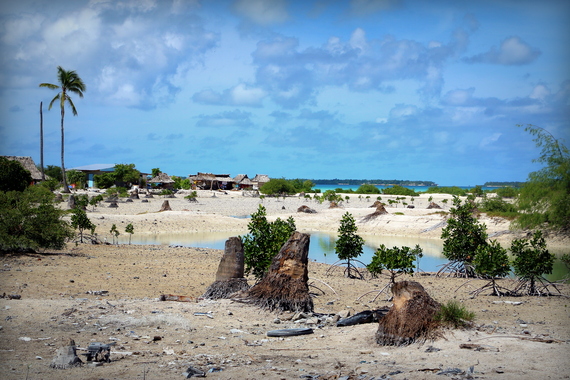 An area in Kiribati vulnerable to Climate Change
Here in the Pacific, we're on the frontlines of the climate crisis. Many of our islands are just a couple of feet above sea level. From Fiji to Samoa, we're already seeing an increase in storms and floods, while the encroaching ocean threatens our fresh water supplies. It seems like every week there's another news story on the impending "climate refugees" crisis -- as if we're already packing up our lives and preparing to abandon our homes.
Let me tell you straight from the Pacific: the only trips that we're interested in are the ones that can help us fight climate change. Right now, our team at 350 Pacific are preparing for two of these climate journeys, one small and one absolutely epic.
I'll start with the smaller trip. This August 22-24, 350.org's Pacific Coordinator, Koreti Tiumalu, will be traveling to the United States from her home in New Zealand for a tour to promote the People's Climate March, the mega climate-mobilization planned for this September 21 in New York City and around the world.
If you live in Philadelphia, Washington, D.C. or Boston, you're in luck, because Koreti will be coming to town. And let me tell you, this is a show you're not going to want to miss. Bill McKibben and Lisa Jackson may be the well known names on the speaking tour, but in my book, Koreti is going to be a real star. Her call for climate justice rings loud and clear.
While she's on tour, Koreti will be talking about the second, epic journey that is just getting underway: the Pacific Climate Warrior canoe journey. Over the last six months, islanders across the Pacific have been tapping into their traditional warrior spirit and have begun to build a number of canoes that we will take to Australia and use to lay down a challenge to the coal industry, one of the main sources of the greenhouse gas emissions that threaten our homes. The Pacific Climate Warrior journey will allow us to cross the geographic divide separating us from the source of emissions and highlight the direct impacts of Australian fossil fuels on their Pacific neighbours.
"We are planning extreme measures because we are in extreme times," Koreti wrote recently. "The plans that the Pacific Warriors have for the coming year have been met with wide-eyed shock -- but end with resounding excitement. There is a growing belief and resolve that what we are doing is not only possible, but necessary."
We've learned that we cannot solve the climate crisis by staying at home -- we've got to get out, stand up and peacefully fight back. In our case, the target has been clear from the very beginning: the Australian coal industry.
"In tackling the issue of climate change for the Pacific, our area of focus is in our region -- our neighbour who contributes so greatly to the threat," Koreti explained. "The Australian fossil fuel industry is profiting from the demise of the Pacific Islands. Being the world's largest coal exporter feels like Australia is giving the Pacific a big middle finger."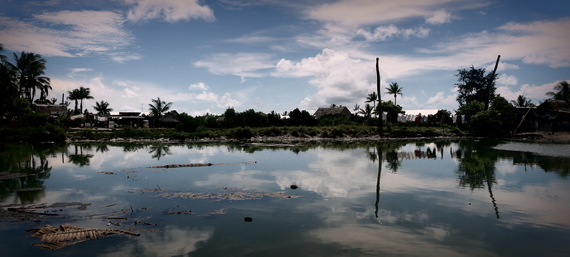 Islands throughout the Pacific region are at the forefront of climate change
Koreti and our Pacific Warriors can't take this journey alone. We need you to join us. If you're in the United States, it's time to start planning your trip to New York City for the People's Climate March this September (if our warriors can travel all the way from the Pacific to attend, you can surely make it from Boston, Chicago or even Seattle). If you live outside the US, we're going to need you to join us in a global mobilization over the weekend of September 20-21 (stay tuned to the PeoplesClimate.org website for more info soon!) And remember, if you're in Boston, Philadelphia or New York City, it's even easier: we will be coming to you this August with our speaking tour to promote the People's Climate March.
Koreti summed up the spirit that's infusing our Pacific Warriors project and the People's Climate March best.
I stand shoulder to shoulder with friends and colleagues throughout the world fighting for climate justice in their own regions. Sharing that connection with our Pacific Warriors fills them with a stronger sense of pride, that we are not only doing this for the Pacific, but contributing to a truly global movement. But it also reminds us that this is something that we cannot do alone. To be successful, we need to work with everyone fighting this global climate crisis and share ideas, action plans, triumphs and trials because one size does not fit all.
We all have a piece of the solution to climate change. It's time to start putting them together.