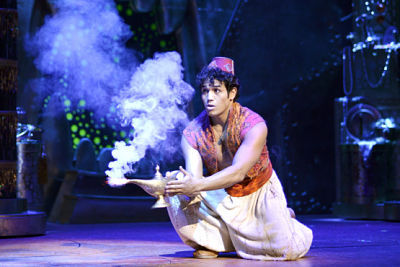 Disney knows about brand extensions. If it works as a movie, it will probably be revamped as a Broadway musical: Lion King, Beauty and the Beast, Little Mermaid and now Aladdin.
Currently at the New Amsterdam Theater, Aladdin is a big, campy Las Vegas-style show. This isn't the Julie Taymor artistry of Lion King. This is a big-budget blowout of skimpy Arabian Nights costumes meets Victoria's Secrets. Yet it's such high-spirited kitsch that given the audience reaction, it's clearly hit its target demo.
And yes, Aladdin even supplies a magic carpet ride.
Director Casey Nicholaw, who helmed the incomparable The Drowsy Chaperone and co-directed The Book of Mormon, has orchestrated an evening of silly, high-energy fun. Composer Alan Menken and lyricist Howard Ashman wrote songs for the movie version. Ashman died in 1991 and only a few of their songs are here. Tim Rice and Chad Beguelin, who also wrote the book for this stage adaptation, supply lyrics for the rest.
The story -- poor boy Aladdin (Adam Jacobs) who falls for the beautiful princess Jasmine (Courtney Reed) -- is a crowd pleaser. She's got to choose a suitor, while her father the Sultan (Clifton Davis) despairs of her feminist overtones and evil Jafar (Jonathan Freeman) plots to usurp the kingdom.
The magic begins when Aladdin rubs the enchanted lamp and Genie (James Monroe Iglehart) gleefully emerges. He gives his astounded new master three wishes -- "You Never Had a Friend Like Me" -- one of which transforms him into Prince Ali to woo Jasmine. Most of the musical adheres to the animated movie, though Ali's monkey Abu is gone, replaced by three pals. But the subplot, the friendship between Genie and Aladdin, is as highlighted as the center-stage romance.
The sets, courtesy of Bob Crowley, are lifted from the animated storyboards and supply the requisite exotic atmosphere, but its Gregg Barnes' costumes on parade that contribute the wow factor. (More modest versions of the on-stage extravaganza are available at merchandise stands in the lobby.) This zippy production has a hard-working cast; Freeman and Iglehart attack their roles with relish.
Best of all, the flying carpet has no visible wires or fancy gizmos. Admittedly, Aladdin is a bit goofy, over-the-top and larded with food gags -- "It's not right to bully! "Did somebody say tabouleh?" -- but who cares? Families will love it.
Conversely, concept musicals can be tricky; If/Then is a concept that fizzled. You know you're in trouble when a woman, who posits two separate, equally mundane life options, has to sing a ballad about decisions titled: "What the Fuck?"
The woman is Idina Menzel, who nabbed a Tony for Wicked. She's got a powerful voice, but it's utilized here in a small, banal effort. If/Then at the Richard Rodgers Theater, lacks dramatic tension and interesting characters. It's all so politically correct: The divorced urban planner has two sets of best friends -- lesbians and gay men -- and neither moves beyond stereotypes.
Menzel plays two roles: Beth, an emotionally gun shy, but ambitious city planner, and Liz, a woman who takes her chances and goes where the wind blows: "Once everyday your life starts again." In Liz's case, it's into the arms of Josh (James Snyder), a sweet doctor/Army reservist she meets by chance.
Destiny and fate are heady topics for drama, but to ensure they are captivating, the road not taken has to be a compelling one. Instead, Brian Yorkey's lyrics, and Tom Kitt's music, fail to inspire. The team produced the moving Next to Normal, but this round, normal is code for mundane.
That's not for want of trying. The high-voltage Menzel goes through her paces, accompanied by her boss/friend Stephen (Jerry Dixon), excruciatingly earnest housing activist Lucas (Anthony Rapp) and kindergarten teacher Kate (a fun LaChanze), alongside their amiable mates (Jenn Colella and Jason Tam). All do their best, but If/Then doesn't move past predictable ends: careerist vs. neurotic free spirit. Whichever road Beth/Liz takes, and all the clichés are here, will be fraught with both rewards and heartache. No one's life comes with a guarantee.
And while planners may envision an affordable New York City in college, in real life, the developers' political clout renders that dream all but quixotic. Manhattan may have been a low-rent haven for bohemians 50 years ago; but today, even a rattrap studio costs the earth. (The one song Lucas should be singing is "Bring Back Rent Control.")
Photo: Cylla von Tiedemann