When Jewish religious tradition collides with the secular world, the culture clash can be both provocative and emotionally devastating. No one chronicles that experience better than Chaim Potok. The adaptation of his acclaimed novel My Name Is Asher Lev, now at the Westside Theater, is deeply moving and beautifully wrought.
Set in Brooklyn during the 1950s, Asher Lev, presents a young Hasidic boy (Ari Brand) as art prodigy. Drawing is part of his DNA, and from an early age, Asher is compelled to express himself. But he is also part of a tight-knit ultra-Orthodox community; its ethos is study and tradition.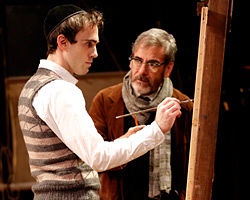 His parents, a father (Mark Nelson) dedicated to helping Russian Jews, and his caring but troubled mother (Jenny Bacon), are devastated by their son's obsession. Asher's father focuses on aiding Jews in post-Holocaust Europe. The idea that their religious son will stray from a set path frightens them.
To study and create art is to confront the human form. Sketching nudes is forbidden; the Talmud lauds modesty. Moreover, Christian iconography dominates much of Western art.
Yet Asher's rabbi gives him his blessing -- and the boy embarks on a dramatic sojourn, discovering art is a religion with dictates all its own. At the height of his creative power, Asher produces two extraordinary paintings that may forever change his destiny. Can he be an observant Jew and secular artist?
Aaron Posner's economical and insightful adaptation captures the big themes and intimate agonies on all sides of the artistic divide. The characters are well drawn; there are no stereotypes here, only thoughtful, principled individuals struggling to comprehend competing desires. Asher's quandary is universal: He has to decide whether to pursue his passions, despite familial objections.
What he subsequently learns is that passion takes many forms -- and that's underscored by Gordon Edelstein's sensitive, taut direction, aided by Eugene Lee's economical set. Brand gives an astounding and compelling performance as Asher Lev. Nelson's versatility in several roles is crucial; it allows us to see the totality of options Asher confronts. Bacon is sympathetic and layered, evoking the myriad emotions of someone caught in the eye of the storm.
My Name Is Asher Lev is a work of depth, insight and faith. It captures the fears and possibilities of community and modernity. It understands we are citizens of several cultures -- and that competing interests shape us in subtle and profound ways. Art, like religion, demands commitment and responsible action. A substantial exploration of culture and identity, Asher Lev is an artistic triumph.
Photo: Joan Marcus