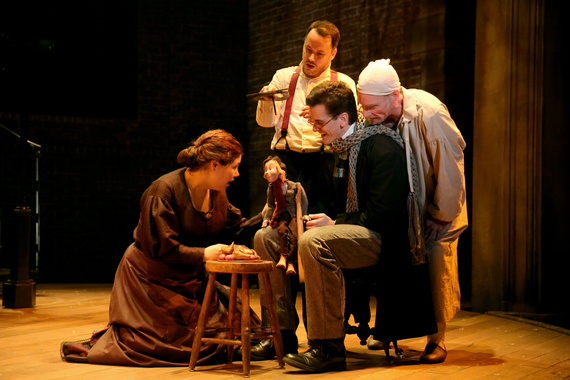 Last year, England celebrated the 200th anniversary of novelist Charles Dickens' birth. His sharp eye for satire and his passion for social justice upended Victorian pretensions. He created some of literature's most memorable characters in Oliver Twist and David Copperfield. And in one of his most beloved tales, A Christmas Carol, now at Off-Broadway's charming Theatre at St. Clements, his gift for caricature and push for a humane society is smartly staged.
Patrick Barlow, who adapted the Tony-winning 39 Steps, has again employed his gift for economical prose, having five actors bring Scrooge, Jacob Marley, Bob Cratchet, Tiny Tim and Mrs. Fezziwig, among others, to life. Given the recent "two New Yorks" theme espoused by new mayor Bill de Blasio, the politics of A Christmas Carol seem modern, a reminder that economic disparity remains an ongoing concern.
Christmas Carol opens at the offices of Scrooge & Marley; Marley is dead, but Mr. Scrooge (a solid Peter Bradbury) who operates a financial lending business, views Christmas as a time "when we part fools from their money." He disdains the poor -- "are there no workhouses?" -- and champions greed over charity. Scrooge sounds like a Tea Party politico, deaf to the cries of needy children and a suffering humanity. Indeed, his lust for money is a slam on industrial capitalism.
Considering the current chasm between rich and poor, such Dickensian meditations give this Christmas Carol added punch.
Best of all, Barlow and director Joe Calarco keep the action moving, while Chris Lee's lighting and Anne Kennedy's costumes are perfect. The props, mostly two Victorian staircases, are simple. It's left to the imagination and the talents of capable actors Mark Light-Orr, Mark Price, Jessie Shelton and Franca Vercelloni to take us on the nighttime journey of Christmas Past, Present and Future. Kennington Common sounds suspiciously like Occupy Wall Street, while Scrooge's treatment of his kindly clerk Bob Cratchett are stark reminders of the moral obligations of wealth.
Dickens, a fierce critic of the Victorian class system and the treatment of the poor, marries social realism to sentimentality here. It succeeds in this crisp rendition because Scrooge's ethical awakening isn't forced; the happy ending has pleased audiences for 170 years. For a man who likes an audit, this one gives Scrooge a clever, entertaining run for the money.
A second Dickens' work, the masterpiece he considered his best, Great Expectations, is being adapted into a streamlined 90-minute show for the Abingdon Theater Company. Playing one night only, December 9, at the June Havoc Theater, the adaptation is by Donald Brenner.
Dickens' famous tale of the orphan Pip, the strange, fixated Miss Havisham, the beautiful, aloof Estella, kindly Joe, the blacksmith, odious Uncle Pumblechook, and the odd twists of fate that happen as a result of one terrifying encounter on the Kent marshes, is captivating. The ever-present themes of wealth and poverty, cruelty and redemption, are underscored by Broadway leading man James Barbour, Dexter's Sam Underwood as Pip, Alma Cuervo, Jazmin Gorsline, Peter Herrick, Bill Nolte, Larry Pine and Judith Roberts.
Photo: Joan Marcus