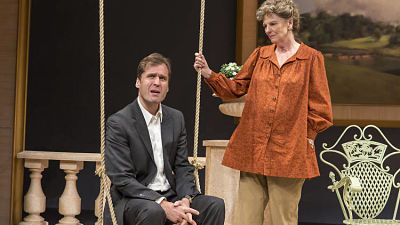 Plays about post-war Britain, especially those of N.C. Hunter, often have an elegiac quality. That's especially true in A Day By The Sea, the Mint Theater's revival of his 1953 work.
Now off-Broadway at the Beckett Theater, Hunter's quiet, understated effort echoes Chekhov: familial discord, class issues and cynical idealism.

Here, Julian (Julian Elfer), an overly serious Foreign Office careerist, has reached an impasse. He's stuck in mid-management, while his personal life is nonexistent. That worries his mother (Jill Tanner), who oversees a household that includes a fragile elderly brother (George Morfogen), tended to by a drunken, but philosophical doctor (Philip Goodwin).

While they lash out at the stupidities of wartime diplomacy, the sun is setting on their once placid existence. There is a subtle shift when Frances (Katie Firth) returns to the manse after a long exile.

A Day By The Sea records the regrets and angst of middle age. But it also chronicles the passing of an era with a graceful melancholy.

For Britons of a certain class in the post-war years, the play must have hit home. It may seem mannered, as many of that ilk are, but it's also insightful and sensitively wrought.

Hunter's gentle prose is sprinkled with wit and ruefulness. At three hours, its pace is gradual, but its points land well. Often staged in the Fifties, the author fell from favor when the angry-young-men plays became all the rage.

But Hunter is worth revisiting, and the cast captures the period with precision. Firth is perfect as a woman who has earned wisdom via hard experience, while Elfer has mastered the vulnerability that often masquerades as pompousness. Both actors hit the mark, as does Tanner's turn at laser-like honesty.

Admittedly, Austin Pendelton's direction is staid, but his cast sails through Hunter's nostalgic musings with ease.
Photo: Richard Termine