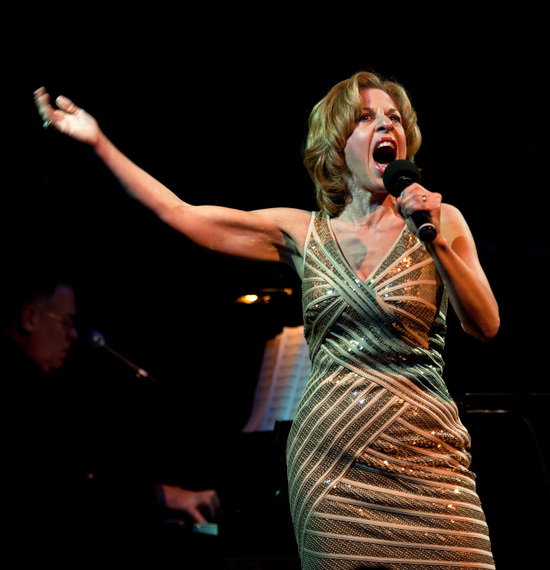 If it's fearless comedy married to sharp social commentary, it must be Jackie Hoffman.
The scathingly funny actress brings her latest cabaret act to Joe's Pub in Hebe For The Holiday. Hanukkah came early this year, but her stand-up, which relies on dark, child-hating humor, hits in time to end the year with a zetz.
Hoffman writes the lyrics, Bobby Peaco the music. Her acerbic holiday treat zings everything from social media to the Hamptons, a Brecht/Weill send-up of an uber-wealthy New York ("Amenities") to facelifts ("Pulled, Tucked and Lifted").
The longest bit -- her time as a straight Jewish woman on a sex-fueled gay cruise during Rosh Hashanah and Yom Kippur -- is a standout. What's refreshing about Hoffman is that she is willing to lampoon a key part of her audience -- gay men -- to recount her cruise exploits. And since it's the High Holidays, she embarks on the occasional European tour, desperately looking for anything Jewish.
A remarkably honest performer, Hoffman opens with a song on mass shootings, wondering who is next, since "the school thing's been done." Few could get away with such outrageous fare; then again, it's the whole point of her shows. Satiric rants sacrifice political correctness and conventional niceties to expose larger truths. No one is safe from her critical eye. But the message, delivered in theatrical terms and well directed by Michael Schiralli, scores.
A veteran of three Broadway musicals -- Hairspray, Xanadu, The Addams Family, Hoffman has parlayed kvetching into an art form, hatred into caustic wit. In another era, she would have been a star of screwball comedies; the only question is why more casting directors don't utilize her versatility on screen. The expressive face, distinct voice and unique delivery are ideal for a cable comedy special. HBO are you listening?