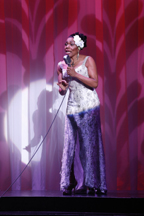 Part memoir, part concert, Lady Day captures jazz great Billie Holiday. Thanks to the amazing Dee Dee Bridgewater, who channels Holiday's unique phrasing and intonation, audiences meet the singer in London in 1954, as she ends her European concert tour.
Holiday, deprived of an essential cabaret license in the U.S. due to a drug charge, is desperate for good will and money. Accompanied by her hip band and caring manager (David Ayers), she's hoping great reviews will propel her back into cabaret society.
Now off-Broadway at the Little Shubert Theatre, Lady Day is the story of an extraordinarily tough life, punctuated with artistry. Bridgewater has recreated Holiday so well it's like watching the real thing.
She breaks from singing the blues to recalling key moments in Holiday's life, which are filled with incessant pain. The singer endured a tormented childhood, growing into a woman who, despite her talent, fell victim to abusive men, racism, drugs and unscrupulous reps that swindled her out of royalties.
It's not surprising that Holiday died young; what's impressive is that she was able to transform her heartbreak into art.
Lady Day, named by saxophonist Lester Young, is a consummate artist. Several of the songs she co-wrote have become jazz standards -- "God Bless the Child," "Lady Sings the Blues" -- while her contribution to the genre is legendary. Part of the jazz world from the 1930s through the '50s, her best-selling record "Strange Fruit" remains one of the most provocative and moving pieces in her repertoire.
Bridgewater does a magnificent job, backed by an excellent band: Bill Jolly, James Cammack, Jerome Jennings and Neil Johnson. Patricia A. Hibbert's costumes are spot on, as is Ryan O'Gara's lighting and Dive's projections.
Still, Lady Day would benefit from a timeline in the show to give audiences more historic context. It may feel thematically sparse, but it is a moving tribute to Holiday's magic and allure.
On the younger audience front, New York's New Victory Theater, renown for its children's productions, has two inventive fall shows. The Sydney, Australia, company Belvoir flies into New York with an updated version of J.M. Barrie's Peter Pan.
The Edwardian tale of the boy who has refused to grow up is re-imagined, set in 1980s suburban Australia starring aboriginal actor Meyne Wyatt. Peter's Neverland is now a kid's bedroom, magically transformed into a mermaid's lagoon, pirate ship and a cove of lost boys. Pirates play Pictionary; Tinkerbell plays Twister. Because Barrie's kept revising Peter Pan, Belvoir felt unconstrained in revamping the classic story.
As Belvoir modernized, the Patch Theatre Company, another Australian troupe geared to kids 4-8, is focused on a whimsical story of a little girl and an unlikely friendship with her shadow. Artistically utilizing paper, light and music, Me and My Shadow, running Oct 19-20, imagines the world according to young children. It takes a simple story and infuses it with inspired staging that allows its audience to enjoy illusion as a form of experimental play.