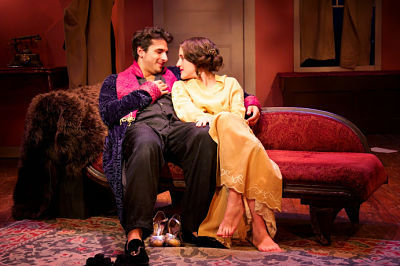 A speakeasy, class confrontation, mismatched lovers and a romantic opera singer set the stage for an early Preston Sturges comedy. The king of movie screwballs, Sturges' 1929 Strictly Dishonorable, now off-Broadway at The Flea, is a sweet production that still speaks to contemporary audiences.
At its Broadway debut, the three-act work was co-directed by Antoinette Perry, after whom the Tonys were named. And its acclaim kick-started Sturges' career as a Hollywood film writer/director, best known for comedic classics The Lady Eve and The Great McGinty.
As the title implies, Strictly Dishonorable addresses the notion of honesty -- in all facets of our lives. Isabelle Parry (Keilly McQuail) is an independent young woman engaged to stodgy Henry (Thomas Christopher Matthews). A conventional, fussy man, he waxes rhapsodic about West Orange, NJ, while she's enamored of Manhattan's excitement and possibilities.
They play out their argument amid the denizens of a Hell's Kitchen speakeasy: the judge (John Robert Tillotson), Tomaso (Christopher Tocco), the speakeasy's owner, and Gus (Michael Labbadia), a dashing playboy.
The chemistry between Isabelle and Gus is clear; so is the small-town bigotry and jealousy of Henry. Settling for the wrong man is lethal, yet Isabelle has no financial resources. Nor is Gus, currently wooing the unseen Lily, interested in anything save a sexual rendezvous.
This being Sturges, issues of sex, morality, double standards and honorable behavior will come to the fore, but always in an entertaining and witty way. The Attic Theater Company's presentation is a wonderful chance to see early Sturges, as well as some spot-on performances: Labbadia and McQuail click. She plays Isabelle with intelligence and restraint, while Labbadia is sincere and suave in equal measure. Tocca and Tillotson are solid.
Though the pacing is a bit slow in the beginning, all are aided by Laura Braza's direction and Liz Sherrier's set design. Strictly Dishonorable is a fun and thoughtful piece -- and for Sturges fans, it's an opportunity to see the blueprint for his future screwball success.
photo: Leah Caddigan