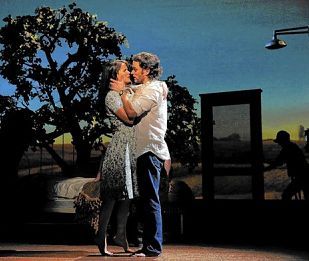 The Bridges of Madison County, a successful book and film, has been reimagined as an operatic musical. Now at the Gerald Schoenfeld Theater, Broadway darling Kelly O'Hara and hunka hunka burning love Steven Pasquale play the star-crossed lovers who, for four glorious days in 1965, find their soul mate.
It's hard to imagine these two as tired, middle-aged people, but as participants in a doomed romance, erotic sparks fly.
Robert, a National Geographic photographer, always stands outside his subjects; Francesca, an Italian war bride, is part of a tight-knit farm community. She escaped one horror, war-torn Naples, only to embrace another: a loveless marriage to the grim, tightly wound Bud (Hunter Foster) in rural Iowa. She may be devoted to her children (Caitlin Kinnunen and Derek Klena), but she leads what Thoreau called a life of quiet desperation.
That is, until Robert appears. While her husband and children attend the state fair, Francesca has a few, glorious days to experience profound love -- and the chemistry between Pasquale and O'Hara is electric.
O'Hara, who starred with Pasquale in last summer's Far From Heaven, is sympathetic and heart-wrenching; her lilting voice is extraordinary at capturing pathos and longing. She is equaled by Pasquale, whose intense arias always hit their emotional mark.
Jason Robert Brown, the talented composer of the underrated Parade, has produced a touching score. Deeply moving numbers, such as "Falling Into You" and "One Second & a Million Miles," express profound yearning; it's easy to understand why there isn't a dry eye in the house.
The musical could easily become overly sentimental; instead, it's simple and straightforward in its emotional trajectory. Marsha Norman's book gives all characters their due -- from the nosy but well-intentioned neighbors (Cass Morgan and Michael X. Martin), to Bud's inarticulate care. Passions ignite in a pure way, thanks to O'Hara and Pasquale's stellar performances.
Donald Holder's exquisite lighting and Michael Yeargan's economical set, which makes Iowa a key character in the production, are essential to the show's artistry. Bridges of Madison County showcases the subtle, inexplicable romance of two people who, for a brief moment, experience transcendent joy.
The only bridge they can't cross is the one into the future -- but the image of their fleeting happiness remains long after the music ends.
Conversely, in the nonfiction realm, the magic is strictly manufactured.
The off-Broadway Axis Theater is the former home of Charles Ludlam's Ridiculous Theatrical Company. Ludlam, who had a gift for using illusion to illuminate the truth, was working on a show on Houdini when he died.
Houdini exposed illusions to reveal the trickery and fraud of spiritualists.
Interestingly, Nothing on Earth Can Hold Houdini at the Axis, written and directed by Randall Sharp, addresses the moment in 1922 when the Scientific American magazine offered a cash prize to the first scientifically proven clairvoyant. The man chosen to debunk any prospects was Houdini, one of the greatest magicians.
Unfortunately, the ghost of Ludlam's genius is nowhere in sight.
The play suffers from a lack of drama, as well as solid narrative. Houdini's (George Demas) crusade to expose fraudulent mediums led him to Sir Arthur Conan Doyle (Spencer Aste). Doyle, the acclaimed creator of Sherlock Holmes, was a fervent spiritualist; he fell for the Cottingley Fairies photographs and attended séances in the hopes of contacting his son Kingsley, who died in World War I. He was particularly taken in by one of the leading mediums of the day, Mina Crandon (Lynn Mancinelli), who competed for the magazine's $5,000 prize, aided by her doctor husband (Brian Barnhart).
There is an intriguing premise here -- the ability of grief to undo otherwise rational people -- as well as the fervent desire to believe in the unknown. Unfortunately, the magic and the manipulation fall flat.
The cast tries, especially Demas, who re-enacts Houdini's locked chains and straightjacket stunt. But the script is devoid of dramatic tension; it doesn't adequately put the event in context. And given the heightened nature of the subject, the performances aren't strong enough to compensate.
Photo: Joan Marcus