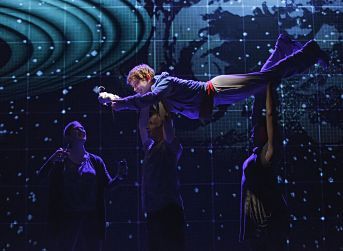 The words autism and Asperger's are never mentioned, but the diagnoses are creatively rendered in The Curious Incident of the Dog in the Night-Time, the Olivier-winning play now on Broadway at the Ethel Barrymore.
So striking is the production design, so remarkable is Alex Sharp's performance as Christopher Boone, we enter into the literal, mathematically precise mind of a 15-year-old autistic English boy with chilling accuracy.
Christopher sets out to solve a mystery: Who killed the neighbor's dog? That's the catalyst to chart his heartbreaking tale, inventively directed by Marianne Elliott. Mark Haddon's book is written in Christopher's voice; Simon Stephens' thoughtful adaptation accords wider empathy to his parents, who struggle with their son's myriad issues.
At heart, the story is a chronicle of Christopher's existence: He can't make eye contact, hates to be touched and is devoid of empathy or longing for emotional contact. His teacher (Francesca Faridany) supplies coping mechanisms to help navigate a frightening world. He lives with a caring father (Ian Barford) and is separated from his mother (Enid Graham). Both parents are worn down by the endless care and patience required; Curious Incident of the Dog in the Night-Time addresses the totality of familial suffering with sensitivity.
There is no judgment, only understanding.
The set is a black box of graph paper; it doubles as the grid of Christopher's mind, as well as housing key props. The design, which liberally uses projections, is brilliantly conceived and alongside inspired choreography and video design, recreates the mind-set of a troubled teen in ways both educative and theatrical. Christopher's London trip is extraordinary in its assault on the senses.
The cast is uniformly excellent, and Sharp, making his Broadway debut, is clearly in line for a Tony nomination, as is director Elliott and set designer Bunny Christie.
Distilled to its essence, The Curious Incident of the Dog in the Night-Time is rendered more as artistic documentary than conventional drama. It is ingenious and sobering, a reminder of the cruel twists of fate that can shatter lives and the glimmer of hope that might redeem them.
The Country House also addresses the issue of shattered lives in Donald Margulies' nod to Chekhov. Now at the Samuel J. Friedman, Country House, starring the always-charming Blythe Danner, is a partial homage to The Seagull, but with an American sitcom makeover.
Danner plays Anna Patterson, an acclaimed actress who decries her lost glamour, trying to rekindle her passions by making a play for a younger TV star (Daniel Sunjata.) Her efforts aren't lost on her granddaughter (Sarah Steele) or her tormented son Elliott (Eric Lange), who cannot escape the reality that he's a loser in a family of winners.
The family has gathered in Williamstown on the anniversary of the death of Anna's gifted daughter. Her former son-in-law (David Rasche) and his fiancé (Kate Jennings Grant) are also in tow. The plot follows The Seagull in part -- the nature of art is discussed, while modern media is vilified by Elliott, whose whining mediocrity repulses his family. Pathos isn't pretty.
Danner delivers some wonderful digs about the current state of theater -- "There are stars on Broadway, there are not Broadway stars," while her granddaughter, studying religion at Yale, manages to smack down the pretensions of her father and grandmother with practiced ease.
Daniel Sullivan's crisp directorial timing, coupled with Margulies' witty observations, makes for entertaining fare. The cast, especially Steele and Lange, are solid. But ultimately, unlike Chekhov, it's all surface. Like most sitcoms, it has, however fleeting, the semblance of a happy ending.
Photo: Joan Marcus