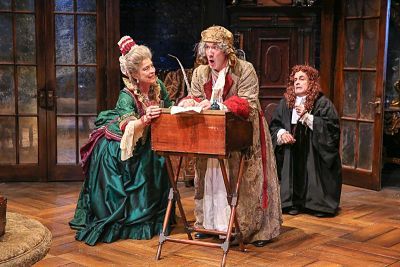 Classic French farce is on display at CSC, thanks to a madcap adaptation by David Ives. The Heir Apparent is a fast-paced, entertaining tale about a sickly miser whose nephew is desperate for him to die so he can inherit his fortune.
Sickly Gerone (a terrific Paxton Whitehead) nearly coughs up a lung as he discusses his will. He plans to leave his assets to one heir, rather than the relatives he disdains. So nephew Eraste (Dave Quay) tries his hardest to be solicitous. And it's not easy.
Eraste longs to marry Isabelle (Amelia Pedlow), but her imperious mother (Suzanne Bertish) favors another plan: having her lovely daughter marry the aging human wreck. What's a pair of overwrought young lovers to do?
Depend on the lightning-fast brain of reliable servant Crispin (played with gusto by Carson Elrod). So clever and humorous are his schemes, especially in the face of super-short, supercilious lawyer Scruple (an excellent David Pittu on his knees), he proudly declares: "I am a one man Comedie Francaise!" He speaks no more than the truth.

It's hard to resist Ives, who's had a terrific run with All In the Timing, Venus in Fur and New Jerusalem. Here, he's adapted Jean-François Regnard 1708 farce, kept the setting but sprinkled the text with 21st-century references to health care, soccer moms and socialism.
Director John Rando has timed the action perfectly; his hilarious cast is uniformly tops. So are John Lee Beatty's set and David C. Woolard's costumes. The physical comedy, rhyming couplets and screwball plot line prove loads of fun. And CSC is an ideal house to stage such a fanciful delight.
For first-rate Hispanic productions, there is no better venue than Repertorio Español at the Gramercy Arts Theatre, which is currently staging Federico García Lorca's rare comedy La Zapatera Prodigiosa. (The play is presented in Spanish with captions in English.) It's a humorous, but thoughtful look at the antagonistic relationship between a young wife (Zulema Clares) and her 53-year-old shoemaker husband (Gerardo Gudiño). He accuses her of having "bull's blood," while she's forever taunting him to "be a man."
It doesn't help that the town's gossips are always sniping at her, or that the mayor is making advances, all rendered in a comic style, though Lorca highlights the dangers of slander and misogyny. The spousal age difference, coupled with the wife's fiery nature, renders them ill suited. She saves her tenderness for a sweet-voiced neighborhood girl (Emma Segnini), who doubles as her only friend.
So when her husband makes a radical decision that will change their lives, she's forced to rely on her wits. In time, an over-the-top visitor forces the marital separation to a head -- and the mismatched couple finds that love appears when least expected. Director Andres Zambrano keeps the pace lively; his cast is clearly having fun. Jerry Soto's guitar solo is wonderful and augments a colorful and charming production.
Photo: Richard Termine