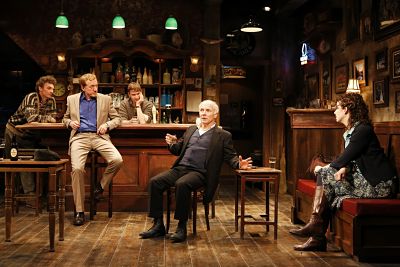 There is nothing like the stories you hear in a rural Irish pub on a dark night. The westerly wind howls outside, and inside, on wooden chairs, beside a small, comforting fire, four friends tell tall tales, argue and take the mickey out of each other.
Jack (Dan Butler), the mechanic, Brendan (Billy Carter), the quiet barkeep, Finbar (Sean Gormley), a businessman, and Jim (John Keating), who works for Jack and looks after his Mam -- "fading fast ... for years" -- form a quirky quartet.
The beauty of The Weir, an intimate, haunting drama, expertly staged at the Irish Repertory Theatre, delves deep into the ties that bind -- both emotional and supernatural. Under the dark country sky, sounds and apparitions can seem all too real. It may be the Irish love of poteen, an illicitly brewed whiskey, which fires the imagination or the wicked silence of night.
Either way, Conor McPherson's tale of loneliness and missed connections is rendered with precision. The Weir's strength is its simplicity: We can tell ghost stories that entertain friends, while making us question the gray line between illusion and reality.
But the most frightening tales are inescapable -- those drawn from real life. When Finbar introduces Valerie (Tessa Klein), a Dubliner who has come south, she shares her own experiences -- proving life trumps all. What is more shattering than truth?
It's in the telling that we reveal who we are.
As the hours pass and more drinks are served, tongues loosen. Jack shares his own saga, a reminder that the past is forever present in our hearts. Each man gets his moment; the lonely bachelors united in the solitude of self. Humor commingles with care; laughter flows as freely as tears.
A quiet, riveting work, The Weir, an Olivier winner for best play, offers a strong ensemble; director Ciaran O'Reilly gets the best from his cast. Dan Butler neatly shades Jack's character, his brusque manner can't hide his kindness or pain. "Goodness wear off," he laments. John Keating's Jim offers one of the most tender moments in the play, as he comforts Valerie, nicely rendered by Tessa Klein, the stranger who finds solace in community.
This revival is funny and heartbreaking. It underscores the importance of friendship and the power of the past. Don't miss it.
Photo: Carol Rosegg