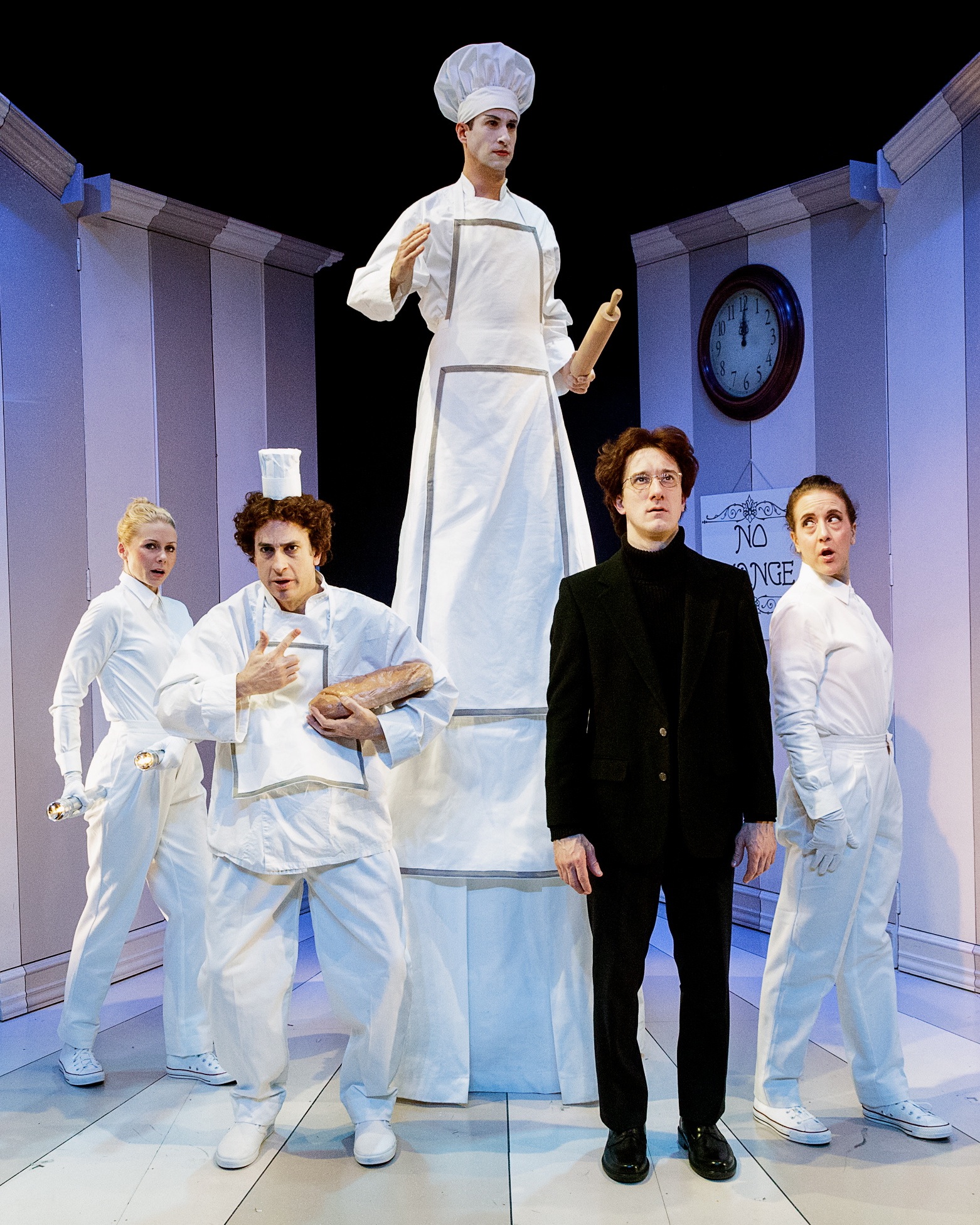 In the timing-is-everything category, don't miss All in the Timing, David Ives's clever homage to wordplay, now at 59E59. Primary Stages has wisely celebrated his six one-act comedies with a 20th anniversary production.
Ives, who wrote the provocative hits Venus in Fur and New Jerusalem, is a gifted craftsman with an ear for language and its musicality. Add the inspired direction of John Rando and an amazingly versatile cast -- Carson Elrod, Jenn Harris, Liv Rooth, Matthew Saldivar -- and All in the Timing approaches theatrical perfection.
Each actor takes on various roles with dexterity; Elrod is noteworthy for his ease with physical comedy, but all are excellent. The reason? The stylized comedies are hugely entertaining and wicked smart. Sure Thing sees a man and woman -- strangers in a café -- talking and each time they say the wrong thing, a bell goes off and they start anew. It takes time until they get the wording and the rhythm just right.
Words, Words, Words is a spoof on the theory that if you give monkeys a typewriter, they'll eventually produce Hamlet. Three apes, aptly named Milton, Swift and Kafka, turn the tables on their lab master, ranting, often in Shakespearean couplets, about everything from exploited workers to literary achievement. "kkkkkkkkk, I worry I'm repeating myself," muses Kafka.
Such lines are a perfect intro to Philip Glass Buys a Loaf of Bread, a pitch-perfect parody of Philip Glass's operas. Short, repetitive phrases spoken in a bakery, with an ingenious bit of physical parody, makes this a particular standout. It's all about the timing, and the verbal replays create a music and hilarity all its own.
So does The Universal Language, which is a fun exercise in gibberish. An instructor attempts to teach a shy stutterer a new international language: Unamunda. As he strings together disparate words and sounds, they produce a kind of wacky logic all their own. And as his student catches his fanciful drift, a sweet engagement ensues.
This is Ives's forte - the beauty of language, which underscores our extraordinary need for communication and connection. All in the Timing is a salute to the poetry of meaning and the joy of farce. Accompanied by Beowulf Boritt's colorfully skewed set and Jason Lyons's lighting, it works like a charm.
The Mark of Zorro at the New Victory Theater has its own brand of memorable theater. Scottish company Visible Fictions has turned the classic swashbuckling adventure into a fun lesson for children about justice and heroism. Based on a 1919 story "The Curse of Capistrano," it's better known, after many film and TV adaptations, under the Zorro title.
In this incarnation, the troupe's tale of a masked avenger in 1809 Spanish-ruled California is delivered via simple, but inventive aesthetics. If actors need a horse, they hold a cardboard drawing of a horse's head and trot off.
Written by Davey Anderson, the story revolves around young Diego de la Vega, who witnesses the murder of his father. Despite tragedy, he adheres to his wise teaching: "Don't fight for vengeance. Fight only for justice."
Time passes and now Esteban, a powerful captain, allows his soldiers to rob the peasants. Enraged by this injustice, Diego dons a black mask and avenges all wrongdoing. In his wake, he leaves a single Z, the mark of Zorro! He not only helps the tormented, but he attracts the attentions of highborn Isabella. Equally outspoken; she's as verbally feisty as Zorro is saber savvy.
Zippy direction from Douglas Irvine, music by David Trouton and Robin Peoples's endearing designs serve the saga well. Three talented actors, Tim Settle, Denise Hoey and Neil Thomas, skillfully play myriad roles, evoking the theatricality of an Old West road show. Zorro lives "to outsmart the bullies and the villains and the cheats." Let's hope the young audiences takes his message to heart.
Photo: All in the Timing/James Leynse