There are hundreds of holiday traditions around the globe, many of which you've probably never heard of -- the giant goat made of hay (Sweden), the witch that brings candy (Italy), the burning pile of dirt (Guatemala). But these are the top nine most unexpected, random, weird, awesome holiday traditions from around the world.
The Christmas Log - Catalonia, Spain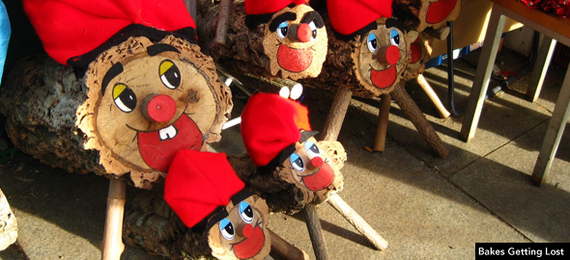 Awww, look at the little Tió de Nadal (Christmas Log). Yes, it's a log with legs and a face and a little red hat. It may seem like a joke that just caught on, but the tradition hails from old Catalan mythology. The log is introduced in Catalan homes at the Feast of the Immaculate Conception every Dec. 8. Leave food out for your little log each night. He gets hungry you know. And don't forget a blanket! He might get cold. And when the kids aren't looking, hide presents under the blanket. You see, the log is hollow, and well, the idea is that it's pooping out the gifts.
Night of the Radishes - Oaxaca, MX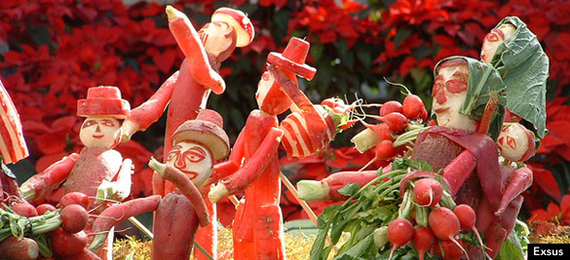 Every Dec. 23, the Mexican state of Oaxaca presents the most impressive display of carved vegetables in the world. The radishes are grown especially for this event, and remain on display through Christmas day. The miniature exhibits depict the Nativity scene and other events from Mexican folklore. Originally, the tradition of radish carving was done by shopkeepers who wanted to entice people into their stores. Today, it's a three-day festival.
SantaCon - Big Cities Worldwide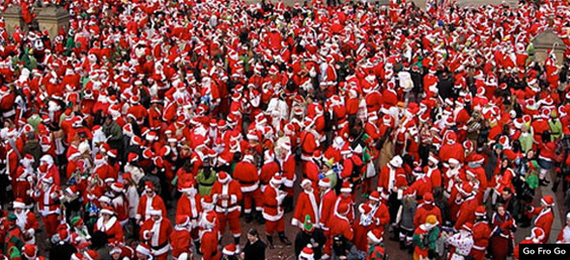 What began as a nonsensical gathering of San Franciscans dressed as Santa Claus, has become a worldwide pub crawl. Celebrating its 20th anniversary in 2014, the official website describes it as "a conventions of santas - groups of men and women dressed as Santa." That's all it takes? Well, as specified in the very important guidelines, one cannot merely show up in a Santa hat. And one must address every single participant as "Santa." Alrighty then.
Spider Webs for Good Luck - Ukraine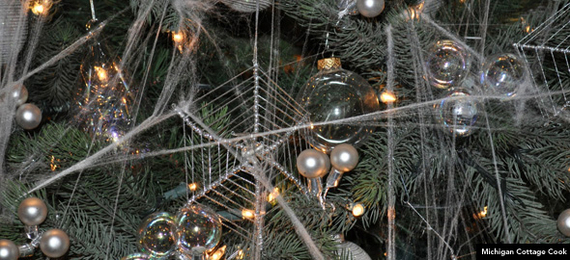 The Ukrainian tradition of adding spider webs to the Christmas tree is odd, until you learn about the legend. In a nutshell: a poor widow lived with her children in a cold, damp hut. Her children had their sights set on a young Evergreen tree growing outside as their future Christmas tree. But they had nothing to decorate the tree. The woman cried herself to sleep that night, but the household spiders took note of her despair, and covered the tree in their intricate webs. In the morning, the sun hit the tree, which shimmered in silver and gold thread. From that day on, the widow never wanted for anything again.
A vestige of ancient pagan days, Norwegians go to the trouble of hiding all brooms on Christmas Eve. And sometimes the menfolk even take out their guns and fire a warning shot into the air. According to legend, witches and other evil spirits come out on that night each year. And you know what witches want...brooms.
Ok, we kinda get this one. Fried chicken on Christmas Eve sounds like a good idea. Sure, but why KFC? Every establishment has a long line trailing out the door. Christmas isn't a national holiday in Japan, so it must be something about the "Americanness" of the meal. That and good marketing that goes back to the 1970s. The tradition holds strong. There's even a Smithsonian article about it.
Roller Skating to Mass En Masse - Venezuela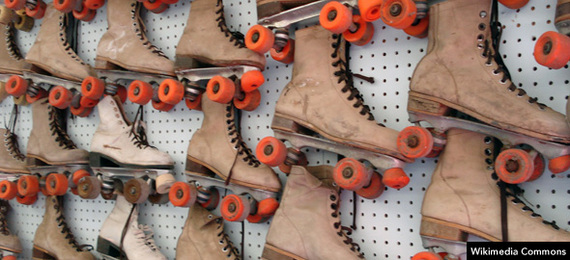 Now here's a fun Christmas tradition. Besides waking to firecrackers in the wee hours of the morning, residents of the Venezuelan city of Caracas get up, pull out their roller skates, and take off for mass. Many streets are closed to traffic and whole families wheel their way into the church pews. To hear the sound of skates in those sacred spaces!
Caroling with a Dead Horse - Wales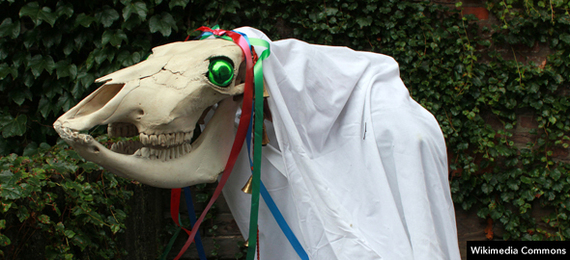 On no particular day or time, from Christmas to late January, Mari Lwyd is a ritual of old, meant to bring good luck. One person dresses up as a horse, using an actual horse skull, and is accompanied by a group of people. Together they go from house to house and sing in the hopes that they will be rewarded with food and drink. This is not as foreign a tradition you might think. It is referred to in the Christmas carol "Here We Come A-wassailing."
Krampus - Austria, Germany, Hungary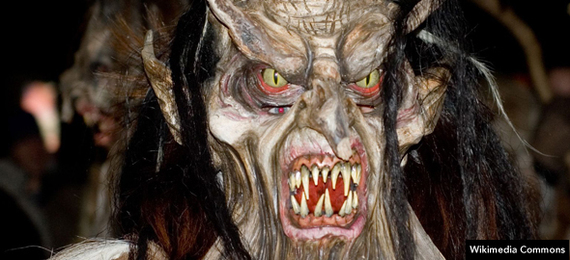 For the good children, there is Santa Claus. For the bad, there is Krampus, a beast-like creature who shows up in order to punish the ill-behaved. Just the sight of him is punishing indeed! Krampus has roots in Germanic folklore. Today, young people dress up as Krampus and roam the streets in Austria, Romania, Bavaria, and other Balkan countries to frighten young children. Merry Christmas, everyone!
Visit Findery.com for more stories about places around the world.