I'm not really a fan of theme parks, heat or crowds, and yet, last summer, our family kicked off our road trip in Orlando, Florida. Why, you ask? Well, Orlando being virtually synonymous with "family," we felt that it was a great starting point for our family trip. In fact, we decided that if we were going to visit Orlando, our family should try to do as much as we could in one vacation! To tell the truth, I was a bit nervous about being able to pull it off!
Discover more family fun in Florida with Andrea!
Where to Stay
We stayed in two different places, both are excellent choices depending on your budget and the experience you're looking to have. The Blue Tree Resort offers very nice condo-style vacation rentals complete with kitchens. It's a great setup if you want to make your own meals and not eat out as much. Some of the units even have in-room washer and dryers, also a perk when traveling with kids.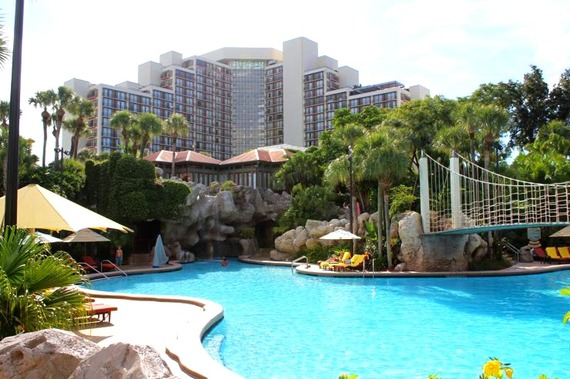 This photo and all others taken by Andrea Fellman of Wanderlust Living
We also stayed at the Hyatt Regency Grand Cypress, an exceptional family resort that sits on 21 acres of land, includes a golf course and is located only a mile from Walt Disney World. The Hyatt Regency Grand Cypress has so many activities on site that you might not even want to leave the resort. The hotel pools include a variety of caves and waterfalls and my daughter even took a morning mermaid swim class. Definitely a memorable experience!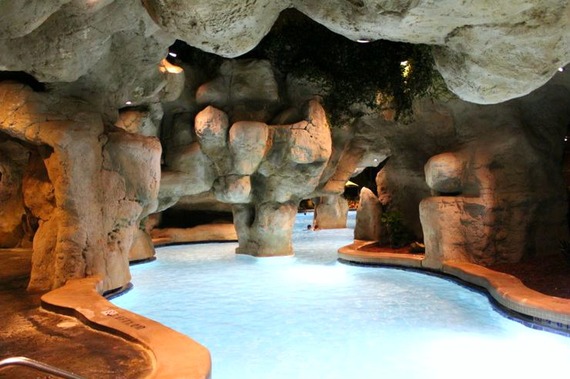 Three Theme Parks To Try
Of course, when in Orlando, you can't not go to a theme park. The two biggest are Walt Disney World and Universal Studios. We visited both, but actually found a lot of family fun at these other three, lesser known, parks.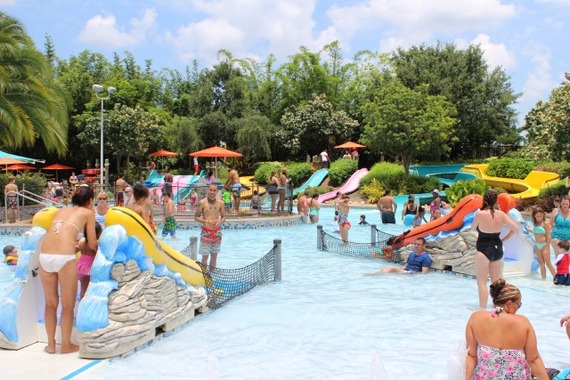 Aquatica by Sea World was by far our favorite day spent in Orlando. So much to do and explore! And if you're going to be in Orlando during July it's better to be soaking wet! We rode down some of the slides all together as a family and floated down the raging rapids, giggling and trying to hold onto one another. Even my husband and I didn't want to leave this park!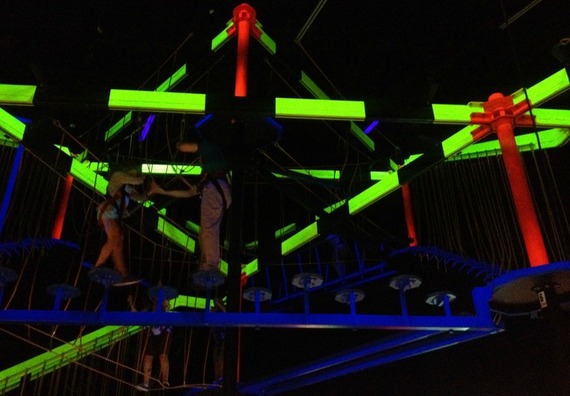 WonderWorks is wonderful, not just because it gets you inside and out of the heat, but because it challenges your mind and body. With over a hundred exhibits, the curious, the bored, the young and the old will all find something that amazes and intrigues. The neon ropes course and playing laser tag was a huge highlight for our family. I mean, imagine a ropes course that takes you high above the ground in the dark on a glowing maze of obstacles. Cool, right? Don't worry. You're fully harnessed and connected at all times, and there are assistants to help guide younger children through the course. So much fun!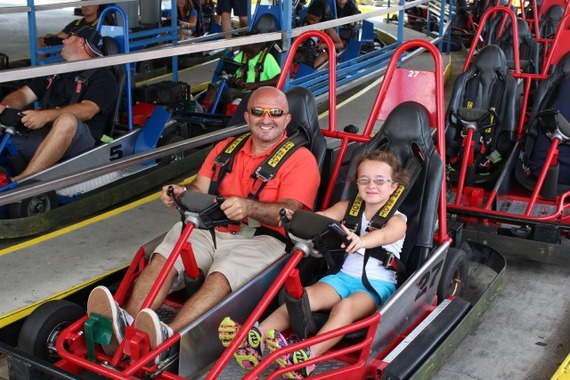 Fun Spot America has two locations, one in Orlando and one in Kissimmee. It's a classic amusement park with many traditional rides and roller coasters as well as go-carts and plenty of thrill rides. We hardly had to wait in any lines at Fun Spot America and our kids must have ridden the little kiddy roller coaster at least twenty times in a row. If you get there just before the sun starts to go down, you avoid the heat and the crowds!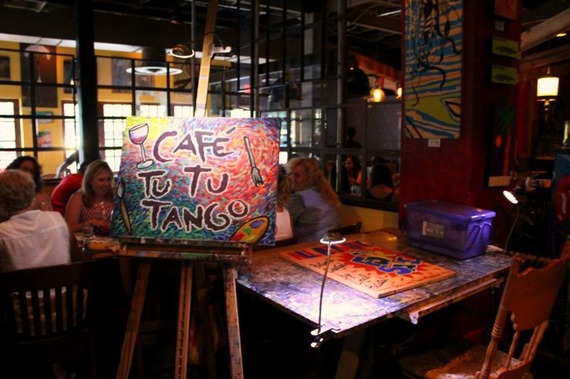 Fun Places to Eat
One of our favorite places to eat at in Orlando is Cafe Tu Tu Tango. It's a restaurant that looks more like an eclectic art studio than a restaurant. I didn't just like this place for its cool vibe, the food and service were excellent too! The food here is served tapas style so you can order a variety of small plates for everyone to sample. There was even a belly dancer dancing about and a fortune teller inviting guests to have their palms read.
Totally different vibe, but equally fun, is Dick's Last Resort. It's an obnoxious bar and restaurant that is prides itself on being loud. Do not go here if you are tired and crabby from a day at a theme park. Do not go here if you are easily offended. Do go here if you are in a good mood and able to laugh at yourself and those dining with you. The servers are rude and sarcastic - on purpose. They make large white paper hats for everyone at your table to wear. They write funny quotes or observations about you on these hats, things that might make you blush. The food is a bit expensive, but the entertaining experience is fun!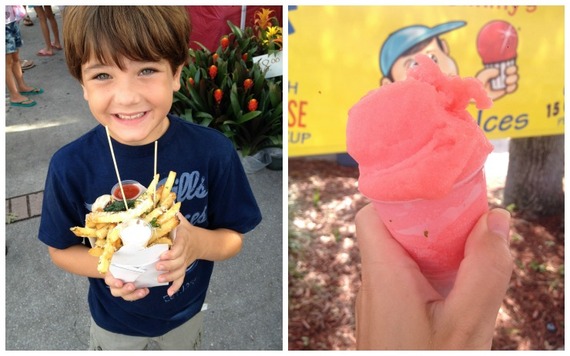 Venturing further off the beaten path

To escape some of the crowds and get a taste of the local vibe we headed to the Winter Park Farmer's Market and walked the trendy South Park Avenue. The Winter Park Farmer's Market takes place every Saturday morning from 7:00am - 1:00pm and is held at the old train depot. It's where you can get all of your Summer farmers market favorites like kettle corn, shaved ice, as well as some locally made sweet treats. You can also pick up some healthy snacks to bring back to your hotel room. South Park Avenue, walking distance from the Farmer's Market, is a great place to find small boutiques, a great children's toy store and plenty of restaurants.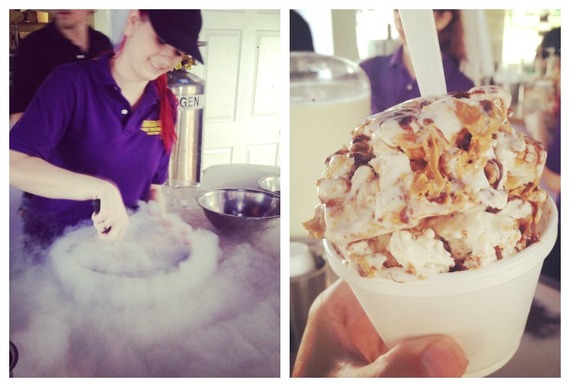 Kissimmee is right next door to Orlando and offers a lot to families visiting Orlando. If you head to Kissimmee, please make sure you make a stop at Abracadabra Ice Cream Factory. This ice cream shop is more science lab than traditional soda shop. They create your own customized ice cream using nitrogen right before your eyes!
There's an incredible amount to do in and around Orlando. Remember to pace yourselves. Take it one day at a time and try not to not over schedule your days. There are only so many lines you and your children can stand in before your vacation quickly become frustrating. Do what we did and avoid burning out by opting for some of the lesser known parks and attractions, soaking in some Florida sun at the hotel pool and finding a few things to do inside to stay out of the heat.
Post written by Andrea Fellman of Wanderlust Living and Savvy Sassy Moms on behalf of Findery. Follow more of her travel adventures on Findery.