When our family took a seven city road trip around the South last summer two cities definitely caught my attention; Savannah, Georgia and Charleston, South Carolina.
Both cities are filled with so much Southern charm, American history, and beautiful coastal living. Trying to decide which one I liked better is difficult because they each have their own distinct personality and flair.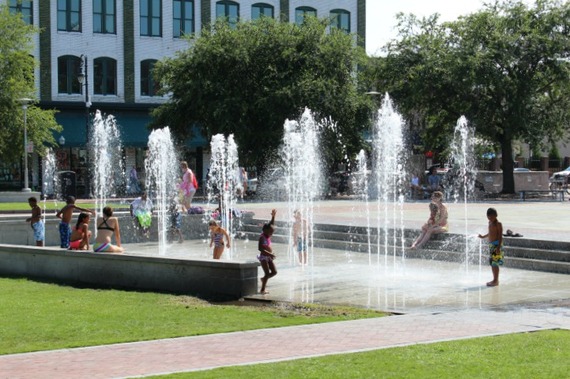 Savannah, Georgia
Savannah is the perfect city if you want to spend the day just wandering around and exploring with no real set itinerary. The city itself is very easy to navigate because it sits on a grid and is famous for its historic squares. The squares of Savannah are a perfect place to watch the world go by.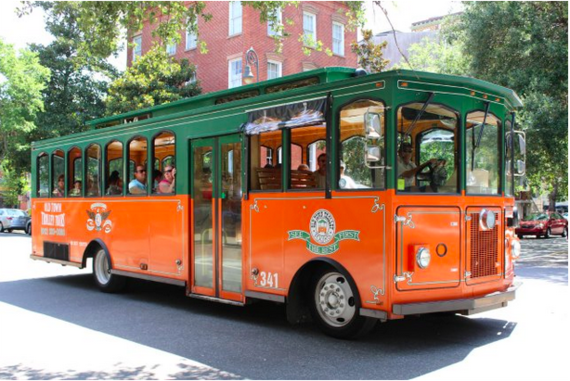 Tour the City
The hop-on-hop-off Old Town Trolley Tours is a fantastic way to see the city and get to know Savannah better. The drivers share information about the city's history and show you all the important points of interest. Savannah is known as America's most haunted city and you can take one of many haunted Ghosts & Gravestones tours at night. They stop where some of the most paranormal activity happens and the guides share great ghost stories! Or you can take a private Carriage Tour to explore the city.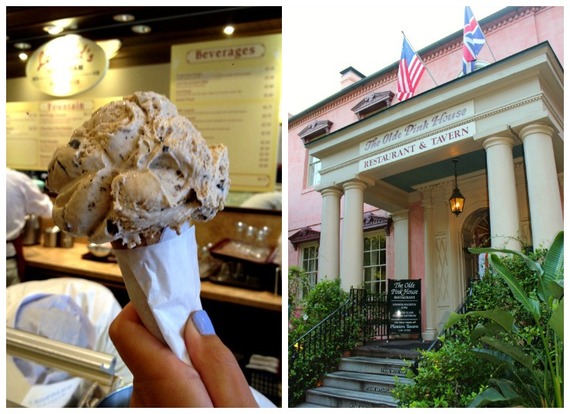 Taste of Savannah
I came to Savannah to try some traditional Southern delicacies and so, of course, I had to try some shrimp and grits. For a taste of traditional Southern cooking be sure to eat at The Olde Pink House, or if you are a fan of Paula Dean's head over to Lady and Sons. There are two great places where you can satisfy your sweet tooth. First is the Savannah Candy Kitchen, famous for their pralines, a Southern confectionary treat. Second is an old school soda shop type of store filled with a variety of other sweet treats! You cannot go to Savannah and not stop for Ice Cream at Leopolds. There will most likely be a line out the door, but it's worth the wait!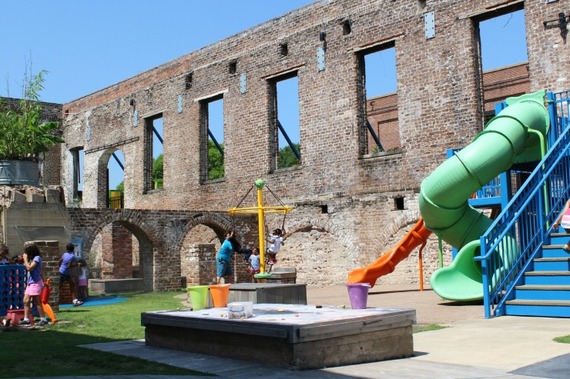 Things to Do and See
The Railroad Museum, the Savannah Children's Museum, and the Savannah History Museum are all right next to each other and a great way to spend the day with the kids. Savannah's History Museum is where you will find Forest Gumps' Park Bench and learn about the history of the Girl Scouts, which was started in Savannah. You can board the trains with a guided tour at the Railroad Museum and stop for a bite to eat at the Whistle Stop Cafe (Fried Green Tomatoes anyone?). The kids will love dining in the train car. The Children's Museum is new to Savannah and built in and around the old Railroad Storage yard! A really neat experience for kids, just be sure to go in the morning before it gets too hot!
River Street is filled with restaurants, bars and retails shops. Head there as the sun is setting and you'll get to see ships passing by and have a great view of the iconic Talmage Memorial Bridge.
Before leaving Savannah you should definitely head out to Tybee Island, a great little beach town with lots of personality where you should be sure to grab some crab legs at the popular Crab Shack!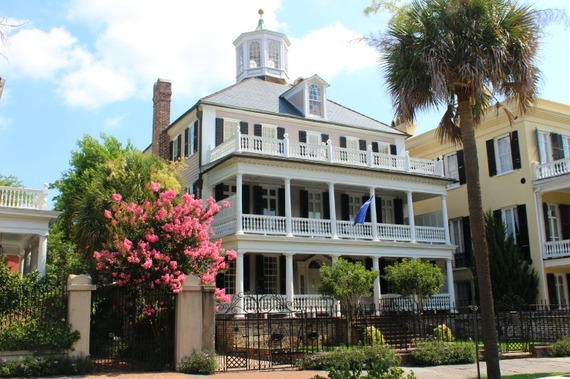 Charleston, South Carolina
Charleston has been named America's favorite city and the minute you start walking around this beautifully preserved, historical city you'll see why. So much of our country's freedom and liberties were fought in and around Charleston. While walking around you can't help but feel a sense of patriotism here, it's like stepping into an American history book.
Tours of Charleston
Charleston Strolls is a popular walking tour that I was able to go on and that I highly recommend. The walking tours take about two hours and are fully guided by a very proud Charlestonian. It's a great way to see the city and learn about the historic buildings, homes, and hidden courtyards. You'll also hear some great stories, inside tips on where to eat, and other special gems about the city!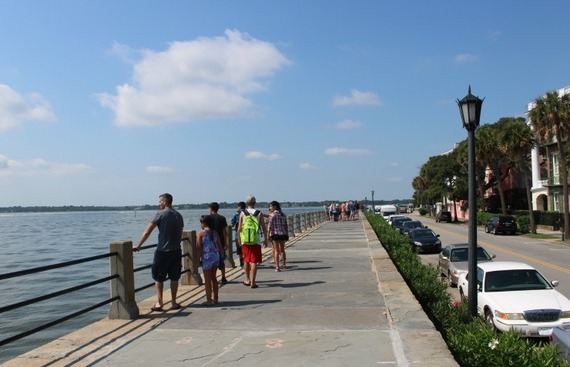 Waterfront Park is a popular park that overlooks the Copper River and is a great place to start the day. If you are up for taking a longer walk along the harbor you can continue South and hop over to East Battery Street where you'll see a view of Fort Sumter out in the distance on your left and a row of beautiful homes on your right. This will lead you to White Point Garden, another beautiful park to explore.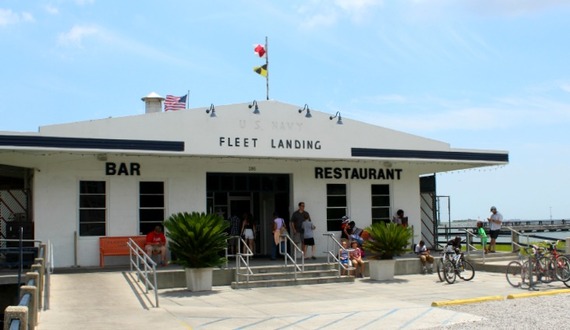 Make a reservation and eat at Fleet Landing. What used to be an old Ferry Building that the Navy used is now a popular seafood restaurant looking over the Copper River. Inside it is nautical themed, but you're also welcome to sit outside on the back dock. The food is excellent and the prices are great! You'll also want to head over to the City Market where you'll find some unique shopping, gourmet food, and gifts. Next to the City Market is Charleston's Candy Kitchen, similar to Savannah's if you need to grab another Southern praline!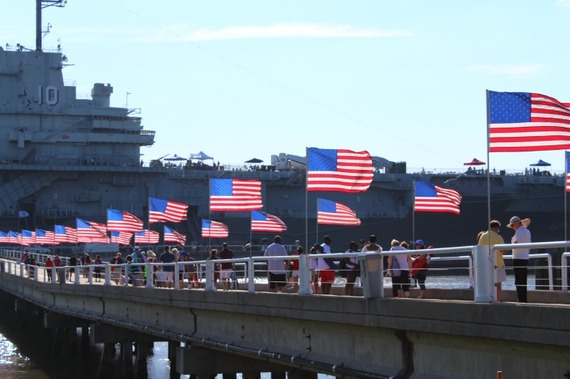 Things to See & Do
Patriots Point Naval and Maritime Museum is located over the Arthur Ravenel Jr. bridge to Mount Pleasant and probably one of the biggest attractions in Charleston. Patriots Point is home to the USS Yorktown aircraft carrier and two other World War II vessels, among many other military aircraft, submarines, and other wartime exhibits.
There are several plantations that you can tour but the most popular and (and most photographed) is the Boone Hall Plantation. When you enter, you'll drive down the famous Avenue of the Oaks. There are guided tours every half hour and you are free to visit the slaves homes that are on the property.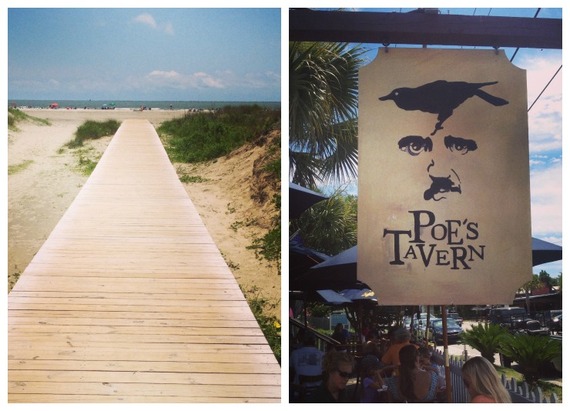 Another one of the biggest draws to Charleston is the quaint beaches that can be found just a short drive from downtown Charleston. Sullivans Island, Folly Beach, and Isle of Palm. We headed over to Sullivans Island for the day and grabbed some lunch at Poe's Tavern, where I had one of the best burgers of my life! I wish we'd had more time to explore the beaches.
Our Southern city road trip created so many great memories of all the places we visited, but I think the rich history of both Savannah and Charleston are what truly set them apart. Road tripping is an amazing way to discover the country. Brave the summer heat and explore all the beautiful cities that America has to offer. We guarantee you'll make memories that will last a lifetime.
Post by Andrea aka Wanderlustliving on behalf of Findery. Travel along with her on Findery.