It's easy to compare noteworthy contemporary artists to those who've gone before. In the case of Miles Regis, a Trinidadian-born multi-media artist based in Los Angeles, that associative list is undeniably impressive: Basquiat, Gaugin, Pollock, Dali and Rivera, to name a few. But Regis did not learn his craft studying the masters of Art History. Regis began organically, in the influences of his childhood in the Caribbean -- of Carnival and calypso -- and from watching Caribbean artists like his uncle, Alexander King.
Regis's most current show at the Barnsdall Art Park "Civil Wrongs to Civil Rights" is at once culturally transcendent and energized by a rooted sense of personal and historical experience. Two pieces, "Zoo Capitalism" and "Follow Your Truth," recall the aesthetic and political pageantry of Trinidad's Carnival. "Subconsciously I feel like I'm almost doing costuming on canvas," he says. "During Carnival there were always political statements being made with vibrant textures and colors." Regis's own canvasses are alive with thick black lines, figurative and free-form, and striking flashes of crimson, yellow and baby blue.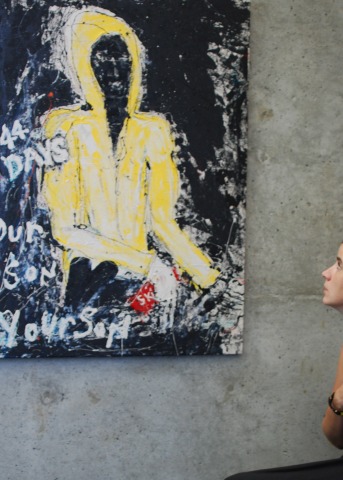 His uncle Alexander King's piece "Pan God," taking its title from the abbreviated name of the steel drum invented by Trinidadians, has had profound influence on the artist. "Nobody's work has moved me the way my uncle's work has," he explains. Another artist Regis admires is Leroy Clarke who painted a lot about Trinidadian folklore and mythology. "He was raw and true in his work." Regis discusses the idea of "ancestral energies" guiding him through his own work. Kin and culture flow freely through pieces like "Kiss the Kids For Me," "Yet So Happy" and "Occupy Truth" as do candid expressions of inner-child. It's no surprise that the title of this exhibition "Civil Wrongs to Civil Rights" originated with his nine-year-old son Djimon, who was doing a book report on Martin Luther King, Jr.
At the Barnsdall Gallery Theater exhibition Regis debuts two exciting new installations. The first is part found-object, part 3D art simulation. Regis constructs a four-foot box made with various pieces of scrap wood that he picked up randomly around LA, and painted over with what have become his signature one-eyed hieroglyphic figures. Installed within the box is a 3-D presentation visible only through carefully carved out peep-holes. Downstairs, Regis invites viewers into a large screening room for a 3-D filmed demonstration of his creative process. On-screen Regis's swift hand movements and handsome demeanor are matched by his powerful, soothing voice showcased in his original musical compositions and a breathtaking cover of the classic "Both Sides Now."
The video installation culminates in a three-dimensional presentation of one of Regis's most important works in this series. In "The Music Peace" Regis's textured, vibrant colors are not merely expressions of bold emotion and positivity, but together a courageous invitation for all to seek personal truth and unity of spirit. "Sometimes truth can be finding peace within your struggles." His work is the perfect expression of who he is -- courageous, powerful and multicolored -- gathering us all in an artistic endeavor that values human spirit, connectedness and levity in the face of adversity.
Miles Regis's "Civil Wrongs to Civil Rights" is on exhibit now through September 2012 at the Barnsdall Art Park at the Barnsdall Gallery Theater, 4800 Hollywood Blvd., Los Angeles 90027. Admission is free and by appointment only.