If corn is king, as author Michael Pollan has told us in his popular Omnivore's Dilemma, then chef-turned-farmer Tracey Vowell is engaged in regicide. Ever since she left Rick Bayless' Chicago restaurants Frontera Grill and Topolabompo, where she was managing chef, Vowell has been "hijacking corn, a singular act of subversion" as she puts it.
Translated, that means she is intentionally cultivating a product, huitlacoche (pronounced wheet- la- co -chay), that is a known enemy of corn. Officially a fungus, this smoky flavored delicacy variously referred to as Aztec caviar, Mexican truffle, or corn smut is actually the scourge of the American corn farmer, replacing delicate yellow kernels with what can most generously be called unattractive gray and white spores. Although the tribes of Central America have prized this mushroom-like delicacy for centuries despite its faintly cancerous look, Europeans saw it as disease when they came to the New World.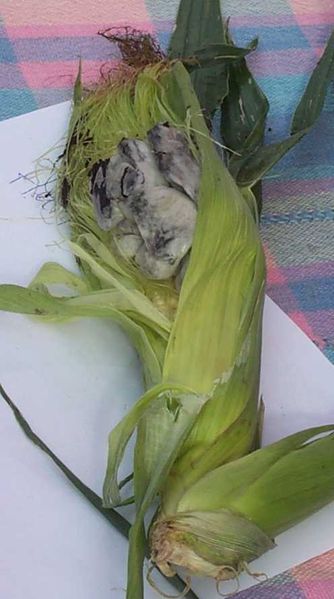 That negative reputation has stuck, at least until recently, when a handful of farmers like Tracey Vowell of Kankakee started experimenting with cultivating, rather than eradicating, the fungus. Leading Mexican chefs like her former boss Bayless have been using it for years. Vowell said she used it in everything from tarts and enchiladas to soups and sauces before she left Bayless' restaurants to farm full-time.
But suddenly the so-called corn smut is popping up at other kinds of restaurants and markets. According to Vowell, Le Lan, the popular French-Vietnamese restaurant in Chicago, has experimented with it. Blackbird currently has it on the menu where it is used with fried organic chicken, puffed grits, haricots verts, and pickled garlic scapes. In Mexican cuisine, huitlacoche is generally sauteed in oil with garlic, onions, or chiles. Like squid, it leaks a blackish liquid when heated.
Although Vowell sells most of her crop to Bayless for his restaurants, she has made smaller amounts available to other chefs. Last Wednesday, she brought a cooler full to the Green City Market for the Market's "Localvore Challenge," a campaign to increase public awareness of locally-produced food. She plans to sell it there for the next two weeks. With local production of huitlacoche still in its infancy, this is probably your only chance to take a bit of this delicacy home to try before next year.
Vowell's crop comes directly from the field but needs to be quickly frozen, which she says is what happens to it when it's sold to restaurants, since huitlacoche is highly perishable. Few farmers have attempted what Vowell is aiming to do, so what some people know as huitlacoche probably comes from the canned stuff which, as Vowell put it, is a "different animal."
Still, don't expect a bumper crop anytime soon. The short season and temperamental nature of huitlacoche has deterred farmers less determined than Vowell. Although the price per ear of corn with huitlacoche can exceed the price of a standard ear, it's a far more labor-intensive process, I am told by Lydia Zepeda, a professor of consumer science at the University of Wisconsin. She and her colleagues at the university conducted a pilot growing project several years ago in Madison. Although several high-end chefs welcomed the huitlacoche, the difficulty of producing the fungus in large enough volume doomed the effort several years ago.
Vowell, herself, has been at it for seven years, almost equally divided between what she calls "miserable failure" and "miserable success." To produce the fungus, each ear of corn must be individually injected. For small scale organic farmers like Vowell, there are no short-cuts such as sprays. Once the ears are injected, farmers wait--a little bit like artificial insemination--to see if it "took." Vowell said that the three women who run her farm practically tiptoe through the fields to avoid disturbing the inoculated corn. After the huitlacoche is picked, farmers have only two or three days to sell it before it degrades.
Not everyone in her farming community is quite as smitten by corn smut. Some are downright horrified. But Vowell perseveres, hoping to hit the 1000-pound mark that she just missed this year. At this level, it won't be enough to make the product widely available to consumers. It's worth a taste, though, because huitlacoche like Vowell's is not likely to be available without substantially increased consumer demand, Wisconsin's Zepeda says.
Tracey Vowell's Sweet Corn Soup with Huitlacoche
For the soup:
8 ears sweet corn
3-4 quarts. chicken or vegetable stock
1 white onion
2 heads garlic
1/2 bunch cilantro
4 poblano chiles coarsely chopped
2 cups heavy cream
1T corn starch
1/4 cup cold water
Peel the sweet corn. Cut the kernels from the cob and set aside. In a large soup pot over high heat, place all the corn cobs, and the stock, and cook 1 hour. Remove the cobs.
Roughly chop the onion and peel the garlic. Add both to the stockpot. Boil 1/2 hour more/
Add the kernels of corn, cilantro, poblanos, and roughly chopped to the stock and cook 10 minutes more. Remove the pot from the fire and allow to cool for at least half an hour.
Blend the liquid with an immersion blender, a standard blender or food processor. Strain back into a large pot.
Return the soup to the stove, add the cream, and bring to just boiling over medium high heat. Stir together the corn starch and cold water making sure to remove all lumps. In a small dish, add some of the soup liquid to the corn starch mixture until thoroughly liquefied. Add this mixture back to the soup as it comes to a boil. Stir as the soup thickens. Remove from the fire and season with salt. The soup may need to be adjusted with a bit more stock.
For the huitlacoche garnish:
2 ears sweet corn kernels
1-2 serrano chiles, finely chopped
1/2 pound huitlacoche
1 bunch green onions, thinly sliced into rounds
In a wide skillet over medium high heat, sautee the corn kernels and chiles until just cooked through, about two minutes. Turn the pan up to high and add the huitlacoche. Continue to cook for three to five minutes until the mixture becomes dry.
Stir in the green onions and remove from the heat. Season with salt.
Warm the soup, ladle into bowls and top with a dollop of the corn-huitlacoche mixture.