When the lion of French cuisine Paul Bocuse decided that the quality of American gastronomy was not adequately showcased in the eponymous bi-annual Bocuse D'Or cooking competition, arguably the world's most prestigious, he picked up the phone and called New York restauranteur Daniel Boulud. If anyone was up to the task of finding a worthy competitor, preparing the chef for the task, and convincing skeptical judges that the Americans had arrived, Bocuse must have reasoned, it was certainly Boulud, whose name has come to define classically-elegant French cuisine in New York.
The competition, held at the end of January in Lyon, was the first formal role for Boulud, but he has been teaching chefs how to compete in other ruthless environments like New York's high-end restaurant scene for decades. An unofficial interpreter of French-style culinary mentoring for the American market, and author of a book on the subject, Boulud has become something of a legend for his ability to pick and grow young chefs.
Just what are his secret ingredients? One of his most recent mentees, Gavin Kaysen, the executive chef at New York's Cafe Boulud and currently the only executive chef Boulud has brought in from the outside to run one of his seven dining establishments, sat down with me on the one-year anniversary of his arrival in New York to tell me what he has learned since then.
Competition is the biggest difference between running a high-end restaurant in New York and in San Diego, where he presided over the kitchen at the Rancho Bernardo Inn's El Bizcocho Restaurant, Kaysen says. "Food is center stage now, not an amenity to the rooms."
Kaysen's customers on New York's Upper East Side are knowledgeable and have picked up more than a little from television, he says. Add to that the challenge of seasonality, which he barely faced in San Diego. Top it off with his mentor's celebrity, which left Kaysen a staff sometimes focused more on their resumes their chef's ideas. All told, Kaysen says it took him a full year to put into practice much of what he had learned from Boulud since the two first met in 2005.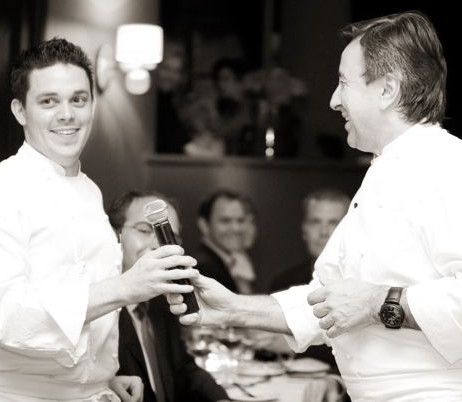 Running the restaurant once inhabited by Boulud's original Restaurant Daniel takes "more than a mise-en-place list," says Kaysen, referring to the famous check list that chefs keep to detail advanced preparations for when the heat starts picking up. The building, he has learned, has a soul and clientele loyal to the location.
Still Kaysen was able to boil down his chef's bons mots to five big lessons. They must be working. Less that a year into the job, Kaysen won the James Beard award for most promising young chef.
Embrace the Hard-to-Please - A chef's job is to think about the one person who doesn't like a dish as much as the hundreds who do. Listen to your sous-chefs but listen to your customers more. It's not for nothing that Café Boulud has customers who dine there at least once a week, a handful nearly every night
Always Take it Personally - Keep good notes on your customers' preferences, especially the loyal ones. They may not say it, but a regular expects you to know if he or she doesn't, for example, like greens on their plate. And even if you're deep in conversations with one of your guests - culinary luminaries or garden- variety plutocrats - always keep another channel open for other customers. They will remember the time that you were locked onto celebrity chef Jacques Pepin and still managed to pull out their table as they were about to leave.
Substitutions 'R Us - Never say no. It may be tough luck if you want to make a substitution or eliminate an ingredient at a restaurant like Momofuku, but there's no problem - and no fee - to hold the mustard if asked at Cafe Boulud. Make sure the wait staff never leaves a moment of doubt in a guest's mind.
Think Globally but Cook Locally - Even the stalwarts of high French gastronomy welcome an American classic. Make perfect biscuits and gravy and don't waste your time searching for a French twist.
Hospitality is a Passion Not a Job - Be ready for the guest who arrives at 4 pm every day and clinks her glass if you haven't personally taken her dinner order by the time your staff meeting concludes at 5:45. You may be the chef, but never over-estimate the value of your personal attention. If you're sighing when an order for a tasting menu comes in as the kitchen is about to close, you'll be miserable much of your working day.