Time is running out for anyone still looking to use up their paid vacation days this year. Yet fall can be a great time to take advantage of off-peak prices, even amid the current trend of rising airfares.
But where should you go?
Fly.com recently conducted a data study to identify the destinations that will save you money on flights (compared with last year). The overwhelming conclusion was that - with the exception of Dallas - travelers should head west this fall.
For the post-Thanksgiving period, airfares to Los Angeles, Denver, Maui and Phoenix all cost less than last year; down an average 2%-8%. And despite being associated with expensive fares, Hawaii also offers the best deal for Thanksgiving travel. Honolulu was the only destination in the U.S. to experience a fare decrease for travel between Nov. 21-30.
In contrast, Florida's continued popularity over the fall has played a role in rising fares. For instance, flights to Tampa between Dec. 1-21 cost 25% more in 2014 compared with last year. Airfares to Fort Lauderdale, Orlando and Miami are also up an average 7%-20% this fall.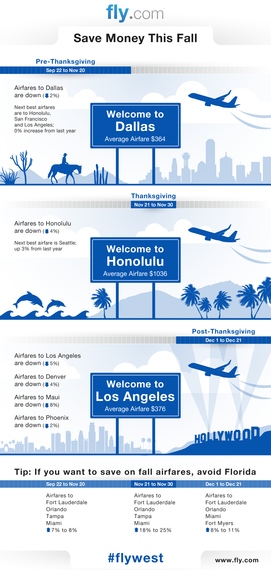 For hotels, the west also seems to be an attractive proposition. Travelzoo has found some amazing hotel deals on Maui and Oahu that deliver 55% and 40% savings on peak prices, respectively. Similarly, hotels near Los Angeles and Phoenix are available at 45% off.
For a complete list of today's best fares for fall, visit Fly.com/falltravel.
Happy travels!
Michelle Erickson is the director of public relations at Fly.com and is based in California. A British native, Michelle has lived on three continents and is an avid traveler.