Throwing tomatoes and watching balloon races aren't your standard, everyday activities. But every year, visitors gather in different locations around the world to participate in festivals ranging from spiritual to lighthearted. From samba dancing to bathing in a sacred river, each festival offers visitors a unique, once-in-a-lifetime experience. Here are our picks for 15 festivals to attend before you die.
By Emily Wasserman
Carnival
Where: Rio de Janeiro, Brazil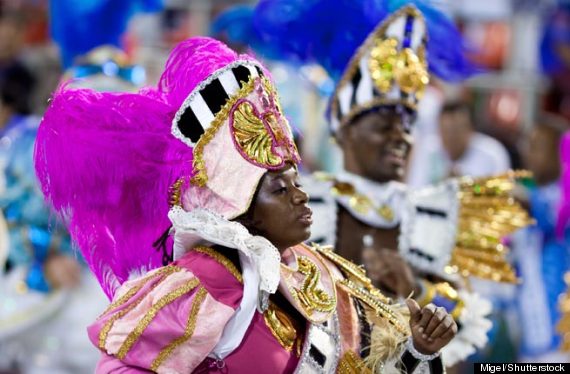 More than 2 million people flood the streets of Rio for Carnival. The four-day celebration is traditionally held before Lent and includes street parties, masquerades, and samba parades. Follow Carnival bands across the beaches and streets, grab a drink at one of the city's lively bars, and watch as samba schools compete for the best float.
Plan Your Trip: Visit Fodor's Rio de Janeiro Guide
Photo Credit: Migel/Shutterstock
Oktoberfest
Where: Munich, Germany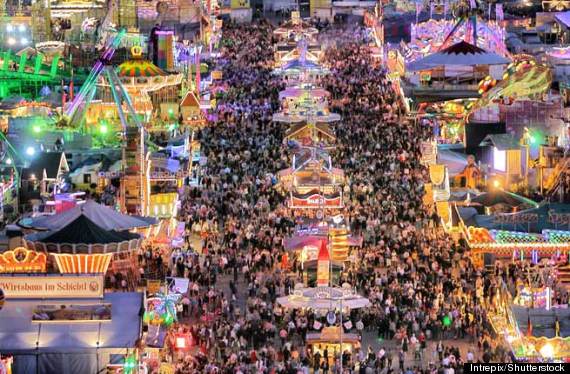 Grab a beer and pull up a seat at Oktoberfest, one of the world's most spirited parties. A keg tap marks the beginning of this boozy weeklong festival, and millions of visitors flock to one of the city's themed tents to enjoy a pint. In addition to beer, visitors can sample traditional food like sausages, pretzels, and potato dumplings.
Plan Your Trip: Visit Fodor's Munich Guide
Photo Credit: Intrepix/Shutterstock
Dia de los Muertos
Where: Oaxaca, Mexico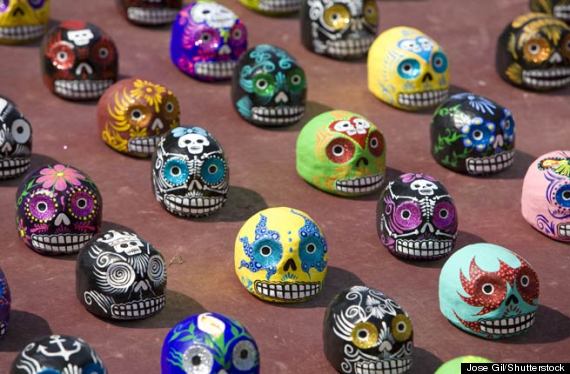 In early November, friends and family in Mexico gather to pay their respects to the dead. Dia de los Muertos, or Day of the Dead, commemorates lost loved ones with ancient traditions. Families of the deceased build private altars using sugar skulls, leave flowers and food on graves, and put out offerings to welcome spirits. Celebrants eat foods shaped like bones, including chocolate skulls and pan de muerto, or bread of the dead.
Plan Your Trip: Visit Fodor's Oaxaca Guide
Photo Credit: Jose Gil/Shutterstock
Albuquerque International Balloon Fiesta
Where: Albuquerque, New Mexico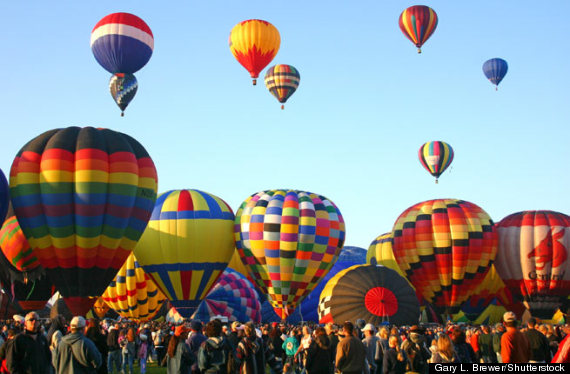 Over 600 colorful balloons fill the southwest sky at the Albuquerque International Balloon Festival. Spectators gather at sunrise to watch the balloons take off and visit landing sites to track incoming balloons. The fiesta is also a competition, as balloonists drop markers on targets and participate in speed and distance races.
Plan Your Trip: Visit Fodor's Albuquerque Guide
Photo Credit: Gary L. Brewer/Shutterstock
Kumbh Mela
Where: Nashik, India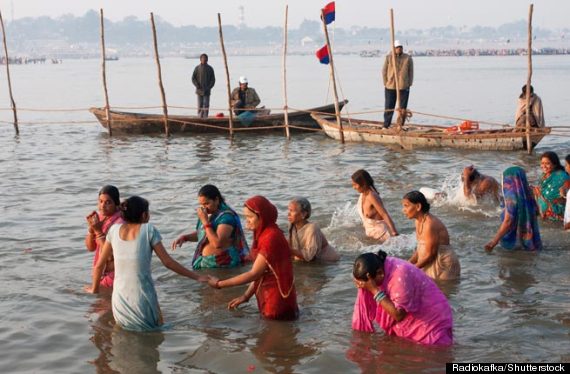 Every three years, millions of visitors gather to bathe in one of India's sacred rivers for Kumbh Mela. The pilgrimage is considered to be the largest peaceful gathering in the world, and is held in different locations around India according to Hindu tradition. Visitors can participate in religious discussions, singing, and assemblies, or complete altruistic acts alongside holy men and women.
Plan Your Trip: Visit Fodor's India Guide

Photo Credit: Radiokafka/Shutterstock
Mardi Gras
Where: New Orleans, United States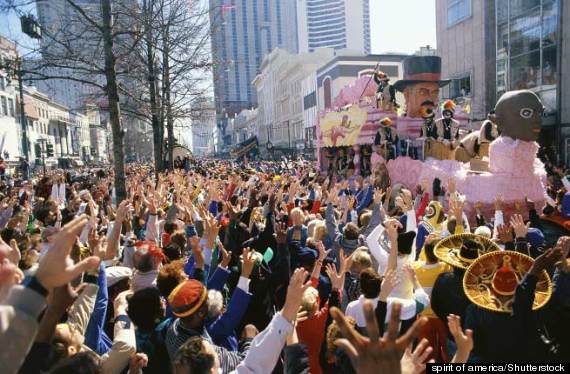 Every year before Lent, visitors flock to New Orleans's French quarter to celebrate Mardi Gras, the final day of Carnival. Locals step out in full holiday attire--costumes, masks, and face paint--and parade floats throw strings of plastic beads to onlookers. Drinking starts early with breakfast Bloody Marys and continues into the wee hours of the night.
Plan Your Trip: Visit Fodor's New Orleans Guide
Photo Credit: spirit of america/Shutterstock
Il Palio
Where: Siena, Italy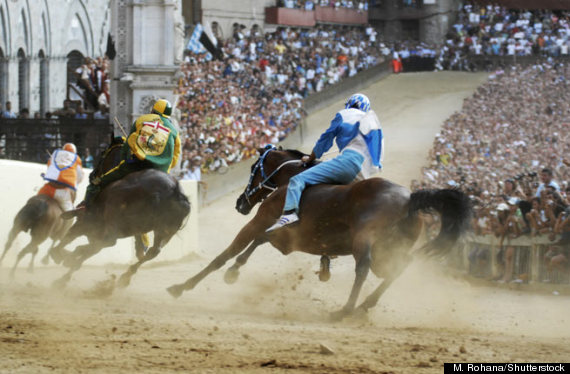 Historic Siena is home to Il Palio, one of the world's most renowned horse races. Every July and August, 10 jockeys and their horses gather in the town's Piazza del Campo to compete in a race and pageant. Horse and rider teams each dress in appropriate colors to represent a contrade (city ward) of Siena. Visitors watch as the horses and their riders rapidly circle the square. While turning the treacherously tight corners it's not uncommon for jockeys to be thrown from their horses and horses often finish the race riderless. The whole exhilarating spectacle usually lasts only 90 seconds.
Plan Your Trip: Visit Fodor's Siena Guide

Photo Credit: M. Rohana/Shutterstock
La Tomatina
Where: Bunol, Spain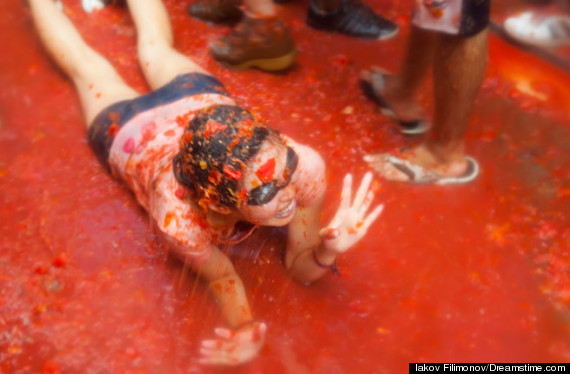 Goggles are recommended at La Tomatina, one of the world's biggest food fights. A firing of water cannons signals the beginning of the fight, as thousands of visitors throw squashed tomatoes at one another. Due to the popularity of the event, the town instated ticketing--but the experience is well worth the 10 euro fee.
Plan Your Trip: Visit Fodor's Spain Guide
Photo Credit: Iakov Filimonov/Dreamstime.com
Diwali
Where: India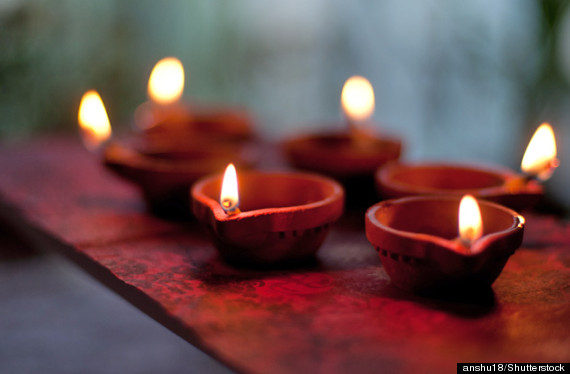 Also known as the "Festival of Lights," Diwali celebrates the end of harvest season. Over five days, celebrants string colorful lanterns, light firecrackers, share sweets and snacks, and participate in traditional ceremonies. Festival-goers also light small clay lamps filled with oil to honor the Hindu goddess Lakshmi, and invoke her blessings for the year ahead.
Plan Your Trip: Visit Fodor's India Guide

Photo Credit: anshu18/Shutterstock
San Fermin Festival
Where: Pamplona, Spain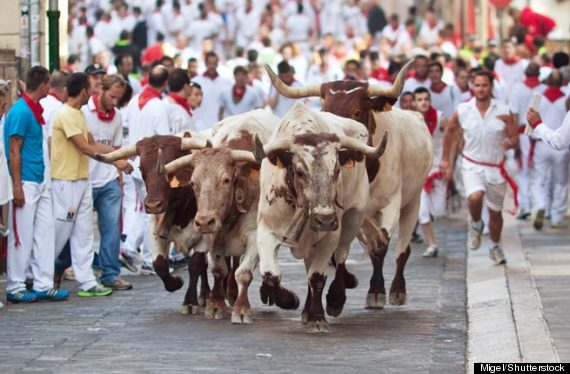 The "running of the bulls" has gained worldwide recognition, and visitors can witness the spectacle for themselves at the San Fermin Festival. Before the event, the town erects a set of barricades to direct the bulls along the route and protect onlookers. A rocket signals the beginning of the run, and herds are set loose on the streets of Pamplona. Anxious crowds await the end of the race in a bullring.
Plan Your Trip: Visit Fodor's Pamplona Guide
Photo Credit: Migel/Shutterstock

Pingxi Lantern Festival
Where: Pingxi, Taiwan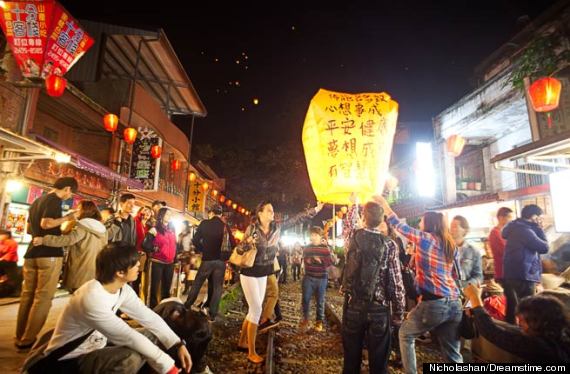 Every year during the Chinese New Year, visitors gather in the small town of Pingxi to watch the Pingxi Lantern Festival. More than 100,000 lanterns are launched during the celebration, and visitors can buy their own lanterns from street stalls. The festival also includes food, colorful fireworks, and sparklers.
Plan Your Trip: Visit Fodor's Taiwan Guide
Photo Credit: Nicholashan/Dreamstime.com
Carnival of Venice
Where: Venice, Italy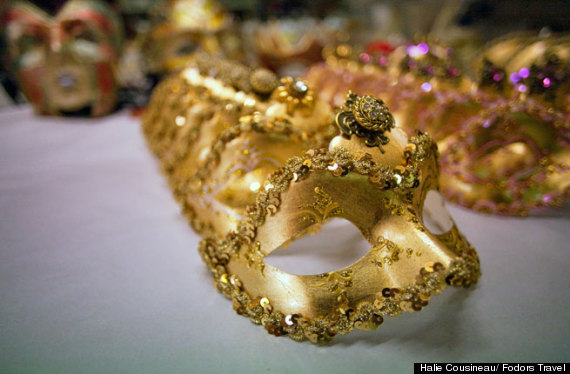 Masks and costumes are standard attire at Italy's Carnival of Venice. Every mask has its own story, and symbolizes a different Italian theater character. Visitors parade their finery at parties and masquerade dinners, or end the night at one of the city's lavish costume balls.
Plan Your Trip: Visit Fodor's Venice Guide
Photo Credit: Halie Cousineau/ Fodor's Travel
Saint Patrick's Day Festival
Where: Dublin, Ireland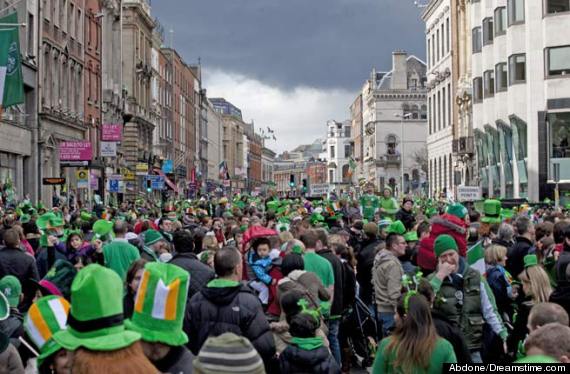 You might not find a pot of gold at the end of the rainbow at Dublin's Saint Patrick's Day Festival, but you will find plenty of festivities. For three days in March, the city turns entirely green. Visitors can enjoy street performances and music, take a walking tour of the city, or visit the Irish Craft Beer Village for a taste of local brews.
Plan Your Trip: Visit Fodor's Dublin Guide
Photo Credit: Abdone/Dreamstime.com
White Nights Festival/Scarlet Sails
Where: St. Petersburg, Russia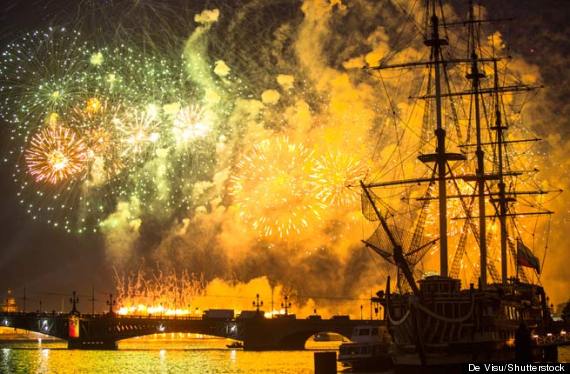 During the summer months, the sun never sets in St. Petersburg. The city's White Nights and Scarlet Sails Festival celebrates this stunning phenomenon. The festival features performances by Russian musicians, singers and dancers, and culminates with the Scarlet Sails celebration. Rose-hued skies are the backdrop for tall ships with scarlet sails, and crowds enjoy spectacular fireworks and a water show.
Plan Your Trip: Visit Fodor's St. Petersburg Guide
Photo Credit: De Visu/Shutterstock
More from Fodor's:
10 Best U.S. Ski Resorts For Families
America's 15 Best Indie Coffee Shops
15 Places to Drink Hot Chocolate in America