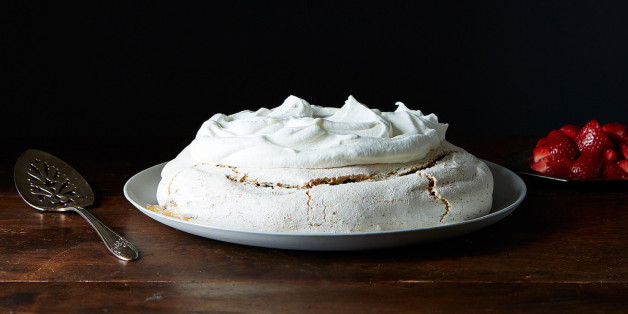 Every week, baking expert Alice Medrich will be going rogue on Food52 -- with shortcuts, hacks, and game-changing recipes.
Today: Classic pavlova gets a nutty makeover. 
Here is a sweet, crunchy, gooey, peanuty spin on the classic pavlova -- with fresh strawberries and cream. If you don't like peanuts, substitute natural almond butter or hazelnut butter or cashew butter, but don't miss it. 
Ribbons of smooth peanut butter contribute rich flavor and a welcome counterpoint to the sweet sweet meringue -- berries and cream take the whole affair over the top: every bite is a riot of flavors, textures, temperatures.
1 cup (7 ounces) sugar, preferably superfine
1 1/2 teaspoons cornstarch
4 large egg whites (about 1/2 cup), at room temperature
1 teaspoon distilled white vinegar or 1/4 teaspoon cream of tartar
1/2 cup well-stirred natural (preferably salted) peanut butter, at room temperature
1 cup heavy cream
1 teaspoon vanilla
1 1/2 pints fresh strawberries 
See the full recipe (and save and print it) here.
Alice's new book, Seriously Bitter Sweet, is a complete revision of her IACP award-winning Bittersweet, updated for the 54 percent, 61 percent, and 72 percent (and beyond) bars available today. It's packed with tricks, techniques, and answers to every chocolate question, plus 150 seriously delicious recipes -- both savory and sweet. 
Photos by Mark Weinberg
This article originally appeared on Food52.com: Peanut Butter Pavlova
Food52 is a community for people who love food and cooking. Follow them at Food52.com -- and check out their new kitchen and home shop, Provisions.