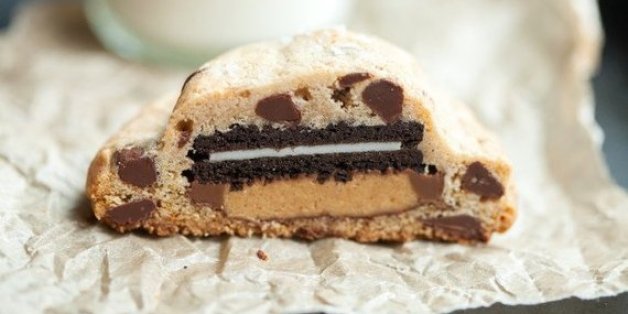 Super stuffed chocolate chip cookies - you heard that right! These amazing (and HUGE) chocolate chip cookies are stuffed with both Oreos AND Reese's peanut butter cups. It's a heavenly mouthful!
Okay, so these cookies might just lean a little towards the ridiculous. A three and a half ounce ball of the best-ever chocolate chip cookie dough encasing an entire Oreo sat atop an entire Reese's Peanut Butter Cup, and then baked? Yes it's happening. And it is GLORIOUS!
The inspiration for these cookies came from a strange place - the Seahawks' home football games. I've been a proud season ticket holder for around 6 years. I've been through lots of bad with the team, and recently, lots of good!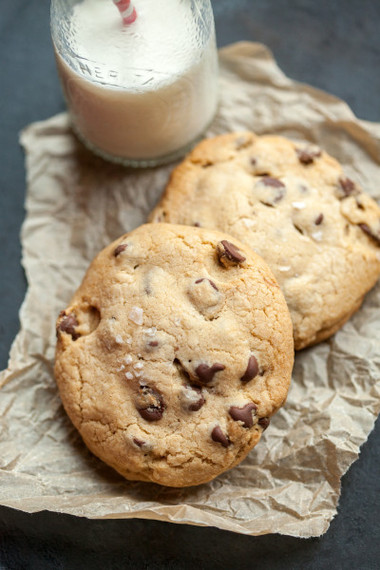 After their big win, the stadium opened its doors to a crazy amount of new delicious food, including, but not limited to: hot dogs that stretch 2 feet long with various toppings, sandwiches with locally cured meats, and homemade dingdongs the size of your face. You know what else they now have? Oreo-stuffed chocolate chip cookies.
My boyfriend insisted I try my hand at this incredible thing, but I wanted to find a way to make them even better. The originals I saw were rather flat, with an Oreo-sized bulge in the center. That's a lot of cookie without a lot of stuffing! I added a peanut butter cup, and made my cookies thick and chewy. There's also a light sprinkling of flaky sea salt on the very top, just to balance out some of the sweetness, and bring out the best in the chocolate. It's totally necessary.
The base recipe is an adaptation from what I think is the best chocolate chip cookie in the universe - the New York Times recipe by David Leite adapted from Jacques Torres.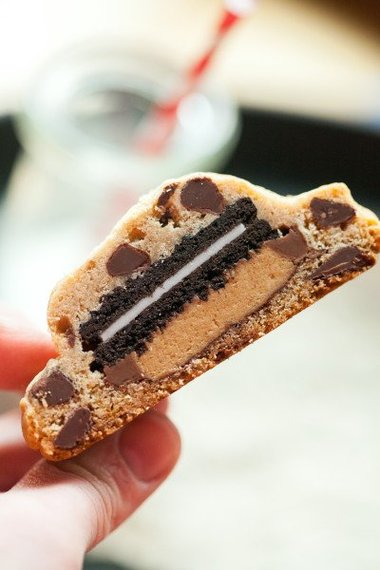 Oh, and the best thing about these cookies? They get even better with age! So go ahead and make them a few days or even a week ahead of time, leave them at room temperature, and then enjoy them with a nice, tall glass of milk!
Everybody loves a ridiculous cookie every now and again. We have quite a few of them here on Food Fanatic; check out Alaina's blueberry chocolate chip skillet cookie and Jamie's Rolo cookie bars while you're at it.
Get the Super Stuffed Chocolate Chip Cookie Recipe on Food Fanatic!

About Rachael
Rachael is passionate about every kind of food, but especially desserts. Her blog, Spache the Spatula, is darling! We're so glad to have her as a Dessert fanatic.