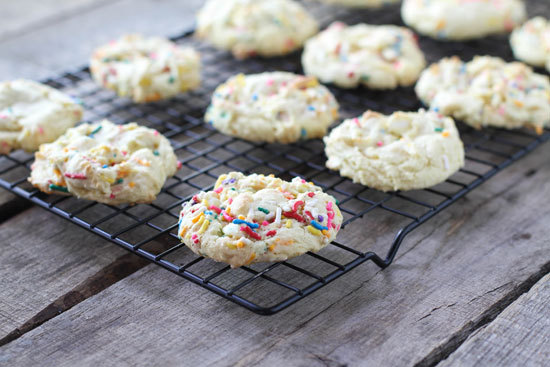 Kate babbles about all things food on her own blog, Food Babbles, and about feeding her girls the best way. Here on Food Fanatic, she wows us with her commitment to homemade, fresh baking, week after week.
It's the little things in life, the simple pleasures. A warm cookie, freshly baked from the oven. If that cookie happens to taste like birthday cake, all the better. Oh! And sprinkles, there must be sprinkles because everything is better with sprinkles. Oh wait, that's bacon... but sprinkles are a close second and pretty amazing in my book.
My girls like sprinkles so much that we planned an entire rainbow sprinkles birthday party around that love. I think there's something so festive about rainbow sprinkles. They feel happy, whimsical and celebratory to me.
No special occasion is needed to make a funfetti pudding cake with sprinkles inside and maybe even a sprinkling over the top, just for good measure but it always feels special when that special treat arrives at the table after a family dinner.
Another thing that always greeted by squeals of delight are these soft, sweet cake batter cookies. Fragrant vanilla cake batter cookies scattered with white chocolate chips and sprinkles like a festive birthday cake in cookie form.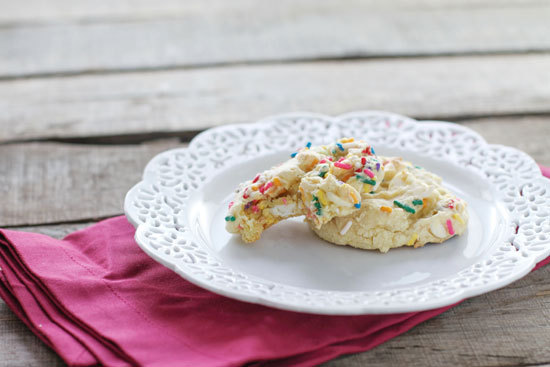 The best part is that these cookies couldn't be easier to make! A few simple ingredients that you already have in your pantry are all you need to create these cake batter cookies. Adults and children alike will have their hands in the cookie jar excited to get a bite of these happy little cookies.
You can even make them with our homemade yellow cake mix recipe. And if you want to make something else with that cake mix? Try Stephie's dump cake recipe.
makes 24 cookies
Ingredients
1 box vanilla cake mix
2 eggs
1/2 cup vegetable oil
1 cup rainbow sprinkles
1/2 cup white chocolate chips
Directions
Preheat oven to 350°F. Line two baking sheets with parchment paper and set aside.
In a large bowl, mix together cake mix, eggs and vegetable oil just until combined. Fold in sprinkles and chocolate chips.
Drop by teaspoons onto prepared baking sheets, one inch apart. Bake in preheated oven 10-12 minutes.
Cool on baking sheets 5 minutes then transfer cookies to cooling rack to cool completely.
---
Looking for more cookie treats on Huffington Post Taste? Try our
Valentine's Day Cookies
(they're really good
any
time) and our
Strawberry Shortcake cookies
too.