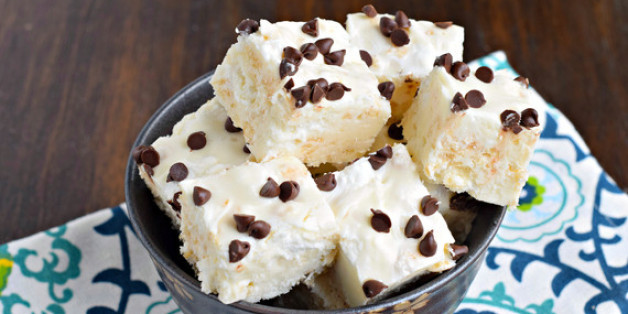 This krispie treat fudge is for the krispie treat lover in your house. It's the answer to "what's for dessert?"
Today I pulled a fast one on my family. You see, they have a strict rule with me that I am no longer allowed to make Rice Krispie treats.
It's not because I make them poorly, it's because I don't share. They are my Achilles heel, so to speak. I will fight even the smallest child for the last krispie treat at a potluck. (don't think I'm kidding).
I have been caught eating an entire pan, by myself, before my children even arrive home from school. Guilty. So, in an effort to get around their "rules", I created this delicious krispie treat fudge. And you guys, it's even better than I imagined.
One of my favorite versions of a krispie treat is this Avalanche recipe. It comes from Rocky Mountain Chocolate Factory. It's rich, and chewy, and mouthwatering. I kept the peanut butter out of today's fudge recipe because I wanted the fudge to taste more like a classic krispie treat. However, adding peanut butter is on my 'to do' list for next time. And yes, there WILL be a next time!
Fortunately for my family, this fudge makes a whole pan of decadent, gooey fudge, and I'm willing to share. As each piece is so rich and satisfying, I won't over indulge by eating all 64 pieces. (not to say I won't eat my fair share, because I did. And then some, but a little goes a long way).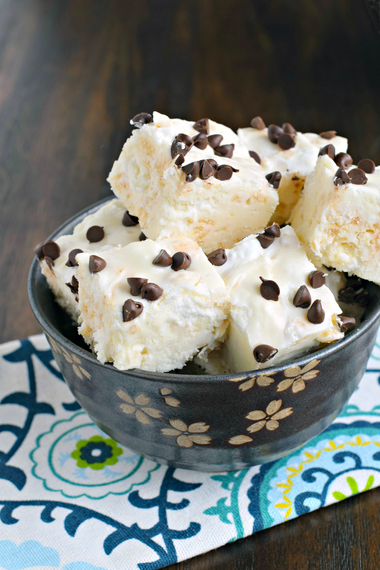 Some quick tips:
Line a 13x9 baking dish with parchment paper (not foil). It makes serving this fudge so much easier.
Boil the mixture for the full 4 minutes, stirring constantly. If you do this I won't make you use a candy thermometer.
After you have beat in the white chocolate and marshmallow cream, and your mixture is smooth, gently (but working quickly) fold in the marshmallows and cereal. Pour immediately into your prepared dish.
Sprinkle your chocolate chips on top immediately so they stick to the warm fudge.
After allowing the fudge to cool, remove from pan by lifting by the parchment paper. Place on a large cutting board and cut into small bite sized pieces. Store in an airtight container for up to 7 days. ENJOY.
So the moral of the story is this: make this fudge. Today. K?
Get the Krispie Treats Fudge Recipe on Food Fanatic now!
--
About Aimee
Aimee Shugarman of Shugary Sweets likes all things sweet, as you can probably guess. Writing about homemade candy came naturally, and we're oh so thankful she's our Candy Fanatic.