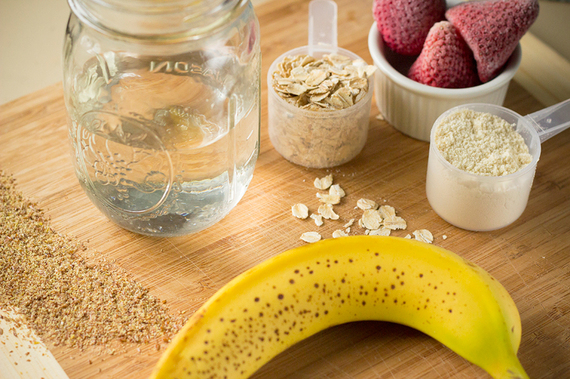 Breakfast not filling you up? Are you a cup of coffee and run out the door kinda person? Say it ain't so! Breakfast gets you fueled for the day. And helps you from overeating later on in the day. This oatmeal smoothie is my go-to breakfast on work mornings. Super fast to toss together and it actually fills me up. That's saying a lot.
I know what you're thinking... oatmeal... in a smoothie? Possibly even "No thanks, I prefer to EAT my oatmeal and NOT CHEW my drinks". I hear ya. I gave the stink eye to this oatmeal smoothie recipe for a solid year before giving it a chance. And now look at me: It's breakfast 5 days a week, sometimes more!
The key is putting the oats in the water first, it gives them a chance to start absorbing while you gather up the rest of the ingredients. Having a good blender is also key -- I'd link you to mine but it's circa 1950 and is a powerhouse, so sad they don't make them like that anymore.
You can doctor this smoothie up with any kind of berry you'd like. I highly suggest using frozen fruit though, both bananas and berries, for a more "milkshake" type experience, because the frozen fruit makes the drink thicker.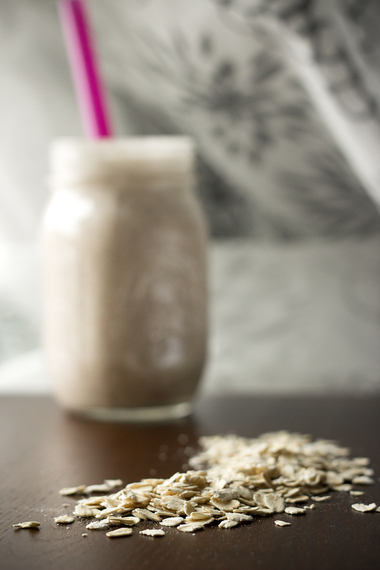 I mean, it's a healthy breakfast, sure, but who doesn't want to pretend they're drinking a milkshake for breakfast? I think the addition of oranges could even make it an Orange Julius-like experience.
If you're the kind of person that is starving around 3 o'clock everyday, this oatmeal smoothie is an excellent snack option too. It'll keep you blasting through work and satisfied until it's time for dinner.
So what do you say? You game? Give this oatmeal smoothie a chance, I guarantee you'll love it.
Looking for more oatmeal options? Check out my apple cider oatmeal recipe too.

About Steph
Stephanie loves to eat, and eat healthy. Both on Steph Chows and here, you'll find healthy recipes full of flavor and good-for-you goodies.