Ice cream cone cupcakes make an amazing birthday party treat. You'll be everyone's favorite party-thrower forevermore!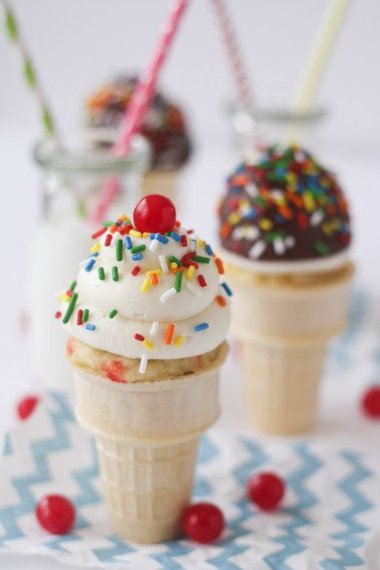 I remember the very first time I had an ice cream cone cupcake. I was in the third grade and a class mom brought them for a birthday. I was in awe! The fact that it looked like an ice cream cone but had cake inside was magical to me, and looking back I think it was the first spark in my interest in creative desserts.
Third grade was also the year that a certain adorable blonde boy gifted me with his eraser collection. What I'm saying is, 3rd grade was a banner year.
Almost 30 years later, I still turn to this ice cream cone cupcakes recipe when I'm looking for a creative and festive treat. I've even made ice cream cone krispie treats that makes an adorable party favor!
Today, though, we are going back to basics. Classics never go out of style, and neither do these guys. If you really want to go all out, give the cones a dip in a soft chocolate shell – you can even use butterscotch or white chocolate chips to make the coating. Sprinkles and a red "cherry" candy finish off these adorably fun treats.
I call these a triple threat – fun make, fun to eat, and fun to look at.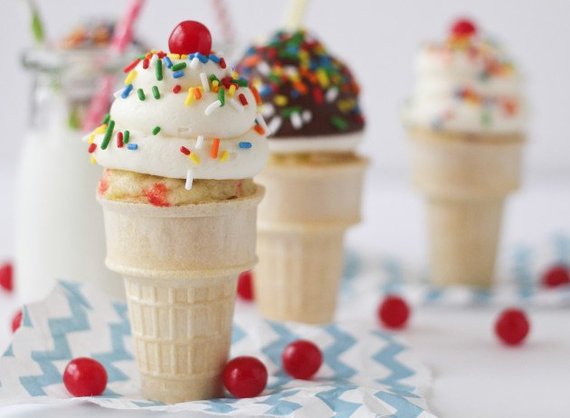 Any birthday party would be amazing with these instead of a regular ol' sheet cake. Plus, there's none of that awkward cake-cutting where everyone requests a specific size of slice. It's cake, people. Get it together and accept that there are calories, and you're holding up the process by asking for "just a tiny slice". Just sayin'.
Please note that I doubled my normal frosting recipe in order to swirl it on high, ice cream style. If you plan on frosting normally, please half the frosting recipe. Cupcakes are best served the same day.
Enjoy!
Kristan always has the best cupcake ideas! Don't believe us? You must see her chocolate caramel corn cupcakes and banana cupcakes too.
About Kristan Roland
Kristan is known for her candy creations and hilarity on
Confessions of a Cookbook Queen
. We know where her true genius is, though: fanciful fanatical
cupcake
creations!