Enjoy pickled banana peppers on all sorts of things. From sandwiches and subs to pizzas and hot dogs, they'll be your new favorite condiment!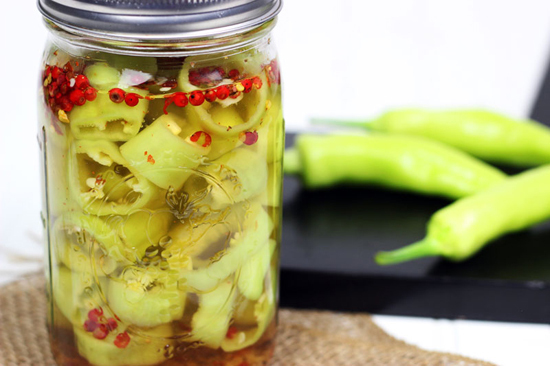 Subs. Heros. Poboys. Sandwiches. No matter the name, I love them all! I've always had a weakness for delicious sandwiches on fresh-baked bread with loads of toppings.
Ever since I can remember, I would always ask for extra banana peppers whenever I ordered sandwiches at a deli. And at home, I always kept a full jar of pickled banana peppers in the fridge. So it shouldn't come as much of a surprise that banana peppers were one of the first things I planted when I started planting my own backyard garden several years back.
I've found banana peppers quite easy to grow (and I live in upstate New York where the growing season is significantly shorter than other places in the country). Throughout the latter half of every summer, I harvest loads of fresh banana peppers and then pickle them for delicious fall and winter sandwiches. Pickling peppers is incredibly quick and easy. In fact, the only downside is waiting a couple of weeks until the peppers are fully pickled!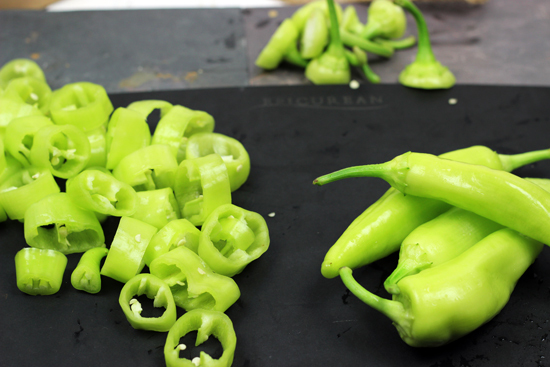 Here are a couple of tips that I've picked up about pickled banana peppers over the years:
Pickled banana peppers are a delicious topping on more than just sandwiches. Try eating them straight or adding them to pizza, pasta, salads, hamburgers, hotdogs, etc.
Any type of vinegar can be used when making pickled banana peppers. However, white vinegar is the best option for preserving the color of your peppers. Other vinegars (cider, red wine, etc.) will alter the color of the peppers.
Banana peppers can be pickled whole, but you should cut several long slits in the peppers if you go this route. The slits will help the pepper become fully pickled.
Pickled banana peppers will last in the fridge for 2-3 months. If you are looking to keep the peppers longer, then try canning the jars.
Have fun with the spices. There is no hard and fast rule about the ingredients that go into the pickling mixture. The recipe below is a classic version that has become my go-to recipe, but you can easily adapt it to your tastes. For example, I happened to have pink peppercorns in my pantry, so I used those instead of black peppercorns this time. Throw in some dill seed or celery seed for a different flavor!
We couldn't agree more that these pickled banana peppers are great on everything! Try them on sandwiches made from this Slow Cooker Pulled Pork Recipe or even David's BBQ Chicken Pizza Recipe!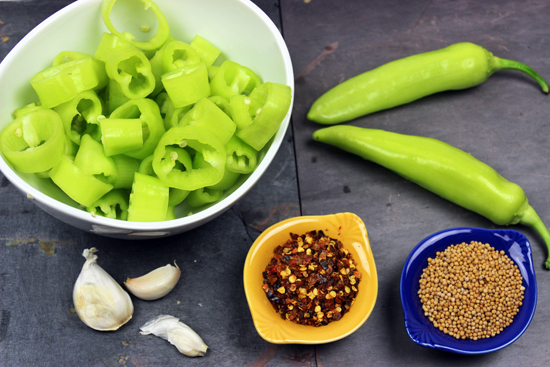 Pickled Banana Peppers Recipe
makes 4 cups
Ingredients
4 cups banana peppers, about 10-12 whole peppers
4 cloves garlic, sliced in half
2 teaspoons whole black peppercorn
1 teaspoon crushed red pepper
1/2 tablespoon granulated sugar
1 teaspoon yellow mustard seed
1 1/2 cups water
1 1/2 cups white vinegar
1 tablespoon kosher salt or pickling salt
Directions
Wash the peppers, then cut off the tops and slice them into 1/2"-3/4" rings. Remove some of the seeds and discard.
Put peppers, garlic, peppercorns, red pepper flakes, sugar, and mustard seeds, in a quart-sized glass jar with an air-tight lid. Set aside.
Place water, vinegar, and salt in a medium saucepot and bring to a boil.
Pour the hot liquid into the jar with the peppers.
Stir gently and allow to cool before putting top on jar. Let jar sit at room temperature for about 24 hours.
Drain off any additional liquid at the top of the jar until the peppers are just barely covered.
Store refrigerated for 2-3 weeks before eating.
David is brings up the guy quotient on Food Fanatic, representing all things Grilling in a big way. On his own site, Spiced, David covers every kind of culinary adventure.