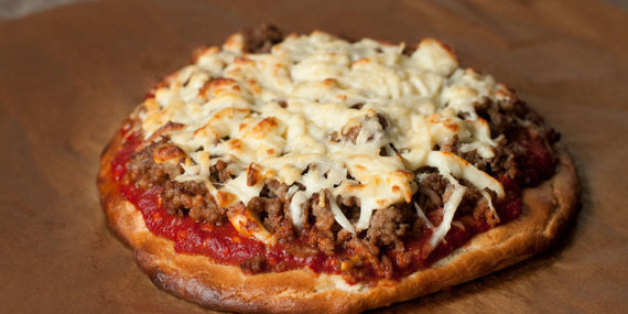 This paleo pizza crust couldn't be simpler to make - there's no kneading, no rising, and it only takes a few minutes to put together! Completely yummy too.
My husband and I are in the middle of a 10-day grain-free, sugar-free and potato-free detox, which pretty much just leaves meat, cheese, fruit, vegetables and nuts. I don't like vegetables or nuts (though I love homemade peanut butter, which I'm eating several times a day at this point) which means I'm pretty darn hungry. When I made this pizza, I was really just looking for something that would make me feel full and I honestly wasn't expecting much. My main goal was to find an edible carrier for my meat and cheese.
I thought about making a cauliflower crust but the thought of that scared me just a little. I don't like cauliflower to begin with, and it seems like a lot of work for a pizza crust made out of cauliflower. I can put a lot of work in for a deep dish pizza or a recreation of my favorite pan pizza, but not for cauliflower pizza crust. So I went with something quicker and easier.
To my surprise, this paleo pizza crust was actually good! It's not as good as a pizza crust with all-purpose flour, but come on... this is grain-free! I've had a lot of grain-free pizza crusts and this is definitely my favorite so far.
The outer edge is wonderfully crisp and the inner part under the toppings isn't soggy at all and doesn't have an odd texture. I partly attribute this to using a baking stone. It does an amazing job of crisping things up! If you don't have a baking stone, you can still make this, but I have a feeling it won't be as crisp.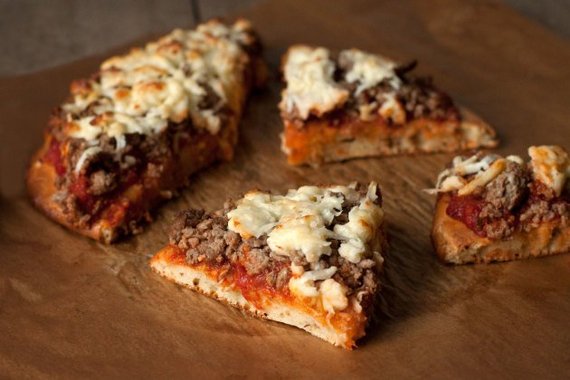 While this pizza crust is paleo, the toppings that I chose aren't. I don't eat paleo so I loaded my pizza crust with cheese, but if you do eat paleo, cheese is out. Goat cheese is considered primal by some, so you could use that, or come up with your own paleo toppings.
This makes quite a small pizza, but we were both full after eating our heavy-on-the-toppings halves. You can easily double it, and if you're more than two, that's definitely necessary. I recommend pairing it with a salad, like this detox kale salad!
Don't have these grain-free flours on hand? Try this gluten-free crustless pizza!
Get the Paleo Pizza Crust Recipe on Food Fanatic now!

About Erin
Erin loves to bake, and especially the challenge of grain-free and gluten-free baking. We're huge fans of her work on Texanerin Baking too!