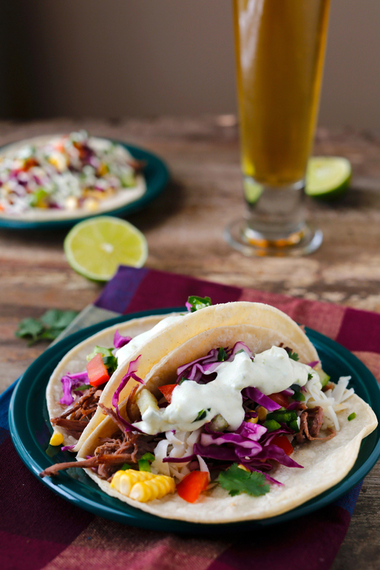 Mexican food is one of my absolute favorite things to eat. It's entirely possible that I have Mexican blood flowing through my veins drawing me toward anything with cheese, jalapeño peppers, avocados, sour cream, corn, cilantro and all of those things (plus a lot more) are found in these awesome Shredded Beef Tacos.
Now, these tacos aren't necessarily considered Mexican food. You could season the meat with the Latin spices that I used or you could choose any spice combination that makes you happy. Clearly chili powder, hot paprika (it's not really all that hot), cumin, are what I chose.
This combination of spices is mostly what you'd find if you made you own taco seasoning from scratch. It's so simple to do and it's nice because you can control how it tastes. Spicy, mild, more or less salt, you get the picture, right?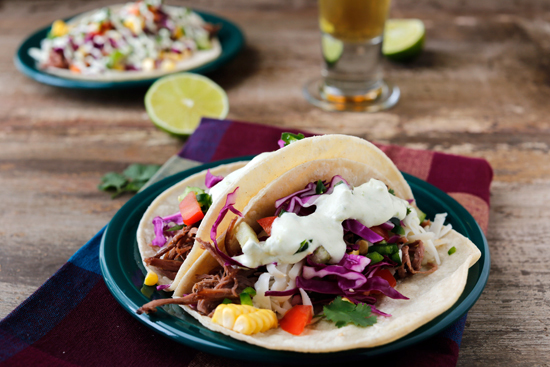 The amount that I used on this chuck roast was just enough to give it a hint of Mexican flavor without overwhelming it. I chose a chuck roast because it is a cut of meat that if cooked properly (slow and low) it will shred really easily. And it did. I just took two forks and pulled and it came right apart.
I made a slaw (sort of, I really I just mixed it all together) of red cabbage, tomatillo, tomato, fresh corn, cilantro and jalapeño and layered it over the shredded beef along with some shredded cheese. Then I topped it all off with avocado crema. Basically sour cream, mashed avocado and some lime juice. It was all really simple and a meal I will make again for sure very soon! Enjoy.
Ingredients
2-3 pounds chuck roast
2 tablespoons olive oil
1 tablespoon ancho chili powder
1/2 tablespoon cumin
3/4 teaspoon hot paprika
1/2 teaspoon coriander powder
1 teaspoon cornstarch
1 1/2 teaspoons salt
1/2 teaspoon cayenne pepper
1 onion, roughly chopped
1 clove garlic, minced
1/4 cup vinegar
1/4 cup water
1 cup sour cream
2 avocados
2 limes
16-20 flour tortillas or corn tortillas
1 cup cheddar cheese, shredded (or cheese of your choice)
1 1/2 cups red cabbage, shredded
2 medium ear corns, kernals cut away from the cob
2 tomatoes, de-seeded and diced
3 medium tomatillos, diced
2 jalapeᅢᄆo peppers, veins and seeds removed and diced
1/4-1/3 cup fresh cilantro, chopped
salt and pepper to taste
Directions
Rub roast with 2 tablespoons olive oil all over.
In a small mixing bowl combine chili powder and next 6 ingredients and sprinkle evenly over entire roast.
Arrange onion in the bottom of a crock pot or slow cooker and place seasoned roast on top. Add garlic, water and vinegar.
Cook on low for 8-9 hours until tender and begins to fall apart easily.
Remove from crock pot and using two forks pull on opposing sides to shred. Taste and adjust salt and pepper seasoning if needed.
In a small mixing bowl add sour cream, avocados, lime juice and salt and pepper and mash to blend well.
Layer shredded beef in tortillas followed by shredded cheese and next 6 ingredients (as desired).
Top with avocado crema and serve.
About Christy
Christy loves all things sugar, but especially pies, cakes, and tarts. She blogs about those and more on My Invisible Crown. She adores cheesecake most of all, so if you do too, you'll definitely want to see more from our Cheesecake Fanatic.