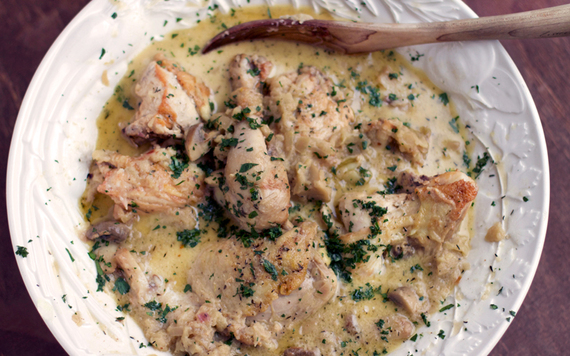 Hi! I'm Mary Kay from the blog Homemade Cravings and I'm your new Sunday Suppers Fanatic. I'm so excited to be here chatting with you about my favorite meal of the week! Our family has a pretty crazy weeknight schedule and Sunday night has become our time to enjoy a delicious meal and spend quality time together.
With a family that includes four kids ages 12 and under, I have a lot of eaters and tastes to please. I like to plan meals where everyone with find a little bit of something they like. We have everything from meat and potatoes to Italian, or one of my favorites, French.
Back in my senior year of college, my graduation present was a trip to visit my sister while she was studying abroad in the Loire Valley of France. From the pain au chocolate, steak frites to, of course, the wine and cheese, I was smitten. Needless to say, I've been a bit of a Francophile ever since. I recently posted my favorite version of the Croque Monsieur, a decadent French version of a grilled ham and cheese on Homemade Cravings.
One of the things my sister brought back from France was a recipe she learned in a cooking class for Normandy Chicken. She made it for our family and friends at a welcome home party and it was a big hit.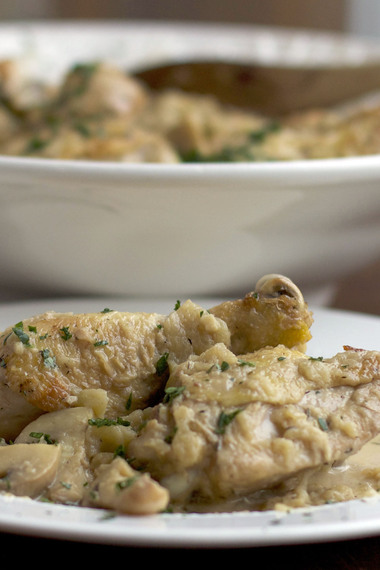 After reminiscing with my mom and sister about the Normandy Chicken recipe, I pieced together my own version. The basics included a whole chicken cut up, shallots, mushrooms and Calvados, a french apple brandy. I added apples with the mushrooms and some crème fraîche at the end to make a creamy sauce.
The best part of all is setting the Calvados on fire to burn off the alcohol. Not only does it reduce the alcohol and make it a more kid friendly meal, but it's a party trick the kids will love! Just make sure they are standing back and you are ready to smother the fire with a tight fitting lid!
About Mary Kay
Mary Kay is known for all sorts of lovely family meals on her blog, Homemade Cravings. Around these parts, she's known for her fabulous Sunday Suppers.