Tahini cookies chock full of goodness. Whole grains and dark chocolate meet in one delicious cookie.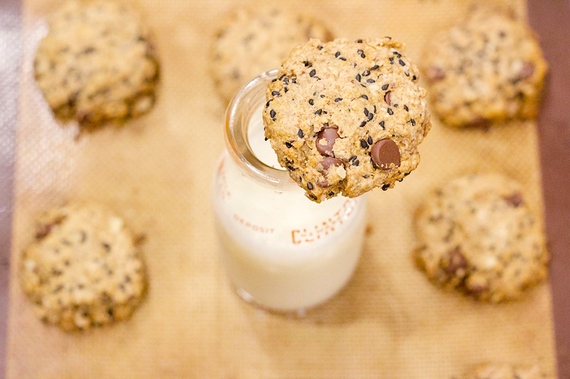 Mmmm... these tahini cookies are middle-eastern flavor in cookie form! I've been doing a bi-monthly cookie gift basket to my parents this year. An awesome Christmas gift idea if I do say so myself. Who doesn't want homemade cookies from their favorite daughter shipped to their door!?
In doing so I've been trying to come up with new interesting recipes to send them. I'm sure they'd be pleased as punch with whatever I sent, but I figure variety is the spice of life and all that jazz.
I had just made a batch of hummus and was staring at the jar of tahini when inspiration struck. Hummus cookies? NO, no, no, tahini cookies… that totally works. Don't worry, it's really not a hummus cookie.
I started tossing things into a bowl and when it came time for the sesame seeds I realized I was all out of the regular variety and only had black sesame seeds. I may have stopped to wonder "Will dad think I put ants in his cookies? Mom can convince him they are just sesame seeds, right? " In all reality, they add a fun bit of pizzazz to these cookies.
It has been reported that black sesame seeds are one of the healthiest foods in the world, in fact. They add a nutty taste (without nuts, bonus!) and crunch that's hard to beat. They add a bit of fiber and a whole lot of vitamins and minerals, making these cookies practically health food!
I really love their nutty flavor, plus the savory tahini against dark chocolate. It's a match made in heaven, I'm telling you.
Thankfully no one thought the sesame seeds were ants and my parents happily chowed these guys down. I'm sure your parents or little ones will too -- a perfect addition to the lunchbox for kids of all sizes. Since sesame seeds are nut-free, they're safe to add to the lunchbox even if your kiddo attends a nut-free school. I'm pretty sure that'll make you a hero - at least for a day!
Want to check out some of my other healthy desserts? Try my protein brownies and avocado cookies too.
Tahini Cookies Recipe
Ingredients
1 1/2 cups whole wheat flour
3/4 teaspoon baking soda
pinch of salt
1/4 cup sesame seeds
1/4 cup vegetable oil
4 tablespoons tahini paste
5 tablespoons water
2 tablespoons ground flax seed
1/3 cup brown sugar
1/3 cup granulated sugar
1 teaspoon pure vanilla extract
1/2 cup dark chocolate chips
Get the rest of the Tahini Cookies Recipe on Food Fanatic!
---
About Steph
Stephanie loves to eat, and eat healthy. Both on
Steph Chows
and here, you'll find
healthy recipes
full of flavor and good-for-you goodies.