First appeared on Food Riot, by Wini Moranville
If you have a francophile on your gift-giving list, you're in luck. This year saw three terrific new books that celebrate the country where "good Americans go when they die."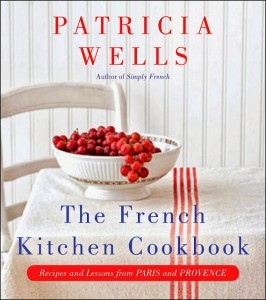 1. The French Kitchen Cookbook: Recipes and Lessons from Paris and Provence, by Patricia Wells (William Morrow; $35)
Don't expect a book filled with classic touchstones of French cooking -- coq au vin, beef Bourguignon, and the like. Rather, this is a wonderfully personal, enthusiastically up-to-date book filled with hand-picked favorites gleaned from 30 years of living, cooking, writing cookbooks, and teaching cooking classes in France. Recipes include some of her students' favorites (including the super-easy Anchovy Bites), her husband's favorites, such as Walter's Salt and Pepper Steak and Walter's Breakfast Eggs, as well as dozens of dishes that feel chosen simply because they're at the top of the author's mind right now. I especially love the way Wells doesn't shy away from using non-French ingredients: After all, miso, lemongrass, curry paste, and coconut milk have long made inroads into the French kitchen, so why not into contemporary French cookbooks? Time-pressed cooks will appreciate the way most recipes don't take hours to make or require a shopping basket full of ingredients (the aforementioned Anchovy Bites require just two, in fact).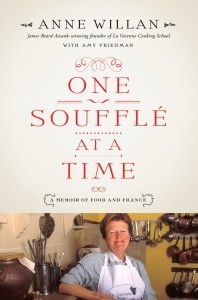 2. One Soufflé at a Time: A Memoir of Food and France, by Anne Willan (St. Martins; $27.99)
This memoir tells of how a headstrong English girl from Yorkshire took risk after risk to establish the legendary La Varenne cooking school in Paris and later in Burgundy. Willan, a James Beard Cookbook Award winner and author of dozens of renown French cookbooks, runs with other culinary luminaries along the way, including Julia Child, James Beard, and Craig Claiborne; however what the reader will appreciate most is not her position among the greats, but the greatness of her own journey, from the world-wide tour she took -- solo -- as a young woman, to the way she bravely scaled the fortress of the male-dominated world of French cuisine, in spite of pilfering chefs, pesky tax inspectors, and the like. Most of the recipes are tout classique; look for Tarte Tatin, Soup au Pistou, Chocolate Soufflé, and other favorites that have long established the author as an authoritative voice in French cooking.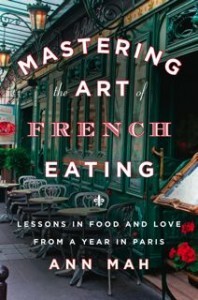 3. Mastering the Art of French Eating: Lessons in Food and Love from a Year in Paris, by Ann Mah (Pamela Dorman Books; $25.95)
While Patricia Wells and Anne Willan are established masters of French cooking, Ann Mah is a new voice to this splendid party. The memoir begins with the promise of living the dream: Her diplomat husband, Calvin, lands a three-year stint in Paris. Hardly have they unpacked, however, when Calvin is sent away -- solo -- to Iraq. Alone in France, Mah decides to combat her loneliness by seeking out the stories behind France's most famous dishes, from choucroute garnie in Alsace to cassoulet in the Southwest. The memoir follows Mah as she meets chefs, farmers, and restaurateurs, picking up insights and recipes (which she shares in the book) along the way. What's most charming about the memoir is the author's self-effacing tone and ability to poke fun at herself, even while she's heroically venturing to places few outsiders are welcome: the kitchens of the cooks who know all the secrets.
Read more at Food Riot