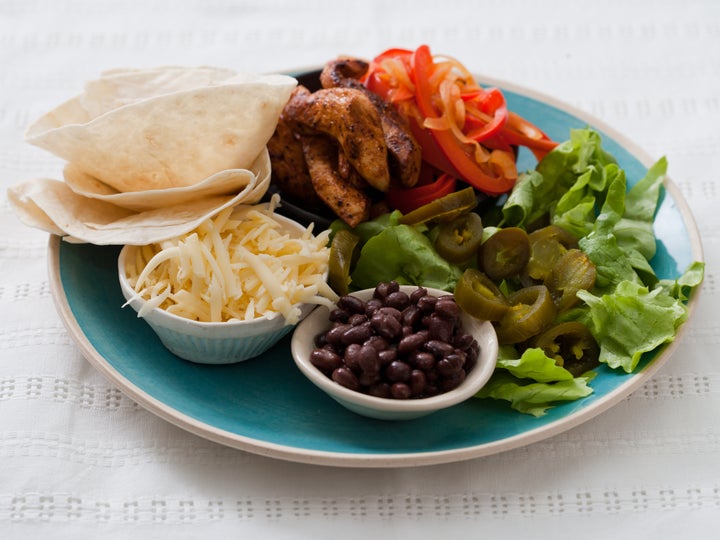 What I long for as an expat Texan is great Tex-Mex food. Beer and margaritas are ideal partners, of course, but it would be a shame to leave Lone Star (or other) wine lovers out in the cold, with nothing to drink along with their fajitas. Here's a quick guide on what to drink with Tex Mex.
Classic Crispy Tacos or Chalupas. There's beef (or chicken, or pork) here, but there's also lettuce, mild cheese, that crunchy fried shell, maybe pico de gallo; a whole range of flavors that meld into something not quite as robust as straight meat, but mighty tasty. Choose a medium-bodied red, like Pinot Noir. Finding inexpensive Pinot that actually tastes like Pinot Noir can be a daunting task, but the strawberry-scented 2009 Redtree ($10) is pretty darn good for the price.
Quesadillas. This category is the realm of pure cheese: chile con queso, queso fundido or flameado, quesadillas, your basic cheese-slathered baseball nachos, and so on. Go for white, but something with both substantial body as well as firm acidity. An unoaked California Chardonnay would be a fine choice. Morgan's citrusy Metallico bottling helped start this trend, and the 2010 is up to form ($20).

Enchiladas. Dishes in this realm fall into the "it's the sauce not the protein" realm -- whether you've got beef or chicken in that enchilada, you're still looking at a dish covered with salsa -- ranchera/red or verde -- and an ocean of melted cheese. Chicken enchiladas with a verde sauce, go with a crisp white, like Albarino from Spain; beef enchiladas with red sauce, a juicy red Zinfandel. The 2010 Burgans Albarino ($13) is a good choice; for zin, look for the dark, spicy Brazin Old Vine Zinfandel ($15).

Fajitas/Tacos al Carbon. Protein and more protein, plus some smoke. Generally speaking, for meat dishes with few trimmings, a red with reasonably substantial tannins is a fine idea. Malbec from Argentina would serve, and also offers some of the best quality-for-price possibilities in wine. Three good choices are the substantial 2011 Bodini ($12), the cherry-inflected 2010 Crios from winemaker Susanna Balbo, and the rich, intensely flavorful 2010 Layer Cake ($15).

Anything Crazily Hot. Seriously, if you're into salsas that will make your taste buds cower in fear, or like to snack on raw habanero chiles, drink a beer. Your life will be better. And if you're in Texas, something from St. Arnold's Brewery in Houston, like its crisply hoppy Elissa IPA, would be a fine choice (not that a bottle of that Texas classic, Shiner Bock, would hurt you either).

I would be remiss if I didn't add two important references to this rundown. Those who want to cook should check out Robb Walsh's excellent The Tex-Mex Cookbook: A History in Recipes and Photos; those who want to drink (wine, that is) ought to take a gander at Russell Kane's authoritative and engagingly readable The Wineslinger Chronicles: Texas on the Vine.
Food & Wine is on a mission to find the most exciting places, new experiences, emerging trends and delicious food.