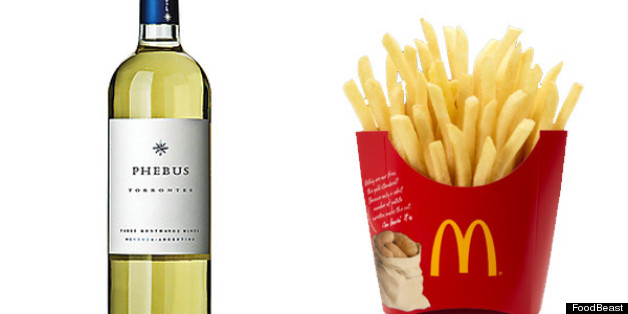 Which pairs better with a plate of Panda Express Orange Chicken: a Gewürztraminer or a Rhone Valley Rosé?
Different people will tell you different things. The Gewürz is perfect for bringing out the natural spice of the orange sauce, while the Rosé marries swimmingly with citrus. And while an entirely different school might say pair it with a Peach Sparkling Arbor Mist (a school of the sorority-pledging, college fresh-woman variety, mayhaps), I'm guessing that even when drunk alongside imitation soy meat, something that calls itself a fast food wine should still be, well, a wine.
Anyway, all disputes aside, a perfect Panda wine pairing does exist, and there's an actual science behind it, as I discovered on my most recent visit to Total Wine & More. By applying the same wine pairing techniques normally reserved for steaks and lobsters and smoked mozzarellas to Taco Bell DLTs and McDonald's Chicken McNuggets, my expert sommelier guided me through the perfect methodology for classing up an average Tuesday night.
Here's all you really need for a good fast food wine: a high degree of acidity, to cut through the grease and fat; a fair price point, so someone can just pick it up at the store on the way home from work. (These, for instance, were all under $20.) It should complement, not battle, and certainly not overwhelm, the medley of real and artificial flavors, and as a nod to our readers, the perfect Foodbeast fast food wine should also be a little bit "out of the box" -- something that most people probably haven't heard of or just wouldn't think to drink with, say, french fries or a Double-Double.
These are the best wines to pair with your favorite fast food menu items, or in other words, the ultimate indulgence paired with the ultimate indulgence. We dare you not to try them all at once.
_______________
McDonald's Chicken Nuggets x Clara Brut Sparkling Wine California North Coast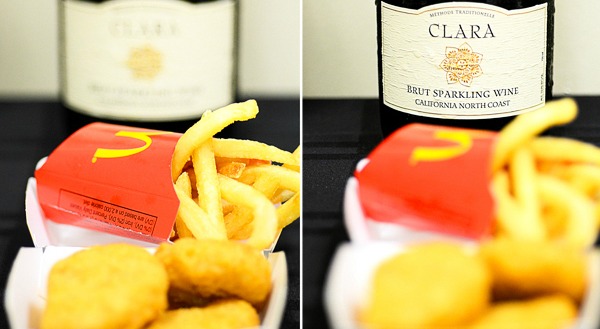 TW: "I get honey right off the top with this. It's a very unique, but true, strong honey. And that was one of the first things I thought of with the chicken nuggets, is that a lot of people dip chicken nuggets into honey, and there are a lot more white sauces for chicken nuggets. It would have also been very easy to recommend a Zinfandel because a lot of people dip chicken nuggets into barbecue sauce."
Verdict: The champagne definitely cuts through the lingering grease and makes the whole eating process a lot more pleasant. This would make a classier, less guilty alternative to sweet and sour sauce.
TW: "I'd say that went together nicely. Any day with champagne is a good day."
Clara Brut Sparkling Wine California North Coast
Dry, Peach, Toast, Full-Bodied
"North Coast, CA - Round and full-bodied, with rich nectarine and peach fruit. This sparkler has a nicely developed character with toasted hazelnut, honey, toffee and brioche flavors." $17.99 @ Total Wine
_______________
McDonald's French Fries x Phebus Torrontes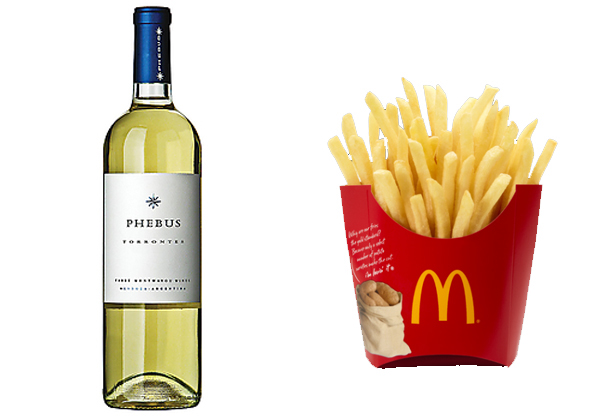 TW: "I thought of french fries as a snack, more than anything else. If anyone's just going to get french fries, it might be on the way home from picking up the kids from school or getting out of class as a college student. So with that, it's a great little middle-of-the-day wine. Especially in Southern California, every day is beautiful. Even the bad days are beautiful by 2 o'clock. I thought primarily of picnicking, sitting on the patio, on the porch. And Torrontes has just got an excellent springtime feeling to it. It's refreshing, it's crisp. And I think it would pair well with the starchiness and the saltiness of the fries, without being terribly sweet."
Verdict: This one I didn't understand as much. It was a good wine, but I wouldn't necessarily pair it with the fries, any more than plain old ketchup.
TW: "All Torrontesses are different. The citrus battles a little bit with the sweetness of the potato. A to F, I'd give this one a B."
Phebus Torrontes
Crisp, Lemon, Citrus, Light-Bodied
"Salta, Argentina - From Argentina's northern region of Salta comes this crisp and refreshing, oak-free white wine made from 100% Torrontes. A nose of fresh cut lemons with a hint of lime is followed by layers of citrus on the dry and refreshing palate. Pair with seafood and spicy dishes." $9.99 @ Total Wine
_______________
Kentucky Fried Chicken x Cloud Break Chardonnay Barrel Fermented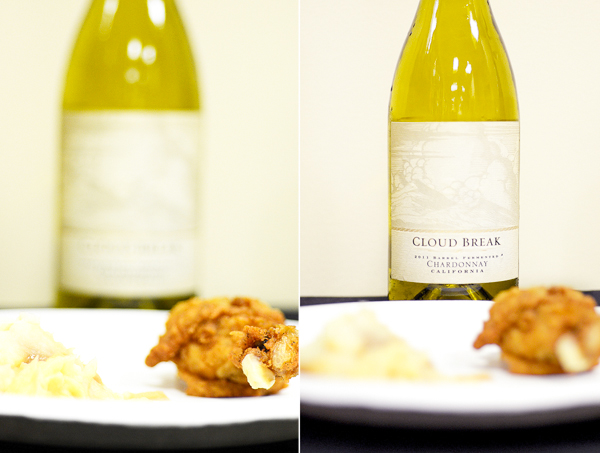 TW:
"For fried chicken with mashed potatoes and gravy, I thought, 'How American is that.' And the best-selling grape in the United States of America is Chardonnay. So I had to go with an American Chard for this. . . Fried chicken is more of a 'stick-to-your-ribs' meal. It's filling, even with just a little bit, and quintessentially American. I grabbed the Cloud Break Chardonnay because it's got some of that weight behind it for not too expensive. This wine drinks like a much more expensive bottle. With that, it's got that comfort food element along with the weightiness of the wine. But it's still got enough acidity to cut through the fat."
Verdict: Like the chicken nuggets, this pairing just made sense - a solid refresher after the greasy chicken which also didn't battle with the sweetness of the mashed potatoes.
Cloud Break Chardonnay Barrel Fermented
Oak, Apple, Butter, Full-bodied
"California - The Cloud Break Chardonnay is rich with flavors of toasted oak, vanilla, butter, apple, pear and hints of coconut. 100% malolactic fermentation is used to give it nice body and texture. Refined acidity and hints of green apple linger on the elegant finish." $7.99 @ Total Wine
_______________
Subway Turkey Sandwich x Dr Heidemanns Riesling Dry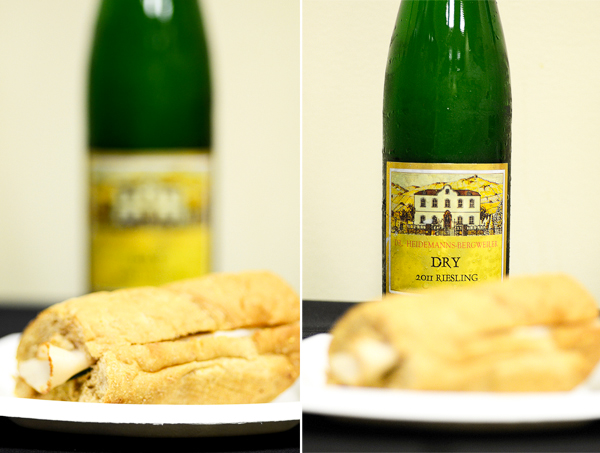 TW: "The sandwich can get tricky because so many people do so many different things with their sandwiches. Riesling is a classic pairing with turkey . . . Turkey tends to be a relatively dry meat, and not just in the fact that many people overcook it. It's usually a touch bland. And Rieslings, there's nothing bland about them. They're just fantastic and there are so many different styles. You can really find a Riesling to find your style and what you like. It's also a matter of acidity and the viscous, sort of heavy mouthfeel of Riesling can help detract from a dryer piece of meat."
Verdict: The sandwich was mostly bread, and dry bread at that, so there wasn't too much going on here. Solid Riesling though, which went well with the turkey once it was separated from the rest of the sandwich.
Dr Heidemanns Riesling Dry
Crisp, Citrus, Mineral, Light-bodied
"Mosel-Saar-Ruwer, Germany - Known as a 'Trocken' style wine which is the German word for 'dry.' This 100% Riesling from the renowned estate of Dr. Heidemanns - Bergweiler has all the citrus and mineral notes you would expect but unlike typical Mosel wines. Pair with seafood and chicken." $14.99 @ Total Wine
_______________
Check out Foodbeast for the rest of the pairings and remember, stay classy.