Our oceans are the heart of this planet. They provide all of humanity with the very essentials necessary for life. Ranging from the food we eat to the air we breathe, we all depend on the oceans to generate what we need to simply survive. For me, our oceans also offer adventure and discovery; as a diver I relish in what seem to be unlimited experiences in the big blue. And perhaps even more importantly they nourish my soul. (Now I know many of you reading this will think that last statement is a little bit corny but it is so true, just ask my husband how grumpy I get if I am landlocked for too-long!)
The truth is as vast as they seem our oceans (and the resources they provide) are not unlimited and we need to take care of them. Silent killers like ocean acidification threaten to dissolve the bonds that hold marine ecosystems together, fish stocks are being depleted at an alarming rate, and the billions of dollars generated by ocean economies each year are in danger of being lost to pollution and mismanagement. The special connection I have with the marine environment has inspired my commitment to explore, protect and preserve the awe-inducing ocean habitats that I have witnessed and the ones I hope to visit. Which is why I was so honored to have been a part of the Guinness World-Record-setting Peace Paddle Out.
I spent an extraordinary afternoon in Malibu creating an incredible symbol of ocean solidarity with NRDC trustee & ocean advocate Kelly Meyer, as well as surf legends such as Laird Hamilton and Dave Kalama. We were joined by more than 250 other surfers and stand-up-paddlers who came to show their support for the oceans, by forming a giant floating human peace sign -- a symbolic gesture to remind us all of the marine connection we all share. It was a privilege to film and work alongside such ocean giants and a great reminder that when we all come together we can make magic happen.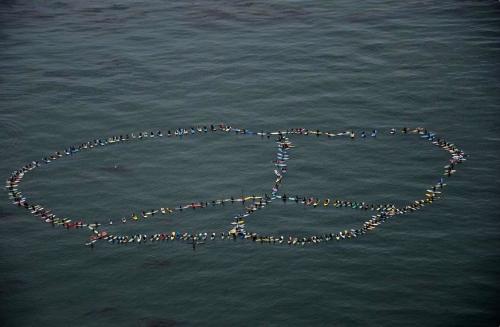 The good news globally is that people are coming together to protect our oceans.
Coming out of the Earth summit in Brazil the U.S. announced we will join a number of other countries to fund an international partnership that supports ocean acidification monitoring. This significant commitment is essential to provide coastal nations with the information necessary to prepare for the looming impacts of ocean acidification on our fisheries, corals and marine food webs. In a process that will ultimately require all hands-on-deck it is a terrific step forward.
Photo: Craig Schmitman