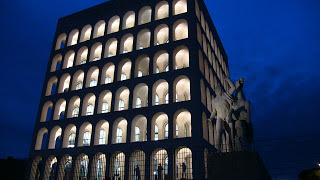 The EUR is not a place where most tourists dare to tread. It's far from all the classic tourist sites of Rome, though it's a site in and of itself, since it's a relic not of the Roman empire of antiquity, but of the fascist era and the art and architecture that it spawned. Totalitarianism has always produced its own esthetics. Leni Riefenstahl's
Triumph of the Will
was a product of Nazism. And if there is one thing that totalitarian art and architecture share, it's a love of the ideal. The Guggenheim had two exhibits Italian
"Italian Futurism l909-1944: Reconstructing the Universe"
and
"Chaos and Classicism: Art in France, Italy and Germany 1918-36"
which both demonstrated the nostalgia for classicism that's at the heart of the totalitarian esthetic. What was remarkable about the second show was the way in which it crossed ideological lines, showing similar proclivities on both the left and right. Visiting the EUR you can see the legacy of the fascist housing and architecture that emerged under Mussolini. EUR stands for Esposizione Universale Roma or E42, in that 1942 was the year of the World's Fair which was to take place in Rome. The EUR was also meant to be a celebration of 20 years of Mussolini's leadership. The war intervened and the exposition never took place. Take the B line to the Magliana stop on the EUR and you will come face to face with one of the most renowned pieces of EUR style architecture, il Palazzo della Civilta Italiana. To the untrained eye, it at first seems like a piece of post-modernist architecture gone wrong. It recalls the garish Huntington Hartford Museum, which was an eyesore on Columbus Circle, before it was torn down. Built by the architects Ernesto La Padula, Giovanni Guerrini and Mario Ramone, it was also known as the Colosseo Quadrata or the Square Colosseum. Floor after floor of perseverating arches creates an almost nightmarish effect and the monumentality is heightened by the effect of the heroic statuary that surrounds the structure. The classical past is deployed in the service of a totally futuristic world that pays homage to the ideals of order and aspiration that characterize the fascist state. You can almost see the hero of Ayn Rand's
The Fountainhead
, the architect Howard Roark, walking around on a campus that that would, in fact, provide the backdrop for a number of movies about the fascist era in Italy like Bertolucci's
The Conformist
and Rossellini's
Rome, Open City
.
"Uno nuova Roma: L'EUR e il Palazzo della Civilta Italiana"
is currently on exhibit in the lobby of the Civilta.
photograph of il Palazzo della Civilta Italiana by Hallie Cohen
{This was originally posted to The Screaming Pope, Francis Levy's blog of rants and reactions to contemporary politics, art and culture}